Welcome to the Creeper's Lab! We have multiple Minecraft servers and an active community, mostly focused on playing Survival mode. We now support both Java Edition and Bedrock Edition! We also have special games, events and contests. If you're not already playing with us, don't hesitate to join. Newcomers welcome!
You don't need to register to quickly join and look around our main survival server, but you will need to in order to play. Register today!
News
It's already time for our next building contest, and it begins right now!
Exodio is hosting a Bungalow Building Contest on Paradise Resort Island! Come and build your dream resort hut and win prizes! Contest will start on Friday, June 18th at 9PM EST and runs through Sunday, July 4th at 9PM EST.
Prizes include Diamonds, Emeralds, and your very own Drinking Chair!
For directions to the Island and full rules, check out the Creeperpedia page.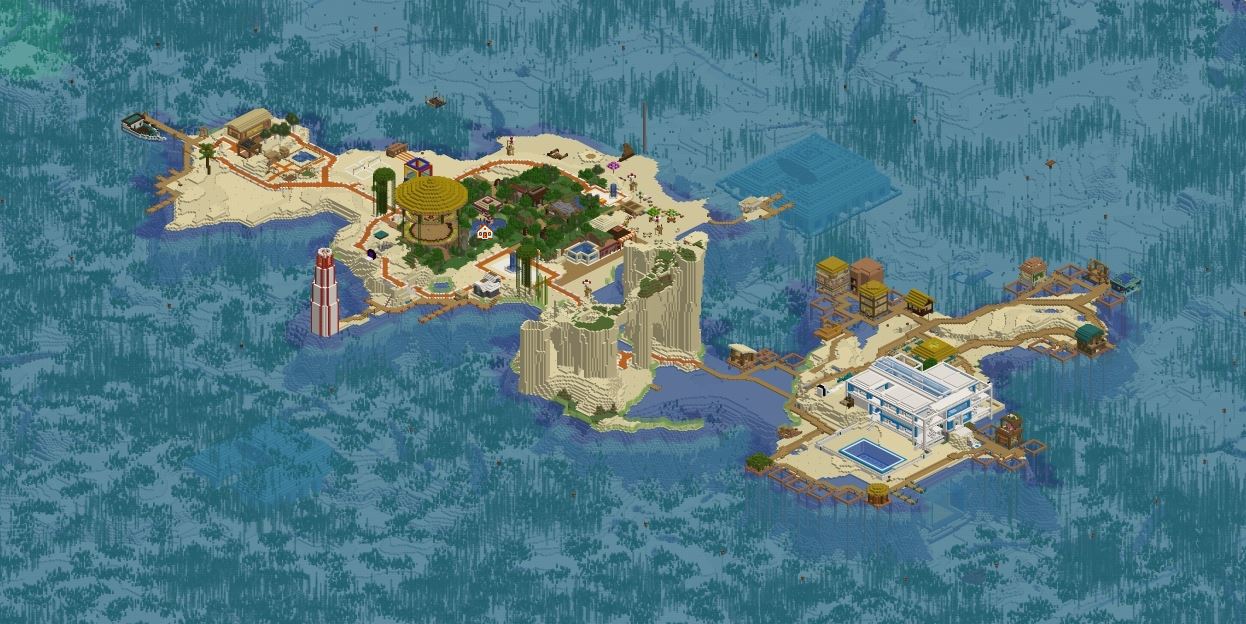 ---
Plus, there will be a party on Events Night on 3 July at the same location, right before the end of the contest, so claim a lot early and be there for the full experience!
To help new and old players alike to manage their profiles more easily, I'm happy to introduce today Interordi Accounts!
This new tool becomes the entry point of any new potential players, giving them a simplified interface to register and edit their accounts. It's also available to everyone else, of course! All registration guides will now point to this.
The eventual goal is that any tool on the Creeper's Lab (or the wider Interordi network) that requires a login will rely on Interordi Accounts. For now, this includes the whitelist, forums and some staff tools. The wiki will eventually adopt them, too.
For those already familiar with the forums, you can access your account from there, as usual, with the full range of features.
More functionality will be added over time!
Minecraft 1.17 has been released today, and it's time for us to prepare for the update too! The network has been updated to accept connections from 1.17, so you can continue to play with us right away. However, this isn't the actual upgrade to 1.17 yet.
All servers are still running 1.16.5, this change is simply to let you join without problems. Java players, I recommend sticking with 1.16.4 or 1.16.5 for the best experience. Bedrock players, you will need to update to 1.17 to be able to connect. However, I'll say this again, no new game features are available yet.
The actual upgrade will happen once all necessary server software has been updated and tested, including the plugins. I don't know as of this writing when that will happen.
One thing that's been removed is the player list displaying people across all worlds, as it was causing too many compatibility issues. I will be looking for a replacement. In the meantime, I invite you to try the new /players in-game command, which will give you the same information in a new format!
---
If you are using account linking with both your Java and Bedrock accounts, the link has been severed. You will want to recreate that by accessing the server at link.geysermc.org. The full instructions are at the bottom of the Bedrock information page.
The Levansk contest results are in! While not a lot of entries were made, the quality level was high all around. Without further delay, the winners:
First place: Exodio
Second place: StTheo
Third place: AlexTheTrain
Exodio won $25 USD, while the three winners each earned 50, 30 and 10 Merit Point respectively. Congratulations to all participants, and thanks to Offbrand Neo for running the event! You can view the full list of entries along with Neo's comments on the contest page.
Note that Levansk is still open for building, and there are several lots still available to building! If you're looking for a location for your next creation, you can always check the building sites page for inspiration. It lists open areas along with the local constraints or themes, if any. Levansk is now on the list.
If you're looking forward to more building contests, stay tuned: I hear that more are on the way, possibly sooner than you think!
Kenorland: Race away
Race Away is back for another round, get these blocky legs going!
As always, the goal is to reach the highest X coordinate possible, following the East cardinal direction. This new world will be a bigger challenge to navigate; slow and steady might be the key to victory!
A starting pack of items is provided at the spawn point, make sure to collect it before going. Due to the rare nature of any food items, your health is set to slowly regenerate.
The top 30 runners will get Merit Points based on their best position, in decreasing order. That is, the top runner will get 30, the second place 29, third place 28, and so on.
Science
For June, enjoy the time on the beach, with rattling Bone Towers and Mr. Sun himself defending their domain in the Hunter's Lodge!
All Horsemen Quests have also been updated. See the Horseman Points Guide for an indepth look at the quests, points, and how to cash them in!
Guilds
The tasks for the guilds have been rotated in Laurasia, Rodinia and Superia. Multiple players are still in the running for the Grand Master title of each guild; keep going if you want a chance at claming one! The first opportunity for these will be next month, if people keep going at the current pace. More details will be shared before the end of the month. Good luck to everyone!
If you need details on any of these, the wiki page about the Monthly Challenges is updated as soon as each of these is ready at the beginning of the month!
---
Staff updates
To better help with supporting the community, both Kimonellos and Rebbica007 have been promoted to op status. Congrats to you two, and thanks for helping!
Due to extended inactivity, Kagato has been returned to trusted status. I appreciate the help you gave while you were available!
---
Upcoming science updates
With Minecraft 1.17 getting close, it's once again time to prepare an update and rebalance things as needed.
Most notably, the Lost Woods and the Horsemen Areas will be updated so that you will need to complete each one before being allowed to move on to the next. Some existing items will also be adjusted, while keep inventory will be applied to more boss rooms.
This will take place starting next Monday, on 7 June, leaving you a full Events Night to complete any work you might already have in process. I recommend that you read the full forum post with the details on how this will work.
Don't forget that the building contest at Levansk is still ongoing! As of this posting, you still have over 11 full days to claim a lot (or more) and get building! Your goal is to fill in a mid-20th century European town or city within the existing walls. There's $25 USD to be won, plus Merit Points, so don't miss your chance!
---
Also underway is the Famine Birthday Event, with about three days left. You can earn a few collectibles, most notably a Cadou that gives you the power of a Totem of Undying, an attack boost and speed increase, at the cost of some of your health. Get busy!
A strange, black mold has appeared near the entrance to Pandora, and what would any good plague be without some death?
Your friendly neighorhood Famine here, asking you to clean up this mess. Following the trail of the foreign fungus will lead you to one of Pandora's native sporeling caves, so something in there must be bothering them. I'm leaving it up to you to get rid of it, and maybe bring something back for your troubles. To get to Pandora...
Via the Overworld: Currently, only the Cannon shortcut platform from the Creeper Citadel.
Via the Nether: South Nether Rail -> DeNile (2nd Stop) -> Pandora (3rd Floor)
Speaking of, that "jolly" old merchant back by the Rest House might be able to offer you something in exchange for what you find in there. I'm told he's also something of a foodie and may be willing to cook you up some special buffs if you bring him the right ingredients. Rumor has it he'll even be sticking around after this whole thing is over.
This event runs from now until the close of Events Night at 9pm EST on Sunday, May 23rd.
Until then, that scrambling lunatic Ethan Winters will be available for slaughter through a spawner in the sporeling cave at the end of the moldy trail through the mountain in Pandora. He drops a handful of items - some useful, and some not so much. He's not exactly a pushover, so this may wind up being more of a war of attrition than anything else. Be careful; he may seem harmless, though he's anything but.
One of the more handy things he'll drop is the Family Photo, which you'll want to take back and deliver to the Duke's Emporium by pressing the button on the barrel next to his cart. Do this and you'll receive a new friend to accompany you in the form of a parasitic little Cadou with the following stats:
Cadou (Totem of Undying) [When in offhand: +8 Attack Damage, -8 Max Health, +0.08 Speed]
This can only be done once per player, so despite how overwhelming the desire may be you only really need to kill Ethan one time.
Good luck getting your hands on the prize before time runs out. Happy birthday to me!
Love?,
~ Famine
It's been possible for a long time for anyone to run their own activities during Events Nights, but most people either don't know how, or have no idea where to start. Well, we've got something for you!
We've prepared a list of templates that you can use to run your own events, including what to do, the location, duration and rewards to offer to participants. As an extra incentive, event runners are also eligible for their own rewards if they choose to claim it!
You can check the new events page for the full details and instructions on running your own events. Note that these are templates - think references - and not absolute instructions: you can also take one as a base to develop your own concept.
This comes with a major overhaul of the attractions page; each location now has more information on each destination, including a description and the directions to get there.
If you choose to run an event, select a template and go write a post on the forums with the details. Once confirmed, it will get published on the website, social media channels, Steam group and site calendar for everyone to know! If you have any questions, ask Doctacosa either on the forums or through Discord.
Thanks to Sora for doing a lot of the initial ground work on this, and being patient with me as I was making the necessary preparations!
The maps for all worlds have been updated with a new visual layer! This interface has an improved display and modern controls which will be easier to use, especially for mobile users. Don't worry, though - this is still the same tool as before, with all the features you've come to love!
Notably, this fixes the issue of the endlessly reloading map after a server restart!
Related, Laurasia's map display has been wiped and is currently regenerating. Depending on how fast this runs, this could take a few or several days. The process will fix some color glitches while the map areas that have been deleted over time will be cleanly removed.
Kenorland: Breaking Bed
Breaking Bed invites you: enter a brand new world, find the proper materials, then make and break a bed of each color. Each succesful bed break will give you one Merit Point, once per color. This means that you can earn up to 16 Merit Points this month!
Science
For May, enjoy a Surf'n'turf special, with fishy Fun Towers and earthy Puebla Soldiers defending their domains of the Hunter's Lodge!
All Horsemen Quests have also been updated. See the Horseman Points Guide for an indepth look at the quests, points, and how to cash them in!
Guilds
The quests have been rotated for the new month. For those who have been keeping up with gathering enough tokens, Superia's guildhall is now open with heightened targets, each worth even more points. Complete your work in Laurasia and Rodinia, then unlock these new doors!
If you need details on any of these, the wiki page about the Monthly Challenges is updated as soon as each of these is ready at the beginning of the month!
---
Building contest
Don't forget about our building contest at Levansk! It has just begun, and you have a full month available to design and build your entry. Go claim a lot and start working on ideas!
News archive