Welcome to the Creeper's Lab! We have multiple Minecraft servers and an active community, mostly focused on playing Survival mode. We also have special games, events and contests! If you're not already playing with us, please don't hesitate to join. Newcomers welcome!
You don't need to register to quickly join and look around our main survival server, but you will need to in order to play. Register today!
News
I'm pushing today a set of changes and improvements to the perks for my Patreon backers, here are the full details!
$20+ VIPs
I'm introducing a new bonus for the VIPs: the ability to change the color of your username in the in-game chat! You can type /customcolor to view the options available and select one. The color of the custom titles remains tied to your player rank so that others can quickly identify that.
$3+ trails
The system for the particle trails you can wear has been rewritten from scratch! The same options as before are available but will now synchronize across all servers: select your trail using /trail and it will automatically follow you as you move from one world to the other! As this uses a new plugin, your existing trails have been deactivated; you'll have to make a new selection.
I've also used this opportunity to introduce nine new trails, with many that include the new particles from the Nether Update! Try them by using /trail and see if one suits you.
$2 -> $3 custom titles
To simplify the list of tiers available, I've decided to retire the $2 level and move the custom titles to the $3 tier, forming with the particle trails a cosmetics package.
Everyone currently set at $2 gets to keep the ability to change their custom titles indefinitely, this only applies to new subscribers.
$1 orange asterisk
This one applies to everyone: the orange asterisk that many have grown to love next to their usernames now also extends all the way to the forums! It's displayed in your profile and alongside your posts in the discussion topics. I'll see in the future about extending that display to other areas, without making things look overly busy.
PLUS, adding more value to the deal, all backers now have the option to link their Discord account to get a color highlight there! As the orange color might be getting mixed up with the orange of ops, I've opted for a cool teal. To get this applied to your username, you'll have to go on Patreon to link your account.
Staff members, since you can only have one color on Discord, your actual rank will override the Patreon perk.
And that's it for today! If you like the work I do in building up and maintaining the Creepers's Lab, and you're in a position to afford it, I'd appreciate it if you could consider supporting me on Patreon. Your contribution can be as little as $1 a month; in exchange, you get some of these new perks described above, plus more like yearly or even monthly postcards!
Thanks for reading!
Following up on last week's introduction of Bedrock support, we're now expanding it to more areas!
As of now, players on Minecraft Bedrock (mobile and Windows 10) can now access Tasmantis (survival) and Kenorland (UHC)! This is in addition of the lobby, PvP and parkour that were already enabled. For these, you'll need to be whitelisted properly; it's as simple as viewing your networks page and adding your Xbox Live Gamertag in the appropriate field.
There are a few known limitations at this time. The following might not be working properly yet:
Anvils
Horse inventory
Enchantment tables
Beacon editing
Cartography tables
Stonecutters
The vanilla world border is invisible
There might also be some minor visual bugs, but nothing that would impede your survival gameplay. Work on this is moving forward at a brisk space from the compatibility team, and we can expect things to smooth out over time.
As far as our custom features go, not everything is working just yet, and the web profiles will ignore most of your Bedrock actions for now. I'm continuing work on that front so it's fully supported soon, ensuring that all players are on the same footing.
If this proves to work well, the next step will be to add full access to all servers!
It's a new month, which means a new challenge!
UHC makes a return in the lobby, with the four goals that you might be familiar with. You'll be visiting a fictionalized version of the island of Vormsi, off Estonia. Enjoy your cheap vacation, but remember to keep an eye open for any angry local - you die, you're kicked out of UHC for a week!
---
This also means that a new raid boss roams at the Hunter's Lodge. The Ancient Pharaoh has awoken from his slumber and rumors say that he's angry. Plus, there's another creature of unknown origins that appeared in the same area. You'll want to avoid it... or maybe challenge it for some rare spoils?
---
The three regenerating structures of the Halls of Nyx, Requiem and the Overlook Hotel have been updated in preparation for an upcoming fourth one - a Bastion! Most notably, some drops have been updated and their functionality has been fine-tuned so they all work on the same model, each respecting their own theme. Why not pay them a visit and see by yourself?
---
It's been a month already since we've introduced the new Nether! Did you enjoy the refreshed scenery so far?
We're moving forward with introducing trades for the rarer materials. You can now find ancient debris, netherite scraps and netherite ingots at a few key locations:
Piglin Barterer (Moosemart)
Spirit of Linza (Wychwood)
Emissary of Zaros (Snowhead)
Chosen of the Elder Gods (Shattered Sands)
D.i.Z. (Realm of Darkness)
Of these, only the first one is accessible using basic supplies, and you'll have to pay the price! All others are in the Horsemen areas and will require you to complete some of the local challenges.
Today, I'm extremely happy to announce the next big step for the Creeper's Lab: Minecraft Bedrock Edition support!
The two main versions of Minecraft, Java and Bedrock, have been aiming for feature parity for some time now. While we're not quite there yet, the two are getting close enough where it's getting realistic for both sets of players to meet each other online at last. This means that players of Bedrock Edition on both Windows 10 and mobile can now jump in with us! Unfortunately, console players can't access community servers due to restrictions imposed by the various manufacturers.
For the first phase of this integration, Bedrock players can now access the lobby, plus the PvP and parkour minigames. If all goes well, the access will be extended soon to the survival servers.
You've got a copy of the game on Windows 10 or mobile, and want to jump in with us? Point your client to play.creeperslab.net (on the default Bedrock port, 19132) and get started today!
To prepare yourself for the full access, you'll want to get whitelisted. If you already have a forum profile, go to edit your Networks and add your Xbox Live Gamertag in the appropriate field. Save, and that's it - you're done! If not, consider registering to access the full set of features!
There are a few important points to note:
Everyone's gameplay runs on Java. On mismatches like different recipes, the Java version is used.
Bedrock player names are prefixed with a tilde, like ~Doctacosa. Spaces are replaced with underscores.
For now, access is restricted to the lobby, PvP and parkour games.
Java players can't see the skin of Bedrock players.
Existing players, have fun trying this out. New Bedrock players, welcome! If you notice something not working as you'd expect, please let the staff know!
It's time for our next building contest! This time, you're tasked with building a medieval-style castle town! While you're working to establish the town itself, I'll be building the castle atop the nearby hill.
Rules
Make a medieval-style build that you believe is fitting of a castle town! Use the materials that feel appropriate to you to create the proper atmosphere; you'll be judged on your choices in building type, materials and creativity.
This time around, no lot borders have been drawn, nor are there building limits to follow: realism is your guideline. This is a medieval setting, and building codes didn't exactly exist at the time; mark your limits so others don't encroach in your space. Two main streets have been drawn as a starting point; you can add your own paths or streets as you wish. The area for this contest is delimited by the entire desert biome, so you can choose to be right in the middle of the action or be on the outskirts of the area. Make sure that you label your entry with your player name somewhere!
You can make multiple entries if you're feeling creative, but only one will be judged. Make sure it's marked appropriately!
Note that this area is NOT mob proofed, so there is a chance of being attacked at night. Remember, this is a survival game, so you're expected to survive!
If this is giving you trouble, remember that the invisibility perk available through Merit Points can be of help. This sets you invisible for 30 minutes at a time, preventing most monsters from finding you.
You don't like sand? It's coarse and rough and irritating, and it gets everywhere? Feel free to replace the ground by grass or any other material of your choosing.
I'm giving you four weeks, starting TODAY. The contest will thus end on the 15 August at 23:59, Eastern time.
Location
You'll be heading to Stirburgh, up North. On the overworld, from Central, ride the Transcontinental for 6 minutes until you see the Stirburgh ramp to your right. From there, follow the path!
Through the Nether, follow the North line to the first substation, Great Oak. Get to the top floor and head for Doctacosa's Fiefdome. Once at the other end, make your way to the train station, and take the rail to Stirburgh.
Prizes
The top three winners will each earn the following amount of Merit Points:
First place: 50 points, plus a ceremonial sword of the kingdom
Second place: 30 points
Third place: 15 points
Everyone else who participates will get 1 as well.
Additionally, I'd like to have two extra judges to help me rate the multiple entries. Please get in touch with me if you're interested!
Good luck!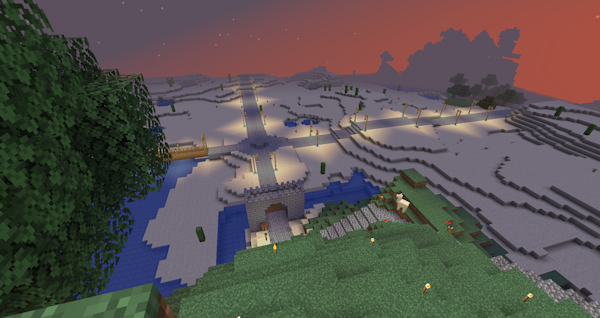 I'm implementing today an improved method for handling multiple game versions on the network. Previously, anyone not using our main game version (1.16.1 at the time of writing) would be limited to the lobby. This would give us a chance to talk with them and explain the version change process if needed.
Now, we're adopting a different approach with a wider support. The PvP game server will now be accessible to all players using 1.8 and up, so multiple players using different versions can all play together at the same time! An important detail to note is that the server itself will use our main game version, that is with the Combat Update mechanics, not the 1.8 ones.
Since most players who connect using older game versions are likely looking for PvP, players using any version below 1.13 will skip the lobby to go directly to the arena.
With the lobby now accessible to players using Minecraft 1.13 and higher, so will the Parkour courses. This gives more players a chance at trying out these challenges without having to bother with a version change or registration!
To ensure that everyone is on the same playing field in survival, the proper version will continue to be required there.
Thanks to Sphenicus' efforts, our official resource pack has been updated! If you're using any of the older versions, I recommend getting the new version for various corrections, improvements and surprises.
New to this release are updates to most of the paintings, with new and updated visuals. Plus, a new music track was introduced for the disc that was added in Minecraft 1.16!
For those unfamiliar with the resource pack, it's a light addition to the core game. No blocks or mobs are changed, with the exception of creepers, so the visuals stay intact. The pack focuses on replacing some sounds, music tracks, all paintings, while adding a few surprises true to the Creeper's Lab. Plus, it adds conveniences like a reduced pumpkin blur.
Give it a try! You can download it from the resource pack page.
I know that many of you have been waiting for this, and I'm happy to announce that the science areas are all back online, including the Creeper Citadel!
For players that have already completed part of the challenges, some items have been overhauled and you're eligible for a trade. You can find the full list here; to trade them in, please head to the underground of the Post Office at the Citadel.
Some new item trades have been added at Moosemart, they will be added later today to the Resources forum. As a reminder, this is where you will find a detailed description of the various areas, trades and items available for the Horsemen Areas, Challenge Missions and other challenges.
All servers have been updated to the latest and greatest on Minecraft 1.16.1; it's time to update your client to discover the Nether Update! There are some important things to note, so please read on.
Many of you will be excited to go down under (no, not to Australia...) and discover what's there, or to mine all of the new material. To help with this, we're introducing three new Nether worlds:
The main one, to explore and build on, takes the form of a new server called Superia. You will find this one directly in the lobby. A spawn area and rails to endpoint cities have been prepared, similar to the other main worlds, and you're also free to take off in any direction as you want. Explosions are temporarily disabled, go to Tasmantis for boom-booms.

Rodinia's Nether has been partly reset to give you access to the newer resources and is now expected to be permanent for building. You'll have to head out at least 512 blocks from spawn to see the new areas.

For your mass mining needs, Tasmantis makes a return with a brand new Nether attached! This is temporary and will be retired when the interest dies down. You're looking to carve out a large area of the world, or you want to gather all of the new Nether materials? Visit Tasmantis first, it's there to be plundered!
Laurasia's existing Nether will be locked down to the current structures to focus on rail transport. Again, for mass Nether mining, visit Tasmantis now! To build, see Superia.
All science areas are now coming offline as they need updates to work properly under the new game version. Further announcements will be made as the areas come back online.
To solve key problems on inventory synchronisation across the survival servers, the entire system has been rewritten from scratch. Something important to note is that the position of all players has been reset to the spawn of each world. You will need to head back home on your own. To help with this, we're making an exception so that the staff will teleport you back home if you ask for it. This can only happen once per server per player. Make sure to set your spawn right after if you haven't already done so!
Enjoy!
Traditionally, Merit Points would be earned in a yearly cycle and then be reset, which would be happening at the end of June, in a few days. After reviewing their use, I've decided that Merit Points will NOT expire anymore. Keep on collecting them to build your way to the rewards you're interested in!
Some of you might be asking "but what are Merit Points good for?" or "How can I use them?" To help explain that, we're launching a Merit Points Awareness Week!
Starting tomorrow, Sunday 28 June and lasting until 4 July, you'll earn a Merit Point simply for logging in, every day! Combine that with the daily point that you can earn by voting for us, and you can easily rack up more than 10 points in the upcoming week! That's enough to cash in for a Merit Voucher, which can then be exchanged for a long list of cosmetic or memento items!
For more information on this, please check the newly refreshed information on them, it lists the various ways you can earn and spend them! You can check how many points you currently have available by using /points in-game.
In a competitive mood? You can see who earned the most Merit Points on the forums! Two leaderboards are now presented: one for the lifetime total, and one for the past 90 days only, giving newer players a chance to get to the top.
News archive