Welcome to the Creeper's Lab! We have multiple Minecraft servers and an active community, mostly focused on playing Survival mode. We now support both Java Edition and Bedrock Edition! We also have special games, events and contests. If you're not already playing with us, don't hesitate to join. Newcomers welcome!
You don't need to register to quickly join and look around our main survival server, but you will need to in order to play. Register today!
News
Advent calendar
Some of you have asked, and I'm happy to confirm that the Advent Calendar is making its return, starting now until Christmas! Twixxi has prepared a new rotation of daily gifts plus new bonus rewards for you to gather.
For those not familiar with it, the concept is simple: go there, get a gift, and you can do so every day starting today up until (and including) Christmas! The rotation happens every day at around midnight, Eastern time.
The Loyalty Baubles from last year also make their return! Every day that you visit the calendar, you'll get your gift alongside a token. You can then trade these at the hut nearby. Two new items have been added to the collection for a wider variety of rewards. Will you go for duplicates of last year's items, the new goodies, or a mix between the two? That's up to you!
If you had any Loyalty Baubles left from last year, they are still accepted.
If you miss out on some items, every week, the Grinch will be there to cover you - for a price. However, the Grinch pledges loyalty to no one, and there will be no catching up on the extra rewards!
This is located in Central's Seasonal Park. From Grand Central Station, in the basement, use the Residential Line until you're next to the snowy park. Alternatively, walk West from the station, passing in front of the Community Centre then following that path to the North.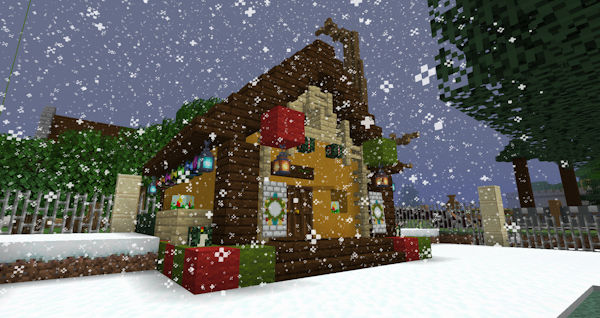 ---
Christmas cards
You like them, they're back!
Visit the giant mailbox right next to the advent calendar, submit your mail address, and get a signed Christmas card in the mail from me, later this month! I'm sending these worldwide. There is a limited quantity available, and it's first come, first serve, so don't forget to do this early to secure yours!
If you can't get in-game, you can also use this special page on the forums to submit your address.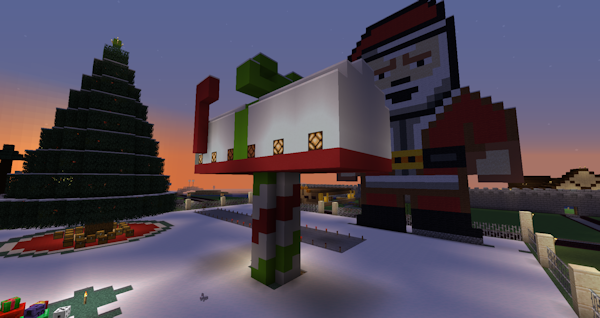 ---
New challenge: ANARCHY!
Anarchy is the name of the game this month in Kenorland! Survival against others is key, build defenses, trust no one! PvP and raiding are enabled and allowed.
Looking for specific targets to reach?
Kill a player: They're out to get you, better take the initiative!
Reach level 30: Make sure you survive against the elements and others.
Place a bucket of lava: Either as a defensive measure, or against someone else...
Craft an enderchest: Can your valuables be truly safe anywhere else?
Each goal successfully completed will net you 5 Merit Points at the end of the month, for a potential of 20 points.
Unlike UHC, you won't get kicked off if you die, so you can resume your operations right away.
The four directional railways are protected, the rest is the lawless land you must fight in. Good luck!
---
Science
At the Hunter's Lodge: Ho Ho Ho! Sandy Claws is back with Krampus and the E.L.F.s! Who summoned them here you may ask? None other than the God of Syrup! Head on over and help save Christmas!
New Horsemen Quests have also been posted, so get gathering on items if you're looking for Horsemen Points.
Reminder: If you're interested in becoming a Horsemen Acolyte, you need to submit an application every month to gather your tokens! To do so, visit the Horsemen island at the Creeper Citadel.
---
Guilds
Now updated with new goals in all four main survival worlds!
As a reminder, suggestion boxes have been added to each guild room for Masters, in Gondwana. Place your own suggestions for future targets using an item, block or named piece of paper with your proposal. Maybe this would help you in an ongoing project, but there are no guarantees your wish will be granted, or in which world it will apply!
One special note: when a task requires you, say, to mine iron ore, you must specifically mine that - deepslate iron ore will not do!
---
If you need details on the new rotation, the wiki page about the Monthly Challenges is updated as soon as each of these is ready at the beginning of the month!
Minecraft 1.18 has been released a few hours ago, and our own preparations are underway! The entire network now accepts connections from 1.18 players on both Java and Bedrock editions, so you can continue playing right away. The actual update with 1.18 features will happen later.
Java players, for the best experience, I recommend continuing to use 1.17.1 for now. Bedrock players, let your auto-updater do its job, as you can now connect using either versions.
The actual upgrade will happen once all necessary server software has been updated and tested, including the plugins. We don't have a timeline for this yet.
Have you tried Dripleaf Spleef yet? Maybe you have and you want more. Or maybe you didn't and you'd like to give it a chance!
Well, Groovy's inviting you for an encore of his event from last month, with a spleef tournament! This will begin at 7pm Eastern Time this Sunday, the 28th. No special equipment necessary, just show up in Central and directions will be given. If you don't know how spleef works, don't worry - it's easy to pick up!
The top three competitors will earn the following:
First Place: 25 Merit Points. 3 Merit Vouchers.
Second Place: 15 Merit Points. 2 Merit Vouchers.
Third Place: 5 Merit Points. 1 Merit Voucher.
---
This event will be run by GroovyBanana. Interested in running your own events such as this one? You can do that by yourself!
Check out our pre-made templates, then reserve your event on the forums!
That was exciting, wasn't it? I hope you enjoyed our tenth anniversary celebrations! Here's a look back to our seven announcements in case you missed any or need a reminder!
And of course, more will happen in the coming weeks, months, years...
If you liked this and want to see more, may I ask you to consider pledging your support on Patreon? Any amount helps, and in exchange, you can get access to all kind of cool perks like trails, custom titles, postcards and more, with the satisfaction of helping your favorite Minecraft community grow! You can also gain some insights on the way I do things, like my latest post on the challenges of preparing this week of celebrations. For more, check the How to Help section, or jump directly to my Patreon page.
Features that some of you had been asking for a long time have been added to Patreon in the past year, including the option of paying by year instead of by month, along with the ability to pay in other currencies like CAD, EUR and GBP. As such, it's more convenient than ever; thank you for considering it!
As a last note, in case you missed it, our tenth anniversary video is now available on our YouTube channel.
Here's to many more years of mining and crafting!
For our last major anniversary update, I'm happy to announce something completely new: the Creeper's Lab Companion, a mobile and desktop app to let you quickly access the essentials!
As its name suggests, once installed (or accessed online), the Companion's goal is to assist you in finding the information you need. That way, you don't need to browse the full website and interrupt your play!
The Companion currently lets you do the following:
Useful links
View the maps easily
Browse through the news
Run searches on players, news, wiki, forums
View the list of online players
Login to your account
You can get it now from Google Play or the Microsoft Store, or directly access the online version!
iOS users, I've love to have it directly available on the App Store too, but these types of applications aren't supported by Apple at this time. Instead, do the following:
Click the Share button.
Select "Add to Home Screen".
That's it! You'll get an icon that lets it open like any other of your apps.
This is just a starting point, and more features are already planned to be added over time. If you have any suggestions, don't hesitate to offer them!
Come back tomorrow for a recap on the past week of releases!
Did you know that the Creeper's Lab has its own wiki? It's true!
What originally started as a way to document the various items found within the science areas has grown to cover several different aspects of the Lab and everything found within. Here are some examples that you might find interesting:
I've recently added a whole new section called What To Do, which gives a quick summary of the various things one can do here. If you're tired of building, you could go achievements hunting. If you have all of them, the minigames get a mention. If you're looking for alternatives, there are several, so why not give it a read!
The best part is, anyone can work on it! If you have an idea on a new page to create, or see a correction to make, login to the wiki using your Discord account and get going. It's as easy as that! You might want to check the wiki guide as a starting point.
Come back tomorrow for an unexpected addition!
We're got achievements, kills, deaths, blocks placed and broken, and so much more. To make these numbers visible to you, and give you an opportunity to view your own progress and compare with others, we have detailed player profiles available. As a reminder, you can type /profile in-game to quickly access your own profile.
Based on various player feedback and ideas thrown my way over time, I've pushed today a wide set of improvements to the data displayed! Several new additions have been made to get you a much more complete view of everyone's progress.
The individual player profiles now offer the following:
For each top 10-style statistic, the total amount is also included.
The progression through the Horsemen Areas is highlighted.
Each Guild will display the top title earned.
The global scores page hasn't been forgotten, as it now includes the following:
If logged in, your own position will be highlighted.
If you're not in the top 10, your rank will be displayed too.
The leaderboards now include the most playtime and voters.
Also, following up on last weekend, the global statistics include the best times on each parkour course, plus the best scores obtained in racing's time trials! Likewise, when looking at a player's profiles, their own best scores in parkour and racing will be displayed (if they have any).
I have more ideas related to player profiles, so be on the lookout for that in the coming months!
Tomorrow, valuable information about information!
The Creeper's Lab features its survival experience first and foremost, but sometimes that might not scratch the itch. To give you some wider variety of play styles, we also have a variety of player-led initiatives, such the affiliated servers, events and building contests!
Miranda is run by Skreelink and has been attached to us for several years now. The main gameplay mode is still the survival you're used to, with one major difference: there is an item store right next to the spawn point, where you can get all the blocks you can carry for free! The only admission cost is a single iron ingot to open the door. There is also a level downstairs for valuables, at an extra cost. This makes Miranda especially suitable for large scale builds, as you can get a lot of blocks for little effort, thus giving you a chance to focus on the construction. Take a look at its map if you're interested in adding to it. Worth mentioning, today happens to mark the sixth anniversary of it joining us online!
The newest addition is the Sandbox, from GroovyBanana. Unlike others, this one runs in full creative mode, letting you do whatever without worrying about supplies or deaths. This is a great spot to prototype your newest creations while still enjoying the global chat link with the community. Do note that the Sandbox could be periodically wiped and reset, so this is best taken as a testing and development area.
Both are only accessible to players who have earned the Trusted status. They both aim to be available 24/7, just like the rest of the network, although they can experience short down times. If that's the case, get in touch with their respective owners for a quick fix!
On a smaller scale but also important are the various events run by the players! Anyone is free to schedule events at any time, although the most obvious time period is obviously during Events Nights. There are a variety of pre-made templates available to make the work easier. Anyone interested should look at the templates (or come up with their own thing), then post on the forums to request a time period.
Ever popular is our ongoing series of building contests. Once in a while, people are invited to gather in a single location to create something new based on a given setting. This led to a lot of nice neighborhoods and impressive sites to appear over the years! Any player is free to run their own contests, by following the guidelines and getting in touch with Doctacosa. We have a healthy sequence of building contests scheduled for the next few months, too, so be on the lookout for these!
See you tomorrow for something improved!
Our parkour mode has been available for some years now, yet it offered only the most basic of features. I'm adding today multiple improvements to make it more fun!
First and foremost, your progress through the various courses is now tracked! Going beyond the simple satisfaction of completing a challenge, the time it took you to complete each one is now recorded, along with your number of deaths. The best score for each course will be displayed as you enter them, giving you an incentive to try and beat the current high scores.
Second, to help you reach the end of the various courses, checkpoints have been added! If you fail at a given point of a course, you will find yourself placed back to the previous checkbox (assuming you hit it!). This will make some challenges like MountainB0y's potentially doable, now! I placed these checkpoints myself, if you've designed one of these courses and would like to see changes to their locations, please get in touch.
If you're interested in creating your own parkour challenges, ask a staff member to access the side door, leading to the building area. Once your challenge is ready, get in touch with Doctacosa to get it properly added.
See you tomorrow for a word from our sponsors about the network!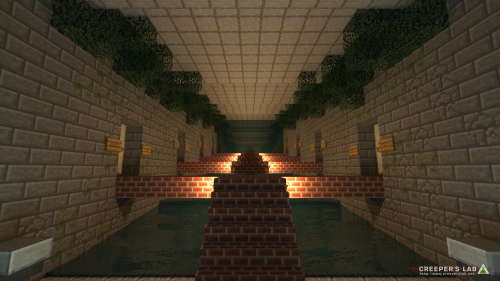 I'm extremely happy to announce the long-awaited return of our Racing minigame, accessible straight from the lobby!
If you're familiar with Mario Kart, you know what to expect: enter a race track, complete a given number of laps trying to outrace others, and fight using items to benefit yourself or hinder others. It's a lot of chaotic fun that you can easily join at any time, or even do it on your own through time trials, so give it a try when you have the chance!
Two tracks are currently available: recreations of Donut Plains from Super Mario Kart, and Bowser's Castle from Mario Kart 64. Plans for more are already underway.
For the best experience, download and activate the CreeperKart resource pack!
This is something that we used to have, but a string of game updates left this game mode in a bad state. After a lot of work by myself and others, it has been fixed and is now better than ever. Future updates should also be easier to handle, and I fully intend this to remain a permanent fixture of the Slab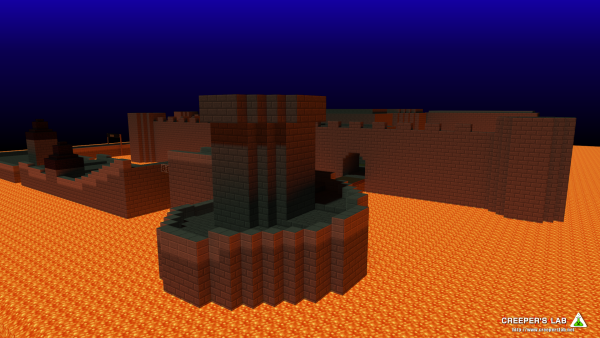 See you at the races, and join us tomorrow for upgrades to something familiar!
News archive