Welcome to the Creeper's Lab! We have multiple Minecraft servers and an active community, mostly focused on playing Survival mode. We now support both Java Edition and Bedrock Edition! We also have special games, events and contests. If you're not already playing with us, don't hesitate to join. Newcomers welcome!
You don't need to register to quickly join and look around our main survival server, but you will need to in order to play. Register today!
News
Minecraft: Bedrock Edition got a new version today with 1.16.220, containing mostly bug fixes. The network has been updated to accept this new version while remaining compatible with all 1.16 releases. Let your game update when its ready, and go grow those vines!
Kenorland: UHC in an ancient setting*
UHC makes a return in Kenorland, featuring a very appropriate April-themed map. This is one where completing the four targets could be as entertaining as exploring this unique world itself, so make sure you don't miss it!
Science
Today is Easter, and to celebrate, the Hunter's Lodge features Sæhrímnir, a Predatory Teddy Bear, Scared Children and none other than Zombie Jesus.
Plus, for the item gatherers out there, all Horsemen Quests have been updated.
Guilds
New quests are accessible to everyone in Laurasia, plus Rodinia's doors are open to everyone who has gathered enough point in each respective guild.
For those wondering how the competition on Grand Masters is going, Twixxi had the following to say: "There are currently 19 Players still in the running for Grand Master of at least one Guild, with five of those Players being in the running for all six of them! Each of the six Guilds have between 6 and 13 Players still in the running."
The competition is still strong, and there's always the chance of current forerunners falling behind, so keep on completing these tasks if you want to have a chance at earning a unique Grand Master status!
We now have a page on the wiki listing all monthly challenges, which we aim to update as soon as each person has rotated their section. Consider keeping a bookmark to that reference so you can easily access it!
Peter Cottontail invites ye to join him on his ship The Miracle Worker and play hide-and-seek with his children starting on April 3, 2021 until April 4, 2021 during Events Night! Make sure ye find all his children in order to claim yer booty hidden on his ship!
Visit the Creeper Citadel to start yer adventure. The island is located on the right of Moosemart.
Did ye miss out on the Easter 2020 basket? For a limited time, ye can receive a 2020 Replica Easter Basket for an Easter ticket, provided upon entrance to the event!
I suppose yer wonderin what yer booty is, aye? Well yer not gonna want to miss this! A netherite block! Ye heard me correctly mates! Ye will also receive a 2021 Easter basket!
Make sure ye don't miss out! It will be a-MAZE-ing!
This event was made possible by Rebbica007
Bedrock Edition players, this is the day that many of you have been waiting for: all the special crafting tables and inventories are now supported! This includes the addition of:
Smithing table
Grindstone
Loom
Cartography table
Stonecutter
Beacon
Horse
Furthermore, enchantment tables now use the interface that you expect, and lecterns will display their books. This was one of the last major limitations to our Bedrock support, bringing us ever closer to have all players on the same level, no matter how they join!
With these new additions, the convenience Bedrock traders at Moosemart will be removed. The Super Loom at Central will remain accessible as it offers additional features beyond that.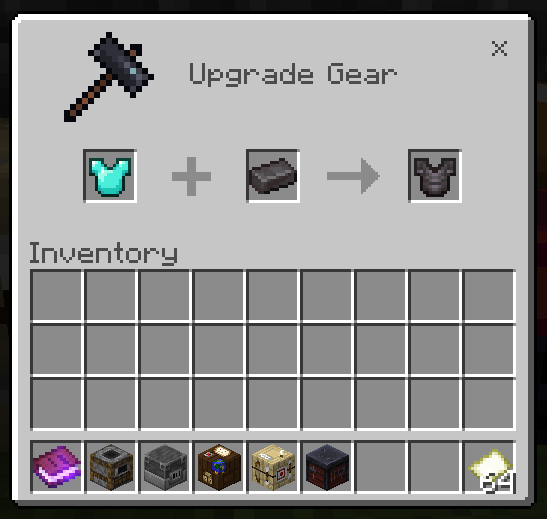 I hope you enjoy these additions!
The building contest for shops at Kamachi's place has wrapped up, the entries judged and the results tallied!

Without further delay, our top three winners along with judge comments:

First place: Coneva ( $10 Amazon gift card winner)
The use of the statue book, to the ingriedience, to having an armor stand mix yummy stuff. simply amazing, not to mention the decor just feels nice, theres a sort of vibe i get when i entered the resteraunt, cozy warm, i can practicly smell the coffee and cookies!

Second place: Twixxi
amazinng rainbow room with fish and a shopkeeper
so unique, ive never seen a underwater shop. not to mention the awesome rainbow walls

Third place: SaneTezz
Awesome maps that look like poker cards and slot machines, although the building was fairly basic, the maps are what made Sanetezz's build that much more unique.


To get a nice look at all entries, along with some additional lore on the area, here is Kamachi's latest video:




If you liked this, make sure to check out our channel on YouTube and subscribe to get our future content!

Congrats to all participants!
Exodio is inviting everyone to a Block Party, hosted within the Residential District in Central! This will take place this Saturday at the beginning of Events Nights, 9pm Eastern time.
The fun will begin at Exodio's place then spread out over the neighborhood. If you live nearby, you're encouraged to set up some display or attraction of your own. Even if you don't, come together and join the other players for the festivities!
Minecraft: Bedrock Edition got a new version today in 1.16.210, containing parity improvements, a smoother user interface and bug fixes. We have updated the servers to accept this new version, which is also compatible with the older 1.16 releases. Let your game update when its ready, and carry on with your mining adventures!
A set of improvements that I've been developing for several weeks to increase the performance of the servers is now ready and live!
With this new model, the game servers that don't have any active players will automatically turn themselves off after a while. They are set to come back online on their own when you want to access them; in that case, you will see a notification telling you that the world you have selected is currently being prepared. Once ready, you will be moved over.
If the server you were last playing on isn't loaded on your next visit, you will land in the lobby. In that case, go to re-enter the world and you will be allowed back inside after a short load time. If you are moving frequently between worlds, don't worry: there is a delay between the last player leaving and a world shutting down, so you won't be facing constant loading screens.
In rare instances, if the players are spread out over many worlds, you might get an error about a high server load. In that case, you won't be able to enter the location where you wanted to go until more resources free up; in that case, you are invited to wait it out by going somewhere with active players. I don't expect this to happen often, but it's possible.
This should greatly improve the game speed and stability compared to what we experienced in the last month or so. Most servers now have more memory available, as those that are unused at any moment completely clear the room for others.
It's time for a new set of challenges and targets as we enter the month of March!
Kenorland: Randomizer
Do you like to expect the unexpected? Then go try your hand at figuring out the madness that Kenorland offers this month! In this special world, everything you can encounter is randomized, including but not limited to mined blocks, mob drops, crafting recipes, and more!
Anyone who tries the challenge and lasts more than a minute will earn 5 Merit Points.
Guilds: Rodinia opens!
If you missed it, last month saw the opening of the Guilds of the Creeper's Lab. Assuming that you completed the targets in February, then do the new ones that became available today, you can level up and gain access to the Rodinia guildhall! You will find it a short distance south from spawn, next to Rodinia Central Station.
To access the Rodinia challenges, you first need to purchase the certificate of the selected guild in Laurasia, then bring it to the reception desk in Rodinia. Once you've unlocked your access, you can safely store away your certificate.
Science areas
The Hunter's Lodge takes a green shade this month with Evil Leprechauns, while a familiar friend from Requiem is in the vicinity. All Horsemen Quests have also been cycled; go to the Creeper Citadel to view the full list in one convenient location!
As a reminder, the science areas, which include everything related to the Horsemen and more, get regular updates and tuning. You can track these improvements by checking the changelog on the forums; consider subscribing to the topic to get notified about any updates!
Did I hear someone say "building contest when"? I'm pretty sure I heard someone say "building contest when". So, building contest NOW! Our resident YouTuber xKamachi is inviting you to build shops at his location, with the top prize being a $10 Amazon gift card. Read on for the full details!

First, here is the full video with the story introduction, followed by the directions and contest details:




Rules

Your building goal is to claim a lot then create a shop from any time period.

As usual, select a plot, put a sign with your name on it to claim the spot, and get building! You own your plot from bedrock to sky limit; make sure not to interfere with the nearby players.

As an incentive to get you to start early, four larger plots are available on a first come, first serve basis. The rest all have a standard 20x20 building area.

The building period starts NOW and lasts until the end of 15 March.


Location

The contest area is at xKamachi's place, directly accessible from the overworld Western Line.

Alternatively, you can access the West Nether rail, stop at Salad Facts (the second substation), go down two floors and follow the Kamachi Tawa line. Exit the building, turn right, and you're there!


Prizes

Three winners will be selected. The top winner will get a $10 Amazon giftcard while all three get a selection of items, including armor, banners, building blocks and more. I invite you to check the video description for the full list!

Judging will happen soon after the building period has closed.

Good luck to everyone!
News archive