Welcome to the Creeper's Lab! We have multiple Minecraft servers and an active community, mostly focused on playing Survival mode. We also have special games, events and contests! If you're not already playing with us, please don't hesitate to join. Newcomers welcome!
You don't need to register to quickly join and look around our main survival server, but you will need to in order to play. Register today!
News
Available today is a fairly large revamp to the Merit Points system. Here's everything that's now available for all to use!
While the points used to available for cash-in during Events Nights only, we're expanding this to the whole week, with a new costs structure! First, what was already available by using /points PERK:
flight - flight: Get the ability to fly for 15 minutes.
xp - XP boost: Double the XP that mobs drop for the next 30 minutes.
As a convenience, at the end of a flight period, you'll now be gently let down instead of crashing instantly to the floor.
These are joined by four new perks:
keepinv - Keep inventory: Single use. You keep your current inventory and levels if you die. If Events Night is ongoing, this won't be used up.
invis - invisibility: You get to be invisible for 30 minutes. This is great for outdoors builders in unprotected areas, as monsters won't attack unless you're very close or outright hit them.
tardis - TARDIS: Single use. Sends you instantly to the End of Time so you can exit at any location. Make sure you're somewhere on Laurasia before using this!
weather - Weather: Clear the rain and keep it that way for at least 15 minutes.
Most of these stay with you through disconnects and server changes, except the clear weather option as it's set per world. All of these are available 24/7 at the cost of 2 Merit Points, except the End of Time access which is worth 4. During Events Night, these prices get slashed by half!
Also new are Merit Vouchers: for 10 points, you can gain a Merit Voucher which can be exchanged for many things. Visit the fifth floor of Moosemart, at the Creeper Citadel, to get vouchers and view the full range of trades. This includes replicas of past event items, shortcut items for those exploring the science areas, cosmetic costumes of science mobs, heads of previous staff members, and even some exclusive items! You can head directly to the Hunter's Lodge to access any of the existing raid bosses, too.
Future draws for various items, real and digital, will also happen where the Merit Vouchers will be used as participation tickets. This replaces the end-of-the-year prizes that were offered previously to the players with the most points.
How to get points
All this is fine, but how does one get points? This is detailed on the Merit Points page. To summarize, there are three main sources:
Vote for us every day! Enter /vote in-game, or get the links from the Help page.
Participate in the monthly challenges in the lobby.
Enter our various building contests!
Remember that you can vote for us every day, even if you're not interested in the points themselves: voting gives us more visibility and helps to attract new players. Give us a hand whenever you can, it's free and quick for you to do!
The rules for the network have been expanded and clarified a bit based on recent feedback.
Most notably, what was an unwritten guideline has been formalized: religion and politics discussions are now frowned upon. While both can make for fascinating exchanges, they can also be very divisive. We're here to have fun, not to argue endlessly at each other, so this isn't the place for these.
Additionally, we had a long-standing policy against Endermen farms in the End. Since there are many other sources of exp nowadays, that restriction is gone. As a reminder, Laurasia's End gets reset periodically, so any permanent structures should go in Rodinia's End.
The in-game /rules command will be updated accordingly at each server's next restart.
Get your best running shoes, remember your New Year's Resolution about making more exercise, and let's race race race!

This month's challenge is Race Away, accessible from the lobby as always. The goal is to run straight East, to get to the highest X coordinate possible during the month. If you die, you get sent back all the way to the beginning with no inventory, so be careful! The world available to you this time around is rich in some resources, but notably lacks a floor. Beware of any missteps... You can move between -1000 and 1000 on the Z axis. Due to a lower amount of food than usual being available, your hunger will slowly refill over time.

Merit Points will be given to the top runners based on their respective, top positions. For example, the last person will get 1 point, next-to-last 2, and so on up to the top runner getting an amount of points equal to the amount of participants. A minimum of 10 points will be offered to the winner.

Good luck!


---
A new raid boss will be available later today at the Hunter's Lodge. This time, the dreaded
Nyx
is to be challenged!
Have you tried our parkour courses in the lobby? Thought about building one of your own? Maybe honey blocks unlocked new potential that you'd like to explore?
It's now possible for anyone to build additional courses! When you access the Parkour area, in the Games section of the lobby, you'll find a door at the left leading you to the build area. Use the buttons to switch your game mode to creative, claim a free area by putting your name on it, then get building! It's important that your course has clear start and end platforms; everything else is up to you. You'll have to ask a staff member to add you to the building area door's permission; after that, you'll be free to go in and out as you please.
As a reminder, players attempting the parkour courses do so in adventure mode, so they can't break or place blocks. Hunger has been disabled, but health is still enabled - fall damage is a real killer!
Once you've completed building a new course, get in touch with me. I'll review it to make sure it's doable, then add teleporters to link the entry and exit points to the public area.
Give it a shot!
All servers have successfully been updated to Minecraft 1.15.1, the Bug Update. Hopefully, this means more bees and fewer technical issues! Update your game version in the launcher, and carry on! The lobby will still support 1.8+ to allow us to warn other players.
For those looking for bees, they'll be made available shortly at Moosemart for a fair price.
Last week, I made a call for fresh blood to join the staff group. First things first, I'd like to thank everyone who applied: this got more attention than I was expecting, which is good sign that the community is healthy and that people want to get involved more!
With that said, this leaves us with a few nominations:
Both MineshaftBob and xLordItachix are being promoted to the op status!
To replace them, BiGsTiVo and Twixxi_ are joining the group as helpers!
JRandomizer will be taking over the Instagram account to repost the news, and maybe more!
Mikey_el16 will get busy preparing new content for our YouTube channel.
Congratulations to everyone! You'll be getting a private forum message from me soon with some more information.
As expected, Mojang released on the 10th Minecraft 1.15, a new version full of BEES! As always, it will take some time to prepare the servers for the upgrade, but as this version doesn't have a lot of technical changes, this isn't expected to take as much time as was needed for either 1.13 or 1.14. For now, make sure that your client is using 1.14.4 to stay with us!
In the meantime, the lobby has been made compatible with 1.15 to give us a chance to communicate the latest news with all players.
We've got an active month as far as visitors go thanks to a new ad slot, and we're planning to do this again in the coming months, so it's time to look at getting some more hands on deck!
I'm looking at adding new helpers and ops to the staff of the Creeper's Lab, the exact amount to be determined based on the level of interest.
As a reminder, the tasks of a helper are focused mostly on helping the community by answering questions, with a much smaller focus on special commands than ops. This includes:
Greeting the new players and answering any questions they might have.
Checking on these players to make sure they understand and follow the rules.
Getting players unstuck due to server bugs or protections (it happens!).
As a last resort, kicking and/or banning troublesome people.
Ops do much of the same as helpers, but also have access to extra abilities and commands. This can include:
Tracking down sources of griefing.
Reverting said griefing when located.
Supervise events and contests by providing assistance when needed.
Additionally, we're also looking for a YouTube and/or Twitch creator to add some liveliness to our channels on YouTube and Twitch. The video channels have proven to be popular in the past, for regulars and random viewers alike, and led quite a few players to join us. Ideally, you've got the skills, time and processing power to create some worthy content. If you've already done videos before, don't hesitate to send a sample link our way!
Only players that are registered and active at the time of this posting will be considered. To apply, please send me a private message on the forums. Nominations will be done in about a week.
Thank you for reading!
New month, new goals and new surprises. We've got a lot for you, so read on for the details!


Advent calendar

MediaKlepto and Twixxi_, with the help of some others, have prepared an advent calendar for you! The concept is simple: go there, get a gift, and you can do so every day starting today up until Christmas! That's 25 potential days of gifts, including useful goodies and decorative items. They'll get rotated every day at around midnight, Eastern time, so don't miss out!

This is located in Central's Seasonal Park. From Grand Central Station, in the basement, use the Residential Line until you're next to the snowy park. Alternatively, walk West from the station, passing in front of the Community Centre then following that path to the North.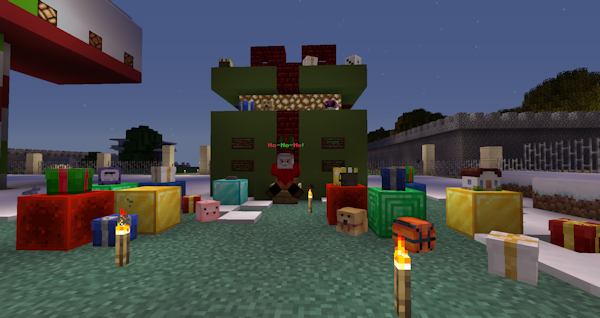 Christmas cards
The Christmas cards are back for a seventh year in a row! Visit the giant mailbox, submit your mail address, and get a signed Christmas card from me in the mail! I'm sending these worldwide. Please make sure to submit your address soon, as I have a limited amount of them available. You can also request an additional card from a past year, as I have limited stock of the issues 2014 to 2018 cards available. Include that mention with your address if you want it!
The giant mailbox is located right next to the advent calendar, once again in Central.
Alternatively, you can use
this special page on the forums
to submit your address. Why would you do that, though, and risk missing out on the advent content?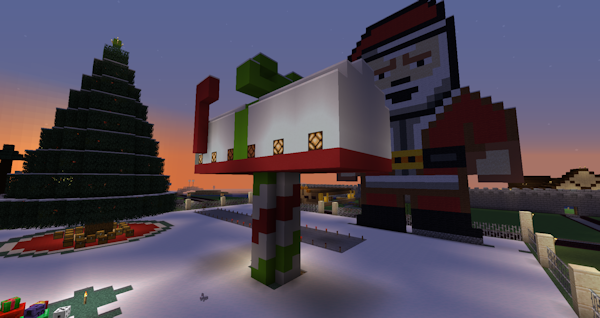 New challenge: snowy UHC!
After last month's randomizer, we're back with something a bit more typical in the form of a new UHC map. This time, the cold weather has swept through the place. Make sure you don't freeze!
Note that, since that game mode is different from how the other servers are managed (notably, griefing is allowed and PvP is often on), it's now accessible only to registered players.
Raid boss update: Santa is baaaaaack!
Santa isn't only busy preparing toys and handing out the goodies at the advent calendar, he's also all warmed up and ready to beat you up, with his elves in tow! To exchange politely with them (read here: beat them up), visit the Hunter's Lodge!
With the autumn season falling slowly behind us, it's finally time to tally up the scores for the Woodhollow-een Building Contest!

Sora, Bob, and I set out to explore your creepy-spooky-possibly-macabre creations, and after a bit of debate have come to determine the Top 4 Winners, owing to the tie for the top slot! Our lucky winners are...

First Place: Anonymous_SoFar & Twixxi_
Second Place: StTheo
Third Place: Doctacosa

You can view the final scores and screenshots of each build on the results page, as always!

As for the prizes; both Twixxi and Anon will receive the 1st place prize of the Woodhollow Gourd and 30 Merit Points, plus the prizes for 2nd and 3rd place.

Our 2nd place winner will still be receiving 20 Merit Points and a copy of the 3rd place prize. However, since all of the Pumpkin Titans across Laurasia were slain and a cache of Woodhollow Lanterns was distributed throughout the playerbase, 2nd place will instead be receiving the Arsonist's Toolkit; an unbreakable flint+steel which gives +0.1 Speed and +7 Luck when held in the main hand.

The 3rd place winner nets more of those ever so tasty Pumpkin Juices and 10 Merit Points, while all other participants get 1 Merit Point just for entering!

Thanks to everyone who entered, and congrats!
~ Media
News archive