Welcome to the Creeper's Lab! We have multiple Minecraft servers and an active community, mostly focused on playing Survival mode. We also have special games, events and contests! If you're not already playing with us, please don't hesitate to join. Newcomers welcome!
You don't need to register to quickly join and look around our main survival server, but you will need to in order to play. Register today!
News
New challenge
A new challenge is now available in the lobby, as the Randomizer makes its return!
In Minecraft, every item has its drop: break a log, you get a log. Break a dirt block, you get dirt. And so it goes. In the Randomizer, the drops of each item have been mixed up, but they're all constant. For example, breaking grass might get you concrete. Placing and breaking that concrete could earn you a poppy! It's up to you to figure out what items provide which materials in order to progress. In this instance, Minecraft's crafting recipes are maintained as-is.
There's no set target for this, as the challenge of finding which blocks are required to do what you want can be complicated enough. Good luck trying to build a home of your own! Everyone who enters the world this month will net 5 Merit Points.
If you have suggestions of specific targets for future instances, please let me know!
---
Grindatron
Last month's Grindatron has concluded! An active core group of players kept looking up whatever target was given every four hours (whenever possible, of course!), then rushed to find the item required. Each successful run earned them one Merit Point. Here's the final line-up!
GingeKoda: 128
Pteryx: 118
Doctacosa: 99
Coneva: 94
Raegal: 74
Kimonellos: 60
xLordItachix: 38
D_0c: 30
ChillingSlav: 24
BioZombieActive: 18
Connovan: 16
Mattie_33: 3
axe_y: 2
MineshaftBob: 2
ringman77: 2
DragonDrone: 1
Twixxi_: 1
All points have been attributed to the players. This is a fun one that new players also got a chance to discover, and it will return in due time!
---
Hunter's Lodge
Do you see these miners? All active trying to extract precious ores from the Earth's crust? Well, they delved too greedily and too deep and awakened something fierce... a Balrog.
---
Bans
The Creeper's Lab has been around for over eight years now. With our long-lasting policy that all bans are permanent, outside of a few rare exceptions, that's a lot of people who won't ever get the chance to return.
The staff are currently reviewing this policy and would like your thoughts on it. Should all bans stay permanent, or is there room for temporary ones on more minor offences? Should the warning system be more formalized? If you're interested in this subject, check out the newly opened forum topic and share your thoughts with us!
---
Achievements
As many of you already know, the achievements system has been cleaned up in the past few days by reviewing and updating multiple targets that broke during the last few game versions. As of last weekend, all 150 targets can once again be completed as expected!
Ever wanted to build in an existing location, following a theme, but you didn't know the local rules or who to ask?
Wonder no more! I've compiled a list of all the public building sites that I'm aware of, along with their themes and local building rules. If you want to make a skyscraper, look up Minetropolis; for a fancy house, Oak Hills awaits you; trains, we have that too! Many of these are former contest sites, this new page centralizes their information for quick searches. If something isn't clear still, the person in charge of each site is also listed in each entry.
If you think of a location that's missing, or something seems unclear, get in touch with me!
Today marks the fourth year of me being on Patreon! I'd like to once again take a moment to publicly thank all of my patrons, past and present, for believing in what I do.
Quite a few things happened in the past year, most notably the first serious attempts at spending money on advertising. You've seen some player surges (and quite a few bans!), proving it to be an effective way to energize the community. Here's a chart on the number of active players for the last full 12 months, excluding visitors and people who join only to vanish after a few days.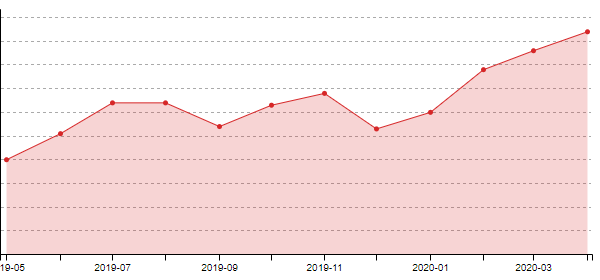 There's a clear upward trend, a good share of which can be explained through the advertising. That's a costly endeavour, but thanks to my patrons, we've been able to make it happen. More players make for a more dynamic and healthy community!
Now, I'm looking at the next steps. Advertising is costly, better server hardware might be needed eventually, and a far reaching goal of mine is to be able to do this full time! As such, I'm looking to expand on the number of supporters I have in order to reach the next level. Maybe you will be the next person to back me? :-) I put a lot of time into the Creeper's Lab every week, and I appreciate any amount of support, as low as $1 a month. In exchange, various rewards are available, including custom titles, particle trails, and monthly or yearly postcards in the mail!
To sweeten the deal, I've got something for you: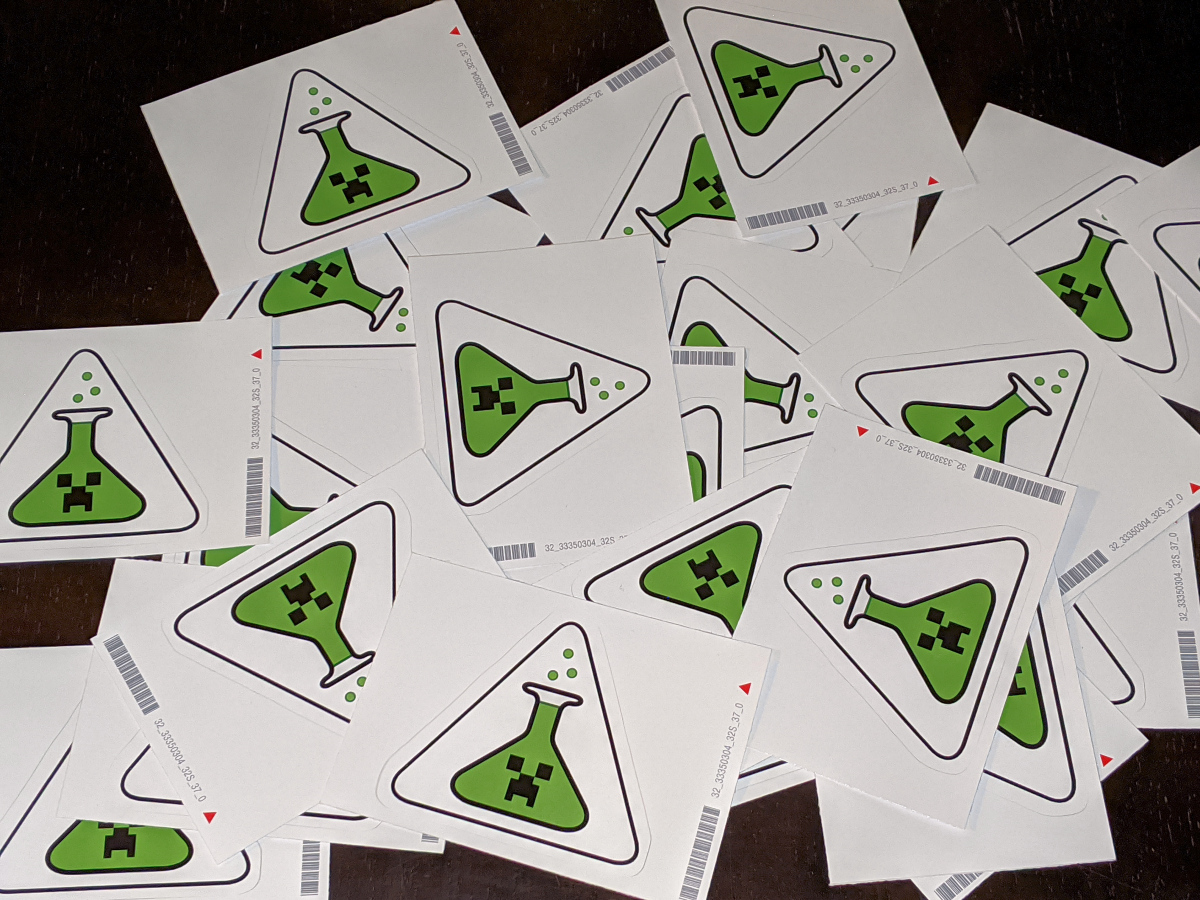 That's right, stickers with the logo of the Creeper's Lab! Anyone who chooses to back me on Patreon at $5 a month or more will be getting one of these shipped to them in early June. Additionally, should you continue for longer, that tier makes you eligible for the yearly postcard that'd be sent out at the beginning of July! Of course, anyone who's already supporting me at $5 and above and entered their address on Patreon will get one too, without having to do anything extra. :-) This is my first time making any type of physical product, and I'm excited to introduce it to you!
No, it may not be the ideal time for me to do this. At the same time, I tend to wait too long for perfect circumstances, the anniversary is today and the stability of my current work isn't guaranteed past this year, so I choose to move forward in every way I can! I understand that, given the current situation, some of you who might have wanted to support me but can't at the moment will pass. That's fine too!
You have three weeks to support me at $5 a month or more to earn that sticker plus all other usual rewards. Are you interested in getting aboard for the ride?
The popular Grindatron challenge will be your target for this month! Go to the lobby, enter the challenge section and start gathering items! Returning players, please read on as some balancing changes have been done.
What's the Grindatron?
The Grindatron is this month's challenge, accessible from the lobby. It takes place in its own world, with a fully separate inventory. Every few hours, a new goal happens in the form of a block or item that needs to be provided at the spawn point. Provide the item in time, you get points! However, each action you perform (moving, digging, placing blocks) drains your energy, which is limited!
How it works
Every four hours, a new target is given. For example, "2 x bread", "64 x dirt", or "1 x gold pickaxe". Your goal is to obtain this item and place it in the enderchest that's located at the spawn point, near coordinates 0, 0. If you do it right, you'll get a confirmation and can either continue freely playing to gather more supplies, or wait until the next target appears. You can get a confirmation of the current target at any time by entering /target.
When you're ready, drop the item(s) that are part of the current target in the enderchest, in a single stack. If you're correct, the items will disappear and you'll get a confirmation. Be careful: any and all objects placed in the enderchest at that time will be removed, including those that are not related to the current target!
You only have a limited amount of energy available, which refills at the end of each cycle. The following actions will cause an energy drain:
Moving around (riding a vehicle cuts the drain by half)
Breaking blocks
Placing blocks
Dying (large penalty)
Fishing
Once you run out of energy, you'll move way slower, won't be able to break some blocks, and all around will be exhausted. Don't get caught in the open when that happens, or deep in a cave! Drinking milk buckets is not possible when exhausted, so you can't clear the effects temporarily, and fishing will no longer return items.
The interface
Here's a look at what your gameplay screen will look like: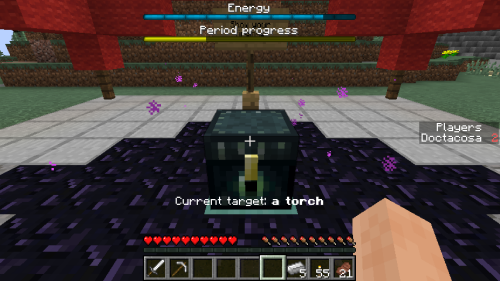 Top: energy remaining and progression of the current cycle Right: score of all connected players Middle bottom: the current target
Daily connection bonus For each day that you connect to Kenorland this month, you'll get a bonus item to help you out. Every consecutive daily connection improves the bonus item, up to a diamond.
If you break your streak, the bonus will restart from day one. Staying online doesn't count, as well as accessing other worlds: you need to leave and rejoin the Grindatron for your presence to be counted.
The targets The targets are generated automatically on the fly and pool from almost every Minecraft block and item available, along with a random quantity that must be provided. Each item has been assigned a rarity value to ensure that things like "64 x Nether star" never happen. "64 x stone" is definitely an option, though!
If you believe that one of the targets generated is impossible (for example, "64 x snow balls" since you can only stack these up to 16), please let me know and I'll make the necessary adjustments!
Balancing improvements
Some balancing has been done to this game mode since the last time:
The difficulty gradually ramps up in the first few days, so the game won't do things like ask you to find an elytra on day one.
The energy penalty on death has been lowered, as it wrongly considered your distance from your respawn location when that happened.
The odds of being asked for colored blocks (wool, concrete, glass, ...) or wood items has been reduced by 70% to ensure a larger variety of targets.
Prizes
Each successfully completed target will net you one Merit Point, giving you a chance to increase your score very quickly! Remember that we've got plenty of uses for the points, too!
Duration
This new challenge will last for the entirety of the month. Have fun!
---
For the brave fighters who plan to make a stop at the Hunter's Lodge in the coming weeks, the raid boss you'll be facing is a Rancor. Look for it in its natural swamp environment!
You've asked, I've heard you: it's time for another round in the Spider Dome!
For those of you not familiar to the concept, we all go together to the Spider Dome arena, in the Nether, where multiple waves of mobs are summoned. You must then fight your way through them, or die trying! Any item drops are yours to keep. Special effects get added to the mix for an additional challenge!
To ensure that the challenge is scaled properly to everyone, science-type weapons and armors are forbidden. Bring in your best vanilla gear, some food, and face fear once again!
This will happen this Saturday, at 10pm Eastern time. See you then!
Sora is back, and he's brought goodies for you! Some of this update recaps changes done in the past several weeks; keep on reading for a brand new addition! Take it over, Sora!
---
Alright boys and girls, time for some impromptu science fun in this time of quarantine!
Firstly, there's been some rebalancing done to the Barrows in Wychwood, the Snowhead Dungeon, and the Shattered Sands dungeon for some quality of life improvements; nothing explicitly new added here, but more so to ease things along as you try and do the areas.
Within Wychwood, the 8 Barrows now have small villages linked by paths to the Castle of Famine, which then give you a nod in the right direction for finding the Barrow Trees. The Barrow Spirits can also now be found in these villages, along with shulker zones; the Spirits also now have a few new trades! The barrows themselves have been altered slightly to make re-fighting the barrow brothers a bit easier; just pop open their casket and they respawn! Speaking of Wychwood, there's more planned for these woods, keep an eye out... it's in the works....
Snowhead doesn't have a ton of new shiny changes, just mostly increases to a lot of drop rates. Normal sailing here!
Shattered Sands has seen the majority of the changes here; Crest and key drop rates have been increased for all 4 outposts, each area's Key Guardian mask can be traded in for extra shards of that particular god, extra Dormant Fragment drops have been added to each boss room, the drop rate for the Boss Shards for Telos's Door Carvings have also been increased. Telos himself has seen some major upgrades; Telos, the Warden (as well as his new friends) drop Anima Fragments, both a guaranteed drop and a chance for more drops across all of them (the Hope Nibblers included with Telos, the Warden also now have a chance at dropping Dormant Fragments), there's also three new paths for Telos's second fight, Enraged 100%, Enraged 500%, and Enraged 1000%. 100% is the unaltered Enraged fight that's long been there, while 500% increase both in difficulty and in drop rate for Anima and the Dormant Weapons. We've heard your pleas for mercy, know now that we are benevolent in our tortures!
More importantly, a new sub-area has opened inside (under?) Shoals of the Departed for you folks with the Elder Artifact - The Mirror, and nothing but time on your hands, The Realm of Darkness! I'll say little else on this, but I'm sure anyone can figure out what treasure awaits them here, by checking out the topics on our new Resources Forum!
Jump down this hole and have some fun.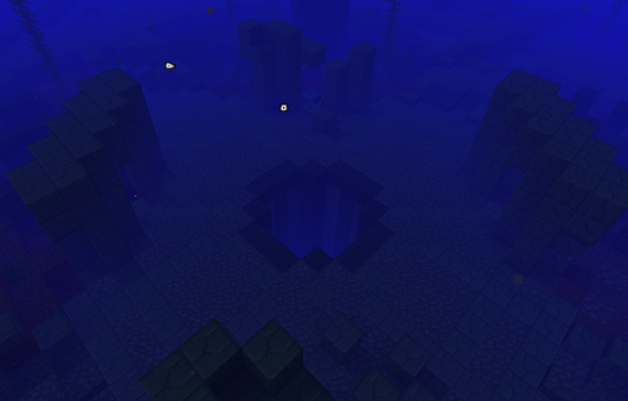 Easter happens to be next weekend, and we've got an Easter egg hunt in store for you!
Available during next Events Night, for 24 hours, the Easter egg hunt event will have you following clues and riddles to find your way across a given area. There will be a prize at the end for anyone who makes it through! The location of the event will be announced when it begins.
Rumor has it that an extra challenge will be available during the same time period for those with a fighting side in them. I wonder what that would be...
To participate, join us next Events Night, starting at 9pm Eastern time on Saturday. This will run for a full 24 hours and you can come in at any time.
Happy hunting!
Our social media folks for Instagram and YouTube, JRandomizer and Mikey respectively, are looking for your feedback on what they should feature on both platforms! Maybe there's a cool build that you think everyone deserves to see? Or something of your own that you want to share? Or is there an upcoming event that you'd like to see covered? This is your chance!
Request a YouTube presentation
Maybe you follow the Creeper's Lab on Instagram and would like to be followed back? If so, fill out this form today!
To wrap this up, if you've got something relevant on Twitter that you think needs to be shared with the world, ping @creeperslab and we'll happily retweet it!
Our long-standing forums have received a massive upgrade yesterday! On the menu: a modernized look, new convenience features and full mobile support, making them easier to use! This is a good place to have longer discussions than a chat simple format, keep up with the news, comment on them, send an offline message to another player, and more. I invite you to read the full announcement for the details.
Most notably, the Minecraft player profiles have received a visual refresh along with some new additions. If you've explored the Lost Woods, you might have seen golden skulltulas scattered around. You can now see right from your profile which ones you've found! Login and view your progress now!
This is a major step in bringing existing features to the next level. More work along these lines will be happening in the coming weeks and months, so be on the lookout for that!
News archive