Welcome to the Creeper's Lab! We have multiple Minecraft servers and an active community, mostly focused on playing Survival mode. We now support both Java Edition and Bedrock Edition! We also have special games, events and contests. If you're not already playing with us, don't hesitate to join. Newcomers welcome!
You don't need to register to quickly join and look around our main survival server, but you will need to in order to play. Register today!
News
It's been possible for a long time for anyone to run their own activities during Events Nights, but most people either don't know how, or have no idea where to start. Well, we've got something for you!
We've prepared a list of templates that you can use to run your own events, including what to do, the location, duration and rewards to offer to participants. As an extra incentive, event runners are also eligible for their own rewards if they choose to claim it!
You can check the new events page for the full details and instructions on running your own events. Note that these are templates - think references - and not absolute instructions: you can also take one as a base to develop your own concept.
This comes with a major overhaul of the attractions page; each location now has more information on each destination, including a description and the directions to get there.
If you choose to run an event, select a template and go write a post on the forums with the details. Once confirmed, it will get published on the website, social media channels, Steam group and site calendar for everyone to know! If you have any questions, ask Doctacosa either on the forums or through Discord.
Thanks to Sora for doing a lot of the initial ground work on this, and being patient with me as I was making the necessary preparations!
The maps for all worlds have been updated with a new visual layer! This interface has an improved display and modern controls which will be easier to use, especially for mobile users. Don't worry, though - this is still the same tool as before, with all the features you've come to love!
Notably, this fixes the issue of the endlessly reloading map after a server restart!
Related, Laurasia's map display has been wiped and is currently regenerating. Depending on how fast this runs, this could take a few or several days. The process will fix some color glitches while the map areas that have been deleted over time will be cleanly removed.
Kenorland: Breaking Bed
Breaking Bed invites you: enter a brand new world, find the proper materials, then make and break a bed of each color. Each succesful bed break will give you one Merit Point, once per color. This means that you can earn up to 16 Merit Points this month!
Science
For May, enjoy a Surf'n'turf special, with fishy Fun Towers and earthy Puebla Soldiers defending their domains of the Hunter's Lodge!
All Horsemen Quests have also been updated. See the Horseman Points Guide for an indepth look at the quests, points, and how to cash them in!
Guilds
The quests have been rotated for the new month. For those who have been keeping up with gathering enough tokens, Superia's guildhall is now open with heightened targets, each worth even more points. Complete your work in Laurasia and Rodinia, then unlock these new doors!
If you need details on any of these, the wiki page about the Monthly Challenges is updated as soon as each of these is ready at the beginning of the month!
---
Building contest
Don't forget about our building contest at Levansk! It has just begun, and you have a full month available to design and build your entry. Go claim a lot and start working on ideas!
You might have heard about Levansk lately. A group has settled around it, the walls are up, it's now time to fill in the place, and that will happen through our next building contest! This event is hosted by ~Offbrand_Neo.
Rules
The theme of this contest is to create a mid-20th century European town or city, although departures from that are allowed.
Quoting Neo: "People can be judged on several factors. In the case of a store or housing area, usefulness and creativity. In the case of an amusement or attraction, creativity and fun factor. In the case of farms, mechanical effectiveness. In the case of purely decorative stuff itll be purely based on build quality and attention to detail. On all accounts looking good will be factored in."
Lots are already predefined; look for the basalt block that mark the corners of each building spot. Four districts have been defined, your build idea must be made in the matching district within Levansk. See the local indications for more information.
Claim a lot by placing a sign with your name on it, then get building! You can claim multiple lots if you want, as everything you do will be judged together, so plan accordingly.
Vertically, you're allowed to go between y=45 to y=85.
The building period starts today and ends on June 1st at 12pm CST / 1pm Eastern time.
Location
You will want to make your way to Levansk. From Central, ride the East Nether line to the Doctralia substation, go to the third floor, then choose the Levansk Community Line.
Prizes
The top winner is eligible to $25 USD, offered by ~Offbrand_Neo.
Additionally, the top three winners will get 50, 30 and 10 Merit Points respectively.
Good luck to all!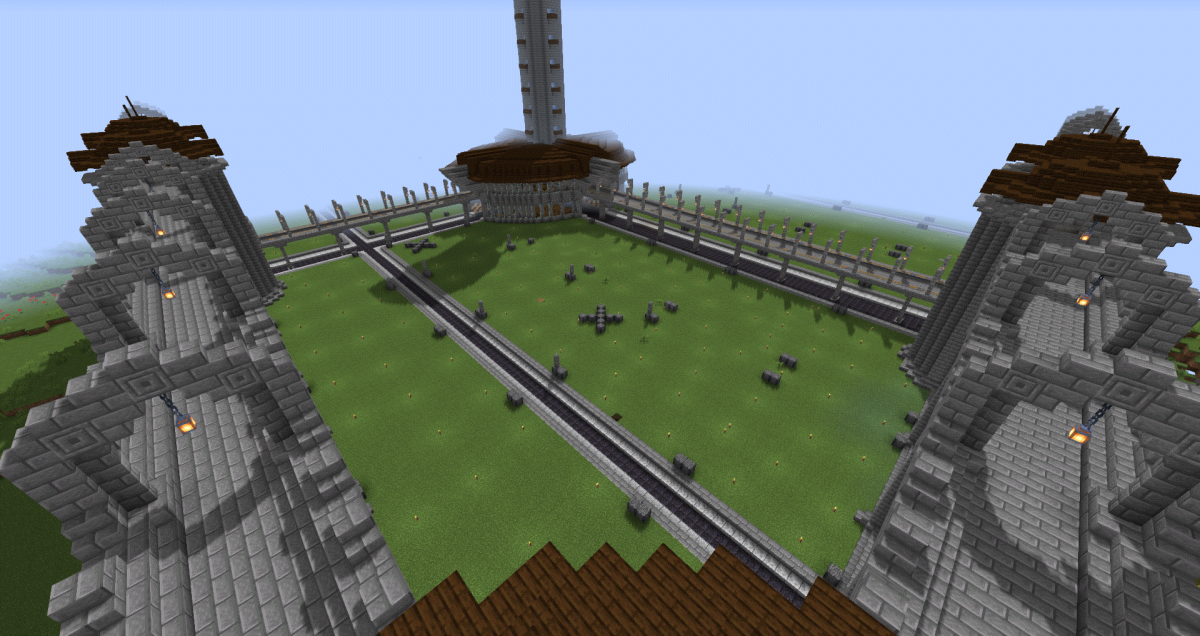 Many players like to ask us if pranks are allowed, or causing trouble to another player "just for fun".
What you think is a "harmless prank" won't always be understood as such by your target. Things done "just for fun" aren't funny for everyone. Some will get angry, others will be scared about what's going on. Some also get worried about bugs and get in touch with the staff for help, only to realize later that nothing was seriously wrong.
That ends up causing trouble to the people being targeted and the staff which looks into potential problems. Taking items "for fun" is dangerously close to stealing and should be avoided, same as changing someone else's build.
Pranks aren't strictly forbidden, but think carefully about setting one up: your target might not like it as much as you think.
This information has been added to the rules page to ensure that everyone has a chance to be aware.
Minecraft: Bedrock Edition got a new version today with 1.16.220, containing mostly bug fixes. The network has been updated to accept this new version while remaining compatible with all 1.16 releases. Let your game update when its ready, and go grow those vines!
Kenorland: UHC in an ancient setting*
UHC makes a return in Kenorland, featuring a very appropriate April-themed map. This is one where completing the four targets could be as entertaining as exploring this unique world itself, so make sure you don't miss it!
Science
Today is Easter, and to celebrate, the Hunter's Lodge features Sæhrímnir, a Predatory Teddy Bear, Scared Children and none other than Zombie Jesus.
Plus, for the item gatherers out there, all Horsemen Quests have been updated.
Guilds
New quests are accessible to everyone in Laurasia, plus Rodinia's doors are open to everyone who has gathered enough point in each respective guild.
For those wondering how the competition on Grand Masters is going, Twixxi had the following to say: "There are currently 19 Players still in the running for Grand Master of at least one Guild, with five of those Players being in the running for all six of them! Each of the six Guilds have between 6 and 13 Players still in the running."
The competition is still strong, and there's always the chance of current forerunners falling behind, so keep on completing these tasks if you want to have a chance at earning a unique Grand Master status!
We now have a page on the wiki listing all monthly challenges, which we aim to update as soon as each person has rotated their section. Consider keeping a bookmark to that reference so you can easily access it!
Peter Cottontail invites ye to join him on his ship The Miracle Worker and play hide-and-seek with his children starting on April 3, 2021 until April 4, 2021 during Events Night! Make sure ye find all his children in order to claim yer booty hidden on his ship!
Visit the Creeper Citadel to start yer adventure. The island is located on the right of Moosemart.
Did ye miss out on the Easter 2020 basket? For a limited time, ye can receive a 2020 Replica Easter Basket for an Easter ticket, provided upon entrance to the event!
I suppose yer wonderin what yer booty is, aye? Well yer not gonna want to miss this! A netherite block! Ye heard me correctly mates! Ye will also receive a 2021 Easter basket!
Make sure ye don't miss out! It will be a-MAZE-ing!
This event was made possible by Rebbica007
Bedrock Edition players, this is the day that many of you have been waiting for: all the special crafting tables and inventories are now supported! This includes the addition of:
Smithing table
Grindstone
Loom
Cartography table
Stonecutter
Beacon
Horse
Furthermore, enchantment tables now use the interface that you expect, and lecterns will display their books. This was one of the last major limitations to our Bedrock support, bringing us ever closer to have all players on the same level, no matter how they join!
With these new additions, the convenience Bedrock traders at Moosemart will be removed. The Super Loom at Central will remain accessible as it offers additional features beyond that.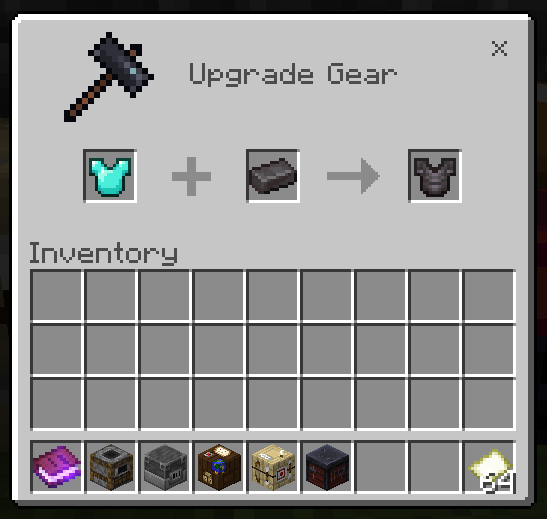 I hope you enjoy these additions!
The building contest for shops at Kamachi's place has wrapped up, the entries judged and the results tallied!

Without further delay, our top three winners along with judge comments:

First place: Coneva ( $10 Amazon gift card winner)
The use of the statue book, to the ingriedience, to having an armor stand mix yummy stuff. simply amazing, not to mention the decor just feels nice, theres a sort of vibe i get when i entered the resteraunt, cozy warm, i can practicly smell the coffee and cookies!

Second place: Twixxi
amazinng rainbow room with fish and a shopkeeper
so unique, ive never seen a underwater shop. not to mention the awesome rainbow walls

Third place: SaneTezz
Awesome maps that look like poker cards and slot machines, although the building was fairly basic, the maps are what made Sanetezz's build that much more unique.


To get a nice look at all entries, along with some additional lore on the area, here is Kamachi's latest video:




If you liked this, make sure to check out our channel on YouTube and subscribe to get our future content!

Congrats to all participants!
News archive