Welcome to the Creeper's Lab! We have multiple Minecraft servers and an active community, mostly focused on playing Survival mode. We also have special games, events and contests! If you're not already playing with us, please don't hesitate to join. Newcomers welcome!
You don't need to register to quickly join and look around our main survival server, but you will need to in order to play. Register today!
News
Easter happens to be next weekend, and we've got an Easter egg hunt in store for you!
Available during next Events Night, for 24 hours, the Easter egg hunt event will have you following clues and riddles to find your way across a given area. There will be a prize at the end for anyone who makes it through! The location of the event will be announced when it begins.
Rumor has it that an extra challenge will be available during the same time period for those with a fighting side in them. I wonder what that would be...
To participate, join us next Events Night, starting at 9pm Eastern time on Saturday. This will run for a full 24 hours and you can come in at any time.
Happy hunting!
Our social media folks for Instagram and YouTube, JRandomizer and Mikey respectively, are looking for your feedback on what they should feature on both platforms! Maybe there's a cool build that you think everyone deserves to see? Or something of your own that you want to share? Or is there an upcoming event that you'd like to see covered? This is your chance!
Request a YouTube presentation
Maybe you follow the Creeper's Lab on Instagram and would like to be followed back? If so, fill out this form today!
To wrap this up, if you've got something relevant on Twitter that you think needs to be shared with the world, ping @creeperslab and we'll happily retweet it!
Our long-standing forums have received a massive upgrade yesterday! On the menu: a modernized look, new convenience features and full mobile support, making them easier to use! This is a good place to have longer discussions than a chat simple format, keep up with the news, comment on them, send an offline message to another player, and more. I invite you to read the full announcement for the details.
Most notably, the Minecraft player profiles have received a visual refresh along with some new additions. If you've explored the Lost Woods, you might have seen golden skulltulas scattered around. You can now see right from your profile which ones you've found! Login and view your progress now!
This is a major step in bringing existing features to the next level. More work along these lines will be happening in the coming weeks and months, so be on the lookout for that!
Laurasia already has traders to allow you to "cash in" 10, 30, 60 or 100 levels and obtain a matching amount of XP bottles in return. This gives you a chance to store levels for later use, or use your current experience points to repair any equipment with the Mending effect on it. As a reminder, in Laurasia, you'll find these in the basement of Doctacosa's Study, at the Creeper Citadel. There's also an option to cash in 200 levels to obtain a Merit Voucher.
To get the other survival servers on the same footing, Rodinia and Gondwana (which have separate experience levels) now have their own traders as well. In Rodinia, visit the basement of the Community Center at Point Zero. In Gondwana, you'll find them at Keystone City, at the left of the stairs from the spawn point.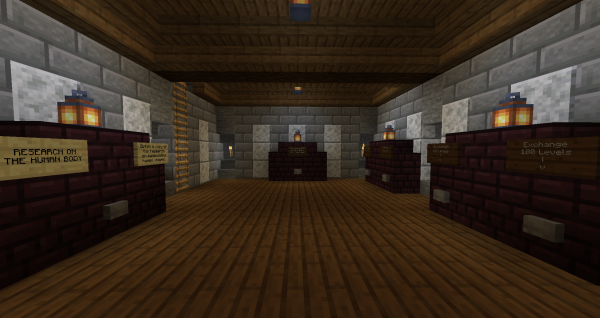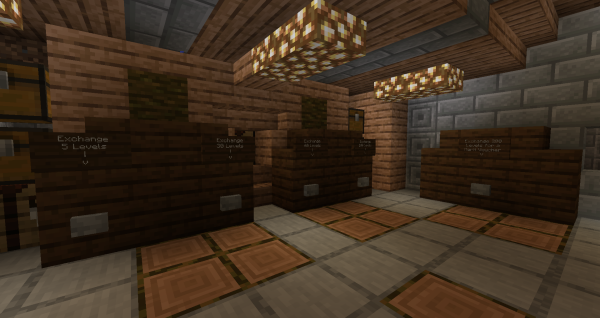 ---
Along the same lines, the special book to customize armor stands can now be obtained directly in both Rodinia and Gondwana as well, next to the XP traders. Remember that what we've taken to calling pixie dust books are fragile: if you disconnect or change worlds while holding one in your inventory or ender chest, it'll become unusable. Your best bet is to get a book per world then store it somewhere in a regular chest. If you accidentally break one, burn it and go get another copy.
---
On the topic of science areas, new reference topics have been added to the forums recently. The trades offered at Moosemart are now listed, plus the list of items displayed in the Cavern of Science. The Challenge Areas listing is still available, of course.
Additionally, Twixxi made a reference with all the Public Farms available on the servers. If you know of one that wasn't included, get in touch with her!
The endpoint cities contest has wrapped up, our judges (xLordItachix, Rebbica007, Mikey_el16, Connovan) went across all eight cities to score each entry, and it's now time to announce the results! Here's each entrant with their total amount of points.
Top winner
ROEN_44
First place bracket
ROEN_44: 214.5
axe_y: 211.5
Second place bracket
GingeKoda: 210.5
Pteryx: 200.5
Doctacosa: 190
Coneva: 158
Third place bracket
Twixxi_: 100
bandr500: 78.5
Manly_Whiskers: 56.5
Other participants
MerderMerl: 28
PuppetMstrRoxas: 28
JRandomizer: 27.5
BroItsTag: 23
CanadianAce2016: Incomplete
Connovan - Judge
Rebbica007 - Judge
The contest results page has a slightly different layout due to the format on this contest, featuring a single screenshot for each city. You're encouraged to go tour them and visit each entry! Each endpoint city now has a TARDIS and a Nether portal (in Rodinia), making travel easier. Alternatively, use the overworld rails and enjoy the scenery!
Each participant will have their Merit Points within a few minutes. To obtain your vouchers and mystery science bundles, please contact xLordItachix in-game! Congrats everyone!
As a reminder, the Merit Points you earn can be used for various perks! Flight, keep inventory, invisibility, TARDIS access, weather control, and doubled XP drops! You can type /points in-game to view your current score and to use them to enable the perks. More information here.
Merit Vouchers are used to get access to special items, heads of key players in the Creeper's Lab history, items from past events and more! Visit the fifth floor of Moosemart to view the full list, there's bound to be something you'll like!
A new challenge is now available in the lobby! UHC makes a return, this time in a hilly, northern setting. As a reminder, you can earn 5 Merit Points for completing each of these tasks:
Crafting a bookshelf
Crafting an enchantment table
Accessing the Nether
Picking up a blaze rod
You can then use these points for various perks like flight, keep inventory, End of Time access, and more!
---
This month at the Hunter's Lodge, a powerful Warlock looms large over his territory. Defeating him will net you Magic Shards, which can be traded for valuable items!
---
Don't forget that the building contest has been extended! You have a bit less than two weeks to go; get busy to populate these new towns and create some interesting scenery!
Some of you have noticed it already, and now it's official: all the science and Horsemen areas now have the keep inventory flag attached to them! While this means that you won't lose your inventory or experience levels upon dying, the latter areas still have a high difficulty level, so make sure you're prepared! To keep the challenge level in specific areas and bosses, keep inventory does NOT apply. These will be marked before you enter them.
Likewise, a few areas don't allow you to use the flight perk gained by using Merit Points; these are also labelled before entering. If you've got an active flight perk, it'll be automatically disabled and will not be given back to you once you exit.
---
Many of you have been enjoying the current building contest at the endpoint towns, but creating 8 builds within a month has proven to be a bit much. After consulting with Sora, and to give you a chance at really populating all these new towns, we're granting you an extension until 15 March. Happy building!
Here are a few updates on what's new for February!
First of all, the Race Away challenge has wrapped up in Kenorland. Here are the final list of runners and their best positions!
Doctacosa: 30111
Kagato: 27573
axe_y: 10659
BoxBuilder45: 8798
NICKW6499: 5264
MineshaftBob: 4450
CruelNate: 3443
Sepahbod: 2908
Lunaar_Dust: 2484
Twixxi_: 2460
Mlhrj5: 2440
GingeKoda: 2329
butterbum: 2272
Connovan: 2211
Coneva: 2211
xedre: 2155
xLordItachix: 1549
Pteryx: 868
Manly_Whiskers: 858
groovybanana: 600
x AlexTheTrain: 546
chunil756: 492
Bnice2max: 483
Primagen: 453
Saffronflyer396: 424
EnchantedKing: 116
ADeshantis: 116
Sxnflxxwer: 106
MonsterEats: 56
Darth_Roxas456: 52
DexTAD: 42
Venemousspyro10: 36
Raegal: 13
GoomyGoma: 2
All have earned Merit Points based on their position. That is, Doctacosa (hi!) got 34 points, followed by Kagato with 33, all the way down to GoomyGoma with 1.
---
Next up, a new challenge! You've been punching blocks for days, months or even years, without consequences. However, the blocks have grown tired of that behavior, and they've decided to fight back! Do you have what it takes to tame them and still be create a build that you'll proud of?
There's no set target for this month's challenge, except enjoying yourself at trying out something new. Everyone who attempts it will be given 5 Merit Points by the end of the month.
---
At the Hunter's Lodge, the new raid boss is Jack Torrence and Red Rum. If you'd rather fight someone else, remember that you can now use Merit Vouchers to gain access to a special room where you can select any boss of your choosing at any time!
---
As it was mentioned in passing with the announcement of the new building contest, Events Nights are getting extended to both Rodinia and Gondwana! They've both gained a new TARDIS near their spawn locations, which allows you to head directly to the four endpoint towns of each world. The opposite is also true, of course.
Additionally, keep inventory will now be in effect in Rodinia's overworld and Nether during Events Nights, just like in Laurasia. In keeping with Gondwana's hard mode challenge, this will NOT apply over there!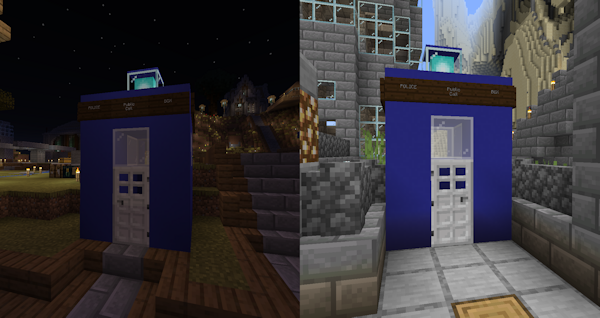 This slightly different formula isn't a direct competition against other builders, but more of a score attack event: you can build up to eight entries, one per town, and you get points for the quality of each build. Then, your final rank is determined by adding up each entry's score. This means that everyone can win prizes if they apply themselves enough!
You can easily reach any of the building sites using the main rails that have recently been completed on each world.
Here's Sora with the full details!
---
It's contest time again!
This time, we're looking towards two worlds that don't get much attention these days, Rodinia and Gondwana!
Unlike Laurasia, these two worlds have never had cities or towns in their farthest four directions; that's where you come in! The objective will be to build up these 8 cities into something substantial, each city having its own theme based on its location.
Each city is at the end of the mainline rails of the world's four cardinal directions; or for simpler reference, endpoint cities.
Event date: Feb. 1st -> Feb. 29th
Gondwana
Boreas: Underground mining town
Notus: Underwater City
Euros: Desert City
Zephyrus: Mountainous NPC Village
Rodinia
Xanthi: Coastal Savannah City
Troezen: Mountainous City
Heraklion: Floating City
Miletus: Mesa City
Judging Criteria
Attention to Theme
Use of terrain
Creativity of Design
One plot per person per town, for a max of 8 separate entries per person - no joining with a main account and an alt! Each entry is judged out of 10 points per criteria, and perfect score is 30 points per entry.
In addition to the contest, event night is being brought to Rodinia and Gondwana, with their own TARDIS network linked to the endpoint contest cities. Cities will be accessible for free-build after the end of the contest.
Restrictions:
Boreas - Builds can go deeper, but not touch the glass ceiling
Notus - Builds should not pass the water's surface
Heraklion - Builds should not go below the water's surface more than 1 block
Reward Tiers:
3rd Place Between 50 and 130 Points
2nd Place Between 131 and 210 Points
1st Place Between 211 and 240 Points
Highest scoring person earns an extra reward - S rank mystery science item
Prizes:
First Place: 50 Merit Points. 5 Merit Vouchers. A rank mystery science bundle*
Second Place: 30 Merit Points. 4 Merit Vouchers. B rank mystery science bundle*
Third Place: 10 Merit Points. 3 Merit Voucher. C rank mystery science bundle*
Judges: 5 Merit Points. 1 Merit Voucher. (Volunteers welcome! Three positions open)
* Science bundles will contain both combat and non-combat items, everyone will benefit!
Researcher's journal, 22 January 2020

Research on the human body has been progressing well. The latest experiments have yielded new results to reinforce the previous hypotheses, while new side effects have also been uncovered. These effects have been positive overall, opening up new possibilities on the core subject. I've taken to applying these findings to mannikins emulating human shapes, and after some adaptations, they've molded themselves to my needs. The next steps will continue under my supervision.

There seems to be an endless supply of volunteers willing to participate in these experiments, thankfully. Another win for science!


---
A common request lately has been a way to customize armor stands. It's possible with staff-only commands, but while the stands themselves have a lot of possibilities, most of these are not accessible through standard survival gameplay rules.
To give everyone a chance at having more controls over the stands, I've introduced a special book that allows you to change any of a stand's properties. This includes adding arms to hold items, removing the base plate, posing them, or even making them invisible entirely so that only held items are shown.
You can now go to Doctacosa's Study, at the Citadel, and access the research room in the basement. It's located in front of the exp lab. There, you'll find a button to give you a copy of the book to bend armor stands to your will.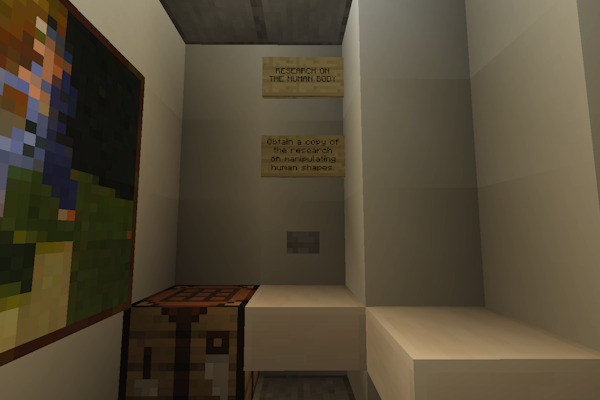 To use it, stand next to the armor stand you want to change. Then, to confirm you've got the right one, open the book and click on "Check target". The active stand will get a white glow for a few seconds. From there, you can reopen the book and change any of the stand's properties with a few clicks.
This should go without saying, but you should only change the armor stands that belong to you. To limit the risks, the button to dispense the book is only available to trusted players.
Note that these books are powered by pixie dust, and as such are very fragile. If you happen to disconnect while holding them, change servers, or leave them in an enderchest, they will lose their magic. The only safe storage spaces are chests and item frames. Should a book stop working, burn that copy and go claim another one at the Citadel.
News archive