Welcome to the Creeper's Lab! We have multiple Minecraft servers and an active community, mostly focused on playing Survival mode. We now support both Java Edition and Bedrock Edition! We also have special games, events and contests. If you're not already playing with us, don't hesitate to join. Newcomers welcome!
You don't need to register to quickly join and look around our main survival server, but you will need to in order to play. Register today!
News
Expanding our support for the Bedrock platform a step further, our resource pack is now available for its players as well!
The next time you try to connect to the server, a download will be offered to enable it. If you prefer to install it manually on Windows 10 Edition, either to play here or elsewhere, you can grab it from the resource pack page!
A few things like music discs don't work at the moment, but as with everything else, compatibility is expected to improve over time.
Minecraft 1.16.3 was released today by Mojang, and all servers have been updated to support it. Java players, you can now connect using either 1.16.2 or the new 1.16.3. Bedrock players, you're already set to go!
I'm doing something new today by introducing a first: a Creeper's Lab line of merchandise!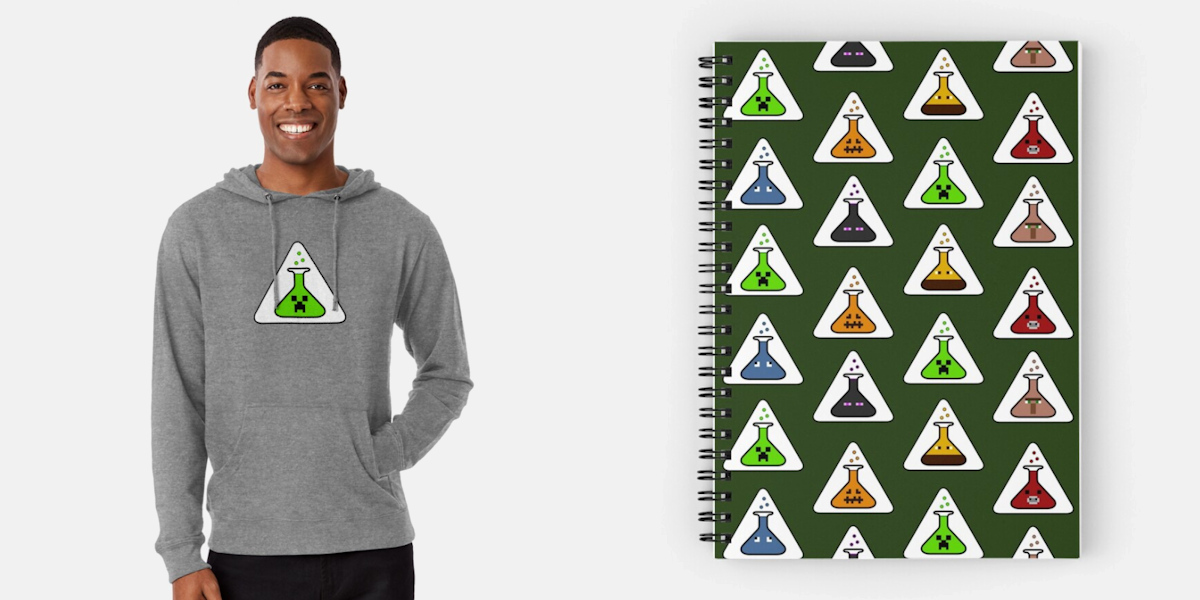 Ever wanted a shirt, a hoodie, stickers, a mug, or something else with the logo of the Creeper's Lab? Well, now you can! There's a wide array of items and styles available, and I suggest you give it a look if you think you might be interested! Every single purchase goes to support my ongoing projects.
I've made a point of ordering various items myself in the past months to sample the quality, and I must say that I'm satisfied with everything I have received. I have standards to uphold and wouldn't go for the first, cheapest option available! Plus, on many of the clothing items like the shirts and the hoodies, you can choose the fabric color to match your own preferences.
Also worth noting for international buyers, while standard shipping fees apply, there are no additional duty fees to be expected on delivery: what you see in your shopping cart will be the final amount you pay.
One notable exception in the line-up is about the face masks. I have received a request for one, so I've put a few designs up for your consideration, but I've chosen to sell these at cost as I'm not interested in making money off a global pandemic.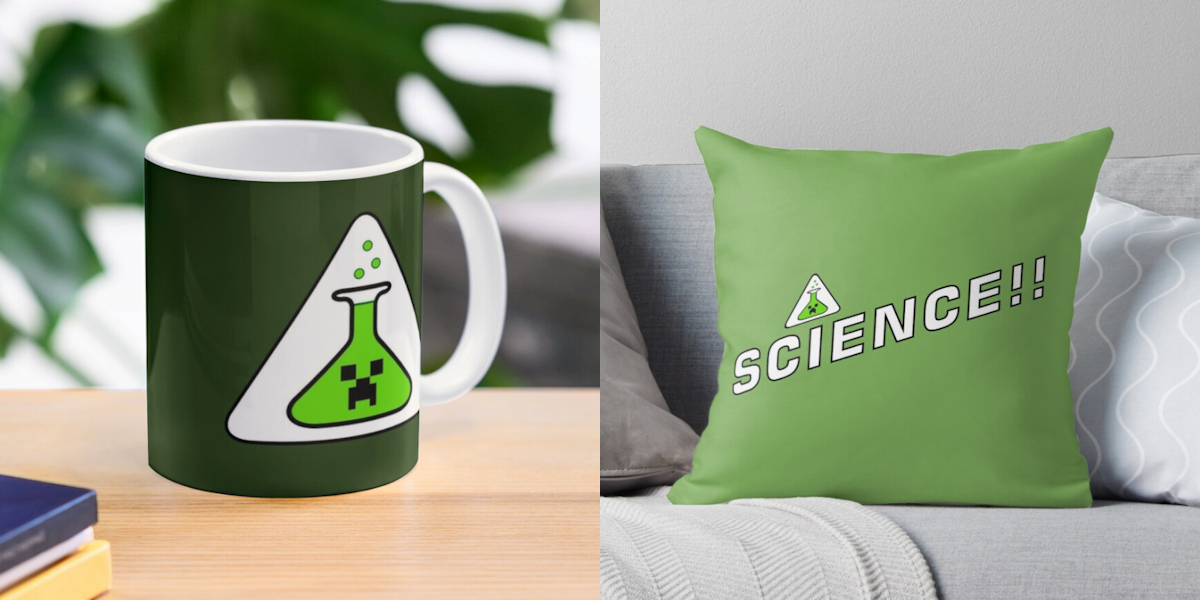 As this covers the Interordi network, there is also a selection of Interordi-branded products, should you be interested in these.
I can add new designs at will, so if there's something you want but the current designs don't quite match, get in touch and maybe I can make it work!
Go browse the shop at your leisure! Once again, any item purchase helps to support the work I do, so thank you for your consideration! The holiday season is coming up in only three months, maybe you could even find a gift idea in there...?
If you have both Java and Bedrock accounts, you can now choose to link them to carry a single inventory across both. This lets you keep on playing seamlessly from anywhere, without having to add both names to your in-game permissions! If you do this, you will use your Java identity everywhere. Here's how to do this:
From your Java account, enter /linkaccount BEDROCK_NAME, without the tilde.
From your Bedrock account, enter /linkaccount JAVA_NAME followed by the number provided in step 1.
Bedrock will now disconnect. Make sure that Java is also disconnected, then you can connect using either at any time with a shared inventory and position in the network!
If you want to break the link, enter /unlinkaccount from either account.
If you want to use your two accounts separately, for example to use one for playing and one for idling, or to be active in two different locations at once, you shouldn't use account linking.
No matter which option you pick, player statistics and achievement tracking will check across both accounts automatically.
I have also used this opportunity to add a new page on the website to regroup all of the relevant Bedrock player information, you will find it in the menu under the Basics section.
You've enjoyed the new Nether, explored its new biomes and collected many precious resources. That's good. But what if you had to do it all... starting from scratch?
This month's Kenorland challenge has you facing a brand new Nether world, completely stripped of any equipment or utilities. Your goal will be to survive and make the best of the situation as possible! Rumor has it that it's entirely possible, and that the piglins can have trades that could be relevant to your ongoing survival...
This is a survival challenge, and not UHC, so you can die and resume playing right away. Likewise, PvP has been disabled for this round. Everyone who tries it will earn 5 Merit Points for their efforts
Oh, and this Nether is 256 blocks tall.
Good luck!
---
At the Hunter's Lodge, a brand new raid boss makes its premiere this month: face the new Bastion's ultimate challenge, powered up! Gather up your allies and go defeat him! Also roaming the lands is a certain someone surrounded by flying insects and holding a rare piece of paper. Will you take a stand and declare your independence from their tyranny?
Tasmantis was brought back online as a testing ground for 1.16 and Bedrock support, plus to allow people to mine the new Nether materials.
As the interest level as gone down, it's time to schedule its closure, which will happen on September 14. That gives you two more weeks to gather all the supplies you want and move them to another server. Use this time well!
The judges have gone around to rate your entries in the Stirburgh castle town, and it's time to announce the results! It was a hotly contested finale, with several entries being within a fraction of a point to each other! Without further delay, our winners:
First place - ROEN_44
Second place - ChillingSlav
Third place - MadSciMerls
Congrats to all builders, everyone seems to have put a lot of effort into the area, giving it a unique look! Everyone has been granted their Merit Points; Roen, I'll see you in-game to pass over the Ceremonial Sword. You can see the full list of entries with the judges' comments right here.
We ended up with an interesting mix of styles overall; many players seem to have enjoyed the freedom of defining their own lot limits and I consider this a successful experiment! Some of you ran out of time to complete your builds, and I urge you to go back to finish them, as everyone seemed to be heading in a good direction. Anyone who wants to do additional builds is now welcome as well, no matter if you participated or not, as the building restriction has been lifted.
As a reference, Stirburgh has been added to our list of themed building sites. Give it a look if you want to create something and need a little inspiration!
Last note, we have the following guideline that applies to all contest areas, including this one: "In all contest areas, builds that are obviously incomplete, abandoned or not matching to the given theme might be removed at the staff's discretion after going untouched for two months."
Again congrats everyone, and see you next contest!
All servers are being updated tonight to Java 1.16.2. Java players, make sure that you're using that latest version to connect! Bedrock players, you're already good to go.
This gives you access to piglin brutes, waterlogged lanterns and horizontal chains.
I've completed my work to make sure that Bedrock players are first-class citizens on the Creeper's Lab, and I'm now happy to open the gates of all servers to everyone!
Bedrock players (Windows 10 and mobile) can now access everything that Java players can. This includes all game servers, web profiles, achievements, and more. New players, make sure that you're whitelisted to get started. Existing Java players, add your Xbox Live Gamertag to your networks to continue. You can easily see who's playing on a Bedrock client as their usernames are prefixed with a ~tilde.
As the display of stats on your web profile goes, plus achievements tracking, the statistics of the Java and Bedrock accounts of the same player are combined. For example, you could break 5000 blocks on your Java account, another 5000 on your Bedrock one, and that would be enough to trigger Destroyer for breaking 10,000 blocks in total. If someone is registered on both Java and Bedrock, the Java username and player skin will be used on some displays.
As a reminder, the limitations that I have listed in a previous news post for Bedrock players are still valid. Most notably, enchantment tables don't work yet, along some special crafting and inventory locations like stonecutters and horse inventories. Player skins don't always display. This is being addressed by the team developing the compatibility layer and is expected to get better in the coming weeks and months.
Do you know someone playing on a Bedrock platform that might be interested in joining us? Pass the word around, we're ready to welcome them!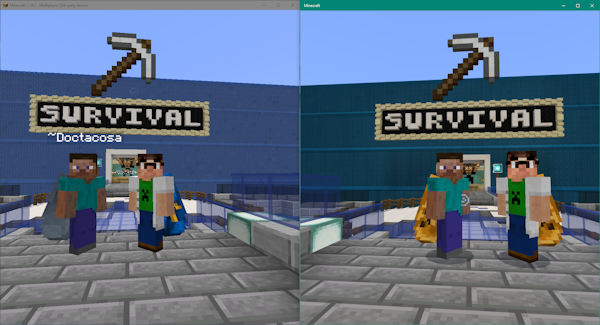 Left: Java; Right: Windows 10
I've pushed to all game servers support for 1.16.2. This allows you to connect using .2 right away, yet we're still running .1 internally, so don't go looking for Piglin Brutes right away!
While you can connect using either game versions now, our requirement will move up to .2 eventually, so I suggest that you update your game whenever you can so you don't forget about it later.
Additionally, the internal version of resource packs has been updated on the new game release. Nothing changed besides that, so if you recently downloaded Sphen's update, you're still good to go. You will have to re-set them, though, as they will show as outdated (even if they work). Alternatively, you can grab the newly updated versions here.
News archive