Welcome to the Creeper's Lab! We have multiple Minecraft servers and an active community, mostly focused on playing Survival mode. We also have special games, events and contests! If you're not already playing with us, please don't hesitate to join. Newcomers welcome!
You don't need to register to quickly join and look around our main survival server, but you will need to in order to play. Register today!
News
Here are a few updates on what's new for February!
First of all, the Race Away challenge has wrapped up in Kenorland. Here are the final list of runners and their best positions!
Doctacosa: 30111
Kagato: 27573
axe_y: 10659
BoxBuilder45: 8798
NICKW6499: 5264
MineshaftBob: 4450
CruelNate: 3443
Sepahbod: 2908
Lunaar_Dust: 2484
Twixxi_: 2460
Mlhrj5: 2440
GingeKoda: 2329
butterbum: 2272
Connovan: 2211
Coneva: 2211
xedre: 2155
xLordItachix: 1549
Pteryx: 868
Manly_Whiskers: 858
groovybanana: 600
x AlexTheTrain: 546
chunil756: 492
Bnice2max: 483
Primagen: 453
Saffronflyer396: 424
EnchantedKing: 116
ADeshantis: 116
Sxnflxxwer: 106
MonsterEats: 56
Darth_Roxas456: 52
DexTAD: 42
Venemousspyro10: 36
Raegal: 13
GoomyGoma: 2
All have earned Merit Points based on their position. That is, Doctacosa (hi!) got 34 points, followed by Kagato with 33, all the way down to GoomyGoma with 1.
---
Next up, a new challenge! You've been punching blocks for days, months or even years, without consequences. However, the blocks have grown tired of that behavior, and they've decided to fight back! Do you have what it takes to tame them and still be create a build that you'll proud of?
There's no set target for this month's challenge, except enjoying yourself at trying out something new. Everyone who attempts it will be given 5 Merit Points by the end of the month.
---
At the Hunter's Lodge, the new raid boss is Jack Torrence and Red Rum. If you'd rather fight someone else, remember that you can now use Merit Vouchers to gain access to a special room where you can select any boss of your choosing at any time!
---
As it was mentioned in passing with the announcement of the new building contest, Events Nights are getting extended to both Rodinia and Gondwana! They've both gained a new TARDIS near their spawn locations, which allows you to head directly to the four endpoint towns of each world. The opposite is also true, of course.
Additionally, keep inventory will now be in effect in Rodinia's overworld and Nether during Events Nights, just like in Laurasia. In keeping with Gondwana's hard mode challenge, this will NOT apply over there!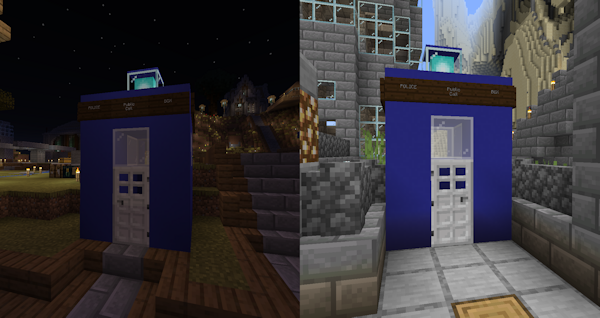 This slightly different formula isn't a direct competition against other builders, but more of a score attack event: you can build up to eight entries, one per town, and you get points for the quality of each build. Then, your final rank is determined by adding up each entry's score. This means that everyone can win prizes if they apply themselves enough!
You can easily reach any of the building sites using the main rails that have recently been completed on each world.
Here's Sora with the full details!
---
It's contest time again!
This time, we're looking towards two worlds that don't get much attention these days, Rodinia and Gondwana!
Unlike Laurasia, these two worlds have never had cities or towns in their farthest four directions; that's where you come in! The objective will be to build up these 8 cities into something substantial, each city having its own theme based on its location.
Each city is at the end of the mainline rails of the world's four cardinal directions; or for simpler reference, endpoint cities.
Event date: Feb. 1st -> Feb. 29th
Gondwana
Boreas: Underground mining town
Notus: Underwater City
Euros: Desert City
Zephyrus: Mountainous NPC Village
Rodinia
Xanthi: Coastal Savannah City
Troezen: Mountainous City
Heraklion: Floating City
Miletus: Mesa City
Judging Criteria
Attention to Theme
Use of terrain
Creativity of Design
One plot per person per town, for a max of 8 separate entries per person - no joining with a main account and an alt! Each entry is judged out of 10 points per criteria, and perfect score is 30 points per entry.
In addition to the contest, event night is being brought to Rodinia and Gondwana, with their own TARDIS network linked to the endpoint contest cities. Cities will be accessible for free-build after the end of the contest.
Restrictions:
Boreas - Builds can go deeper, but not touch the glass ceiling
Notus - Builds should not pass the water's surface
Heraklion - Builds should not go below the water's surface more than 1 block
Reward Tiers:
3rd Place Between 50 and 130 Points
2nd Place Between 131 and 210 Points
1st Place Between 211 and 240 Points
Highest scoring person earns an extra reward - S rank mystery science item
Prizes:
First Place: 50 Merit Points. 5 Merit Vouchers. A rank mystery science bundle*
Second Place: 30 Merit Points. 4 Merit Vouchers. B rank mystery science bundle*
Third Place: 10 Merit Points. 3 Merit Voucher. C rank mystery science bundle*
Judges: 5 Merit Points. 1 Merit Voucher. (Volunteers welcome! Three positions open)
* Science bundles will contain both combat and non-combat items, everyone will benefit!
Researcher's journal, 22 January 2020

Research on the human body has been progressing well. The latest experiments have yielded new results to reinforce the previous hypotheses, while new side effects have also been uncovered. These effects have been positive overall, opening up new possibilities on the core subject. I've taken to applying these findings to mannikins emulating human shapes, and after some adaptations, they've molded themselves to my needs. The next steps will continue under my supervision.

There seems to be an endless supply of volunteers willing to participate in these experiments, thankfully. Another win for science!


---
A common request lately has been a way to customize armor stands. It's possible with staff-only commands, but while the stands themselves have a lot of possibilities, most of these are not accessible through standard survival gameplay rules.
To give everyone a chance at having more controls over the stands, I've introduced a special book that allows you to change any of a stand's properties. This includes adding arms to hold items, removing the base plate, posing them, or even making them invisible entirely so that only held items are shown.
You can now go to Doctacosa's Study, at the Citadel, and access the research room in the basement. It's located in front of the exp lab. There, you'll find a button to give you a copy of the book to bend armor stands to your will.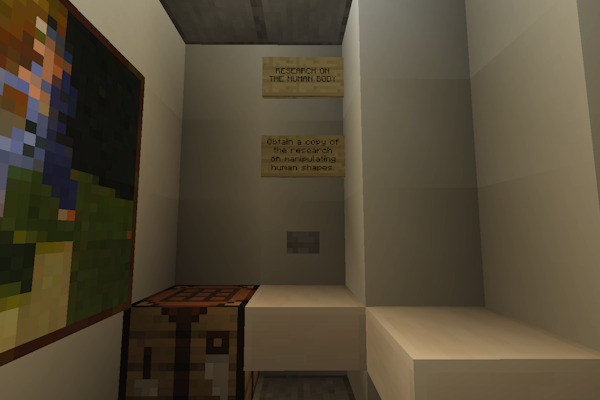 To use it, stand next to the armor stand you want to change. Then, to confirm you've got the right one, open the book and click on "Check target". The active stand will get a white glow for a few seconds. From there, you can reopen the book and change any of the stand's properties with a few clicks.
This should go without saying, but you should only change the armor stands that belong to you. To limit the risks, the button to dispense the book is only available to trusted players.
Note that these books are powered by pixie dust, and as such are very fragile. If you happen to disconnect while holding them, change servers, or leave them in an enderchest, they will lose their magic. The only safe storage spaces are chests and item frames. Should a book stop working, burn that copy and go claim another one at the Citadel.
Minecraft 1.15.2 has been released toda- yesterday with a variety of bug fixes and improvements, and the Creeper's Lab has made the jump too! Update your game client to be able to join anywhere beyond the lobby!
Two notable changes are taking place for us. First, the Wandering Traders are being disabled across all servers. They have been an ongoing source of server lag since their introduction, for few benefits in return. Those interested in their trades (or their llamas!) will find them available at Moosemart.
Second, a bug fix worth mentioning is about furnace minecarts. They will no longer lose their speed after turning corners, making them useful once again!
The map plugin itself hasn't been updated yet. While you can still view the maps as usual, they won't show player positions or new changes until its author has a new release available. This will probably take a few days.
UPDATE: The maps are back in working order!
Available today is a fairly large revamp to the Merit Points system. Here's everything that's now available for all to use!
While the points used to available for cash-in during Events Nights only, we're expanding this to the whole week, with a new costs structure! First, what was already available by using /points PERK:
flight - flight: Get the ability to fly for 15 minutes.
xp - XP boost: Double the XP that mobs drop for the next 30 minutes.
As a convenience, at the end of a flight period, you'll now be gently let down instead of crashing instantly to the floor.
These are joined by four new perks:
keepinv - Keep inventory: Single use. You keep your current inventory and levels if you die. If Events Night is ongoing, this won't be used up.
invis - invisibility: You get to be invisible for 30 minutes. This is great for outdoors builders in unprotected areas, as monsters won't attack unless you're very close or outright hit them.
tardis - TARDIS: Single use. Sends you instantly to the End of Time so you can exit at any location. Make sure you're somewhere on Laurasia before using this!
weather - Weather: Clear the rain and keep it that way for at least 15 minutes.
Most of these stay with you through disconnects and server changes, except the clear weather option as it's set per world. All of these are available 24/7 at the cost of 2 Merit Points, except the End of Time access which is worth 4. During Events Night, these prices get slashed by half!
Also new are Merit Vouchers: for 10 points, you can gain a Merit Voucher which can be exchanged for many things. Visit the fifth floor of Moosemart, at the Creeper Citadel, to get vouchers and view the full range of trades. This includes replicas of past event items, shortcut items for those exploring the science areas, cosmetic costumes of science mobs, heads of previous staff members, and even some exclusive items! You can head directly to the Hunter's Lodge to access any of the existing raid bosses, too.
Future draws for various items, real and digital, will also happen where the Merit Vouchers will be used as participation tickets. This replaces the end-of-the-year prizes that were offered previously to the players with the most points.
How to get points
All this is fine, but how does one get points? This is detailed on the Merit Points page. To summarize, there are three main sources:
Vote for us every day! Enter /vote in-game, or get the links from the Help page.
Participate in the monthly challenges in the lobby.
Enter our various building contests!
Remember that you can vote for us every day, even if you're not interested in the points themselves: voting gives us more visibility and helps to attract new players. Give us a hand whenever you can, it's free and quick for you to do!
The rules for the network have been expanded and clarified a bit based on recent feedback.
Most notably, what was an unwritten guideline has been formalized: religion and politics discussions are now frowned upon. While both can make for fascinating exchanges, they can also be very divisive. We're here to have fun, not to argue endlessly at each other, so this isn't the place for these.
Additionally, we had a long-standing policy against Endermen farms in the End. Since there are many other sources of exp nowadays, that restriction is gone. As a reminder, Laurasia's End gets reset periodically, so any permanent structures should go in Rodinia's End.
The in-game /rules command will be updated accordingly at each server's next restart.
Get your best running shoes, remember your New Year's Resolution about making more exercise, and let's race race race!

This month's challenge is Race Away, accessible from the lobby as always. The goal is to run straight East, to get to the highest X coordinate possible during the month. If you die, you get sent back all the way to the beginning with no inventory, so be careful! The world available to you this time around is rich in some resources, but notably lacks a floor. Beware of any missteps... You can move between -1000 and 1000 on the Z axis. Due to a lower amount of food than usual being available, your hunger will slowly refill over time.

Merit Points will be given to the top runners based on their respective, top positions. For example, the last person will get 1 point, next-to-last 2, and so on up to the top runner getting an amount of points equal to the amount of participants. A minimum of 10 points will be offered to the winner.

Good luck!


---
A new raid boss will be available later today at the Hunter's Lodge. This time, the dreaded
Nyx
is to be challenged!
Have you tried our parkour courses in the lobby? Thought about building one of your own? Maybe honey blocks unlocked new potential that you'd like to explore?
It's now possible for anyone to build additional courses! When you access the Parkour area, in the Games section of the lobby, you'll find a door at the left leading you to the build area. Use the buttons to switch your game mode to creative, claim a free area by putting your name on it, then get building! It's important that your course has clear start and end platforms; everything else is up to you. You'll have to ask a staff member to add you to the building area door's permission; after that, you'll be free to go in and out as you please.
As a reminder, players attempting the parkour courses do so in adventure mode, so they can't break or place blocks. Hunger has been disabled, but health is still enabled - fall damage is a real killer!
Once you've completed building a new course, get in touch with me. I'll review it to make sure it's doable, then add teleporters to link the entry and exit points to the public area.
Give it a shot!
All servers have successfully been updated to Minecraft 1.15.1, the Bug Update. Hopefully, this means more bees and fewer technical issues! Update your game version in the launcher, and carry on! The lobby will still support 1.8+ to allow us to warn other players.
For those looking for bees, they'll be made available shortly at Moosemart for a fair price.
Last week, I made a call for fresh blood to join the staff group. First things first, I'd like to thank everyone who applied: this got more attention than I was expecting, which is good sign that the community is healthy and that people want to get involved more!
With that said, this leaves us with a few nominations:
Both MineshaftBob and xLordItachix are being promoted to the op status!
To replace them, BiGsTiVo and Twixxi_ are joining the group as helpers!
JRandomizer will be taking over the Instagram account to repost the news, and maybe more!
Mikey_el16 will get busy preparing new content for our YouTube channel.
Congratulations to everyone! You'll be getting a private forum message from me soon with some more information.
News archive