Welcome to the Creeper's Lab! We have multiple Minecraft servers and an active community, mostly focused on playing Survival mode. We also have special games, events and contests! If you're not already playing with us, please don't hesitate to join. Newcomers welcome!
You don't need to register to quickly join and look around our main survival server, but you will need to in order to play. Register today!
News
I know that many of you have been waiting for this, and I'm happy to announce that the science areas are all back online, including the Creeper Citadel!
For players that have already completed part of the challenges, some items have been overhauled and you're eligible for a trade. You can find the full list here; to trade them in, please head to the underground of the Post Office at the Citadel.
Some new item trades have been added at Moosemart, they will be added later today to the Resources forum. As a reminder, this is where you will find a detailed description of the various areas, trades and items available for the Horsemen Areas, Challenge Missions and other challenges.
All servers have been updated to the latest and greatest on Minecraft 1.16.1; it's time to update your client to discover the Nether Update! There are some important things to note, so please read on.
Many of you will be excited to go down under (no, not to Australia...) and discover what's there, or to mine all of the new material. To help with this, we're introducing three new Nether worlds:
The main one, to explore and build on, takes the form of a new server called Superia. You will find this one directly in the lobby. A spawn area and rails to endpoint cities have been prepared, similar to the other main worlds, and you're also free to take off in any direction as you want. Explosions are temporarily disabled, go to Tasmantis for boom-booms.

Rodinia's Nether has been partly reset to give you access to the newer resources and is now expected to be permanent for building. You'll have to head out at least 512 blocks from spawn to see the new areas.

For your mass mining needs, Tasmantis makes a return with a brand new Nether attached! This is temporary and will be retired when the interest dies down. You're looking to carve out a large area of the world, or you want to gather all of the new Nether materials? Visit Tasmantis first, it's there to be plundered!
Laurasia's existing Nether will be locked down to the current structures to focus on rail transport. Again, for mass Nether mining, visit Tasmantis now! To build, see Superia.
All science areas are now coming offline as they need updates to work properly under the new game version. Further announcements will be made as the areas come back online.
To solve key problems on inventory synchronisation across the survival servers, the entire system has been rewritten from scratch. Something important to note is that the position of all players has been reset to the spawn of each world. You will need to head back home on your own. To help with this, we're making an exception so that the staff will teleport you back home if you ask for it. This can only happen once per server per player. Make sure to set your spawn right after if you haven't already done so!
Enjoy!
Traditionally, Merit Points would be earned in a yearly cycle and then be reset, which would be happening at the end of June, in a few days. After reviewing their use, I've decided that Merit Points will NOT expire anymore. Keep on collecting them to build your way to the rewards you're interested in!
Some of you might be asking "but what are Merit Points good for?" or "How can I use them?" To help explain that, we're launching a Merit Points Awareness Week!
Starting tomorrow, Sunday 28 June and lasting until 4 July, you'll earn a Merit Point simply for logging in, every day! Combine that with the daily point that you can earn by voting for us, and you can easily rack up more than 10 points in the upcoming week! That's enough to cash in for a Merit Voucher, which can then be exchanged for a long list of cosmetic or memento items!
For more information on this, please check the newly refreshed information on them, it lists the various ways you can earn and spend them! You can check how many points you currently have available by using /points in-game.
In a competitive mood? You can see who earned the most Merit Points on the forums! Two leaderboards are now presented: one for the lifetime total, and one for the past 90 days only, giving newer players a chance to get to the top.
The server hardware migration is now over; thank you for your patience! You're now free to come back online for more fun.
All survival servers are now back online, while I wrap up a few minor issues with game versions compatibility and chat support in the minigames. This new, dedicated server will give us about 28% more processing speed per core, ensuring smoother gameplay for everyone while cutting down on that dreaded lag!
On an additional note, the lobby now supports Minecraft 1.16 and 1.16.1 in order to stay in touch with all players. As I indicated on Monday, until further notice, you need to use 1.15.2 to play with us. If you need help in changing your game version, here's an illustrated guide.
I'd like to take a moment to especially thank my Patreon backers. Their continuous support helps me to stay motivated in finding ways to improve the experience for everyone, including hardware upgrades such as this one!
Minecraft 1.16 is set to be released tomorrow. As always, there will be a delay between the game's release and us updating, so please stay on 1.15.2 for the time being!
As we're preparing for the Nether Update, we'd like to get a list of all builds that were done Nether-side on Laurasia and Rodinia. Please tell us in this forum topic where your builds are located so we can be aware of them!
Early warning as well, when we transition game versions, all science areas will be unavailable for some days at least as checks get done and various values get updated. If you're looking to complete a challenge or score a specific item, you might want to do it now!
UPDATE: We will have several hours of downtime this Wednesday, starting in the morning, for a hardware upgrade! While we will be back online within the day, I can't say yet how long this will take.
After careful consideration, and since the Creeper's Lab has been around for several years now, we've decided to update our policies on bans.
As of today, we're adopting a three strikes system, based on the severity of the offence(s). In some instances, like major griefing and unacceptable attitudes, permanent bans will still be issued right away.
First strike: 3 days ban
Second strike: 1 month ban
Third strike: Permanent
The rules page has been updated with this new information.
This also opens up the possibility of appeals for previously permanent bans. If you believe that you can make a valid case for yourself, please do so in the newly opened forum topic on appeals. This lets anyone in the staff who's aware of the situation reply as needed, which might be preferable to private messages as things might be addressed faster this way. Many appeals will be flat out denied, especially for people who have received several warnings, so be aware.
Of note, temporary bans will not appear in the Wall of Shame, only permanent ones.
New challenge
A new challenge is now available in the lobby, as the Randomizer makes its return!
In Minecraft, every item has its drop: break a log, you get a log. Break a dirt block, you get dirt. And so it goes. In the Randomizer, the drops of each item have been mixed up, but they're all constant. For example, breaking grass might get you concrete. Placing and breaking that concrete could earn you a poppy! It's up to you to figure out what items provide which materials in order to progress. In this instance, Minecraft's crafting recipes are maintained as-is.
There's no set target for this, as the challenge of finding which blocks are required to do what you want can be complicated enough. Good luck trying to build a home of your own! Everyone who enters the world this month will net 5 Merit Points.
If you have suggestions of specific targets for future instances, please let me know!
---
Grindatron
Last month's Grindatron has concluded! An active core group of players kept looking up whatever target was given every four hours (whenever possible, of course!), then rushed to find the item required. Each successful run earned them one Merit Point. Here's the final line-up!
GingeKoda: 128
Pteryx: 118
Doctacosa: 99
Coneva: 94
Raegal: 74
Kimonellos: 60
xLordItachix: 38
D_0c: 30
ChillingSlav: 24
BioZombieActive: 18
Connovan: 16
Mattie_33: 3
axe_y: 2
MineshaftBob: 2
ringman77: 2
DragonDrone: 1
Twixxi_: 1
All points have been attributed to the players. This is a fun one that new players also got a chance to discover, and it will return in due time!
---
Hunter's Lodge
Do you see these miners? All active trying to extract precious ores from the Earth's crust? Well, they delved too greedily and too deep and awakened something fierce... a Balrog.
---
Bans
The Creeper's Lab has been around for over eight years now. With our long-lasting policy that all bans are permanent, outside of a few rare exceptions, that's a lot of people who won't ever get the chance to return.
The staff are currently reviewing this policy and would like your thoughts on it. Should all bans stay permanent, or is there room for temporary ones on more minor offences? Should the warning system be more formalized? If you're interested in this subject, check out the newly opened forum topic and share your thoughts with us!
---
Achievements
As many of you already know, the achievements system has been cleaned up in the past few days by reviewing and updating multiple targets that broke during the last few game versions. As of last weekend, all 150 targets can once again be completed as expected!
Ever wanted to build in an existing location, following a theme, but you didn't know the local rules or who to ask?
Wonder no more! I've compiled a list of all the public building sites that I'm aware of, along with their themes and local building rules. If you want to make a skyscraper, look up Minetropolis; for a fancy house, Oak Hills awaits you; trains, we have that too! Many of these are former contest sites, this new page centralizes their information for quick searches. If something isn't clear still, the person in charge of each site is also listed in each entry.
If you think of a location that's missing, or something seems unclear, get in touch with me!
Today marks the fourth year of me being on Patreon! I'd like to once again take a moment to publicly thank all of my patrons, past and present, for believing in what I do.
Quite a few things happened in the past year, most notably the first serious attempts at spending money on advertising. You've seen some player surges (and quite a few bans!), proving it to be an effective way to energize the community. Here's a chart on the number of active players for the last full 12 months, excluding visitors and people who join only to vanish after a few days.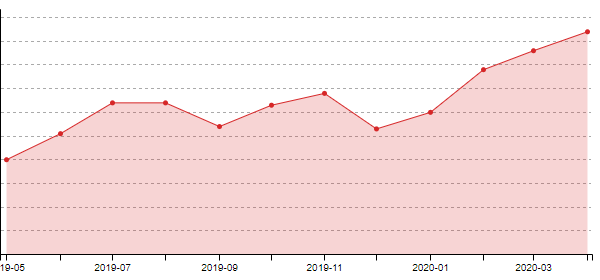 There's a clear upward trend, a good share of which can be explained through the advertising. That's a costly endeavour, but thanks to my patrons, we've been able to make it happen. More players make for a more dynamic and healthy community!
Now, I'm looking at the next steps. Advertising is costly, better server hardware might be needed eventually, and a far reaching goal of mine is to be able to do this full time! As such, I'm looking to expand on the number of supporters I have in order to reach the next level. Maybe you will be the next person to back me? :-) I put a lot of time into the Creeper's Lab every week, and I appreciate any amount of support, as low as $1 a month. In exchange, various rewards are available, including custom titles, particle trails, and monthly or yearly postcards in the mail!
To sweeten the deal, I've got something for you: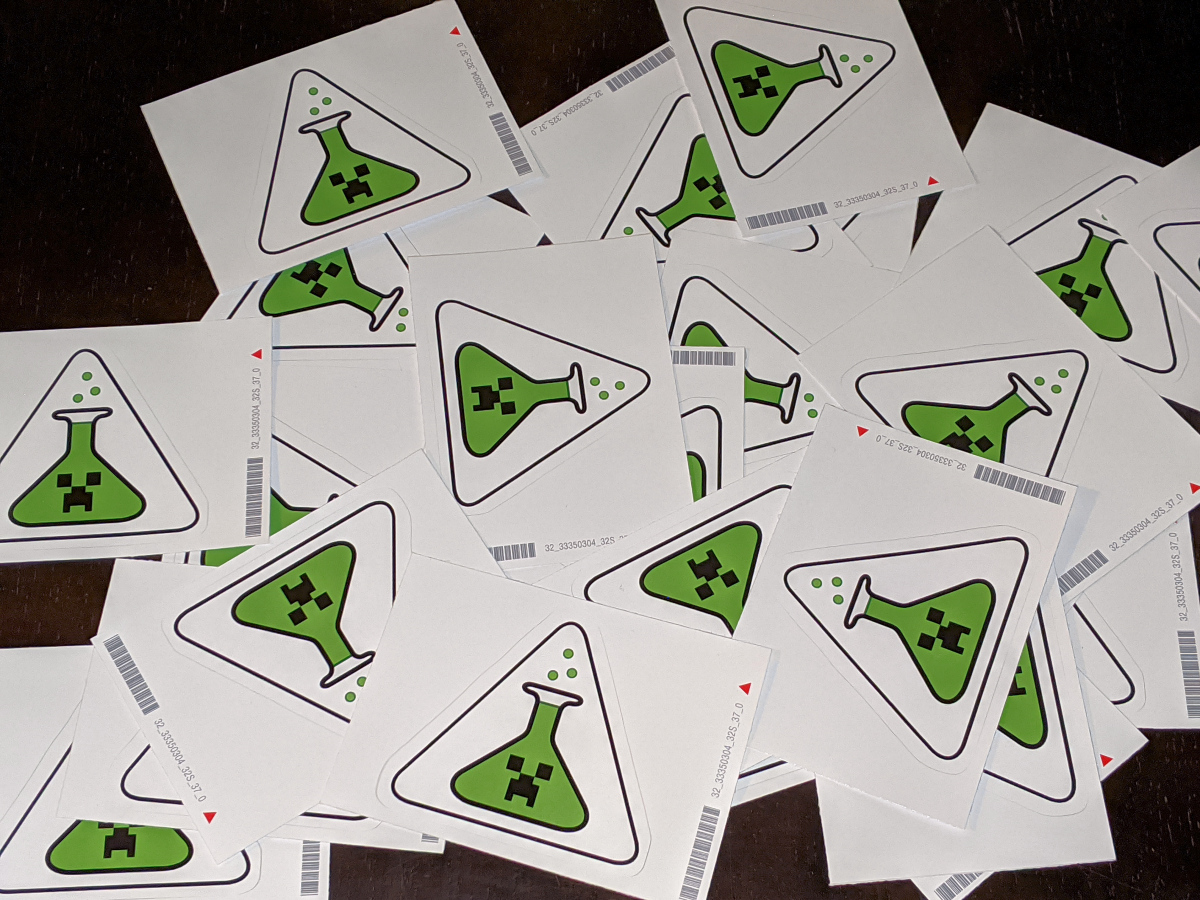 That's right, stickers with the logo of the Creeper's Lab! Anyone who chooses to back me on Patreon at $5 a month or more will be getting one of these shipped to them in early June. Additionally, should you continue for longer, that tier makes you eligible for the yearly postcard that'd be sent out at the beginning of July! Of course, anyone who's already supporting me at $5 and above and entered their address on Patreon will get one too, without having to do anything extra. :-) This is my first time making any type of physical product, and I'm excited to introduce it to you!
No, it may not be the ideal time for me to do this. At the same time, I tend to wait too long for perfect circumstances, the anniversary is today and the stability of my current work isn't guaranteed past this year, so I choose to move forward in every way I can! I understand that, given the current situation, some of you who might have wanted to support me but can't at the moment will pass. That's fine too!
You have three weeks to support me at $5 a month or more to earn that sticker plus all other usual rewards. Are you interested in getting aboard for the ride?
News archive