Welcome to the Creeper's Lab! We have multiple Minecraft servers and an active community, mostly focused on playing Survival mode. We also have special games, events and contests! If you're not already playing with us, please don't hesitate to join. Newcomers welcome!
You don't need to register to quickly join and look around our main survival server, but you will need to in order to play. Register today!
News
Last week, I made a call for fresh blood to join the staff group. First things first, I'd like to thank everyone who applied: this got more attention than I was expecting, which is good sign that the community is healthy and that people want to get involved more!
With that said, this leaves us with a few nominations:
Both MineshaftBob and xLordItachix are being promoted to the op status!
To replace them, BiGsTiVo and Twixxi_ are joining the group as helpers!
JRandomizer will be taking over the Instagram account to repost the news, and maybe more!
Mikey_el16 will get busy preparing new content for our YouTube channel.
Congratulations to everyone! You'll be getting a private forum message from me soon with some more information.
As expected, Mojang released on the 10th Minecraft 1.15, a new version full of BEES! As always, it will take some time to prepare the servers for the upgrade, but as this version doesn't have a lot of technical changes, this isn't expected to take as much time as was needed for either 1.13 or 1.14. For now, make sure that your client is using 1.14.4 to stay with us!
In the meantime, the lobby has been made compatible with 1.15 to give us a chance to communicate the latest news with all players.
We've got an active month as far as visitors go thanks to a new ad slot, and we're planning to do this again in the coming months, so it's time to look at getting some more hands on deck!
I'm looking at adding new helpers and ops to the staff of the Creeper's Lab, the exact amount to be determined based on the level of interest.
As a reminder, the tasks of a helper are focused mostly on helping the community by answering questions, with a much smaller focus on special commands than ops. This includes:
Greeting the new players and answering any questions they might have.
Checking on these players to make sure they understand and follow the rules.
Getting players unstuck due to server bugs or protections (it happens!).
As a last resort, kicking and/or banning troublesome people.
Ops do much of the same as helpers, but also have access to extra abilities and commands. This can include:
Tracking down sources of griefing.
Reverting said griefing when located.
Supervise events and contests by providing assistance when needed.
Additionally, we're also looking for a YouTube and/or Twitch creator to add some liveliness to our channels on YouTube and Twitch. The video channels have proven to be popular in the past, for regulars and random viewers alike, and led quite a few players to join us. Ideally, you've got the skills, time and processing power to create some worthy content. If you've already done videos before, don't hesitate to send a sample link our way!
Only players that are registered and active at the time of this posting will be considered. To apply, please send me a private message on the forums. Nominations will be done in about a week.
Thank you for reading!
New month, new goals and new surprises. We've got a lot for you, so read on for the details!


Advent calendar

MediaKlepto and Twixxi_, with the help of some others, have prepared an advent calendar for you! The concept is simple: go there, get a gift, and you can do so every day starting today up until Christmas! That's 25 potential days of gifts, including useful goodies and decorative items. They'll get rotated every day at around midnight, Eastern time, so don't miss out!

This is located in Central's Seasonal Park. From Grand Central Station, in the basement, use the Residential Line until you're next to the snowy park. Alternatively, walk West from the station, passing in front of the Community Centre then following that path to the North.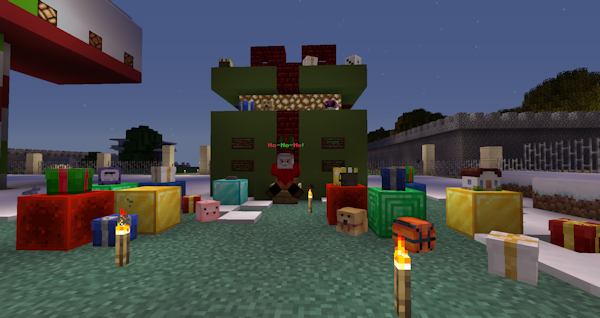 Christmas cards
The Christmas cards are back for a seventh year in a row! Visit the giant mailbox, submit your mail address, and get a signed Christmas card from me in the mail! I'm sending these worldwide. Please make sure to submit your address soon, as I have a limited amount of them available. You can also request an additional card from a past year, as I have limited stock of the issues 2014 to 2018 cards available. Include that mention with your address if you want it!
The giant mailbox is located right next to the advent calendar, once again in Central.
Alternatively, you can use
this special page on the forums
to submit your address. Why would you do that, though, and risk missing out on the advent content?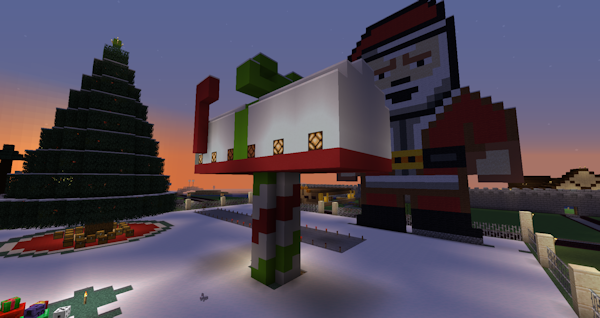 New challenge: snowy UHC!
After last month's randomizer, we're back with something a bit more typical in the form of a new UHC map. This time, the cold weather has swept through the place. Make sure you don't freeze!
Note that, since that game mode is different from how the other servers are managed (notably, griefing is allowed and PvP is often on), it's now accessible only to registered players.
Raid boss update: Santa is baaaaaack!
Santa isn't only busy preparing toys and handing out the goodies at the advent calendar, he's also all warmed up and ready to beat you up, with his elves in tow! To exchange politely with them (read here: beat them up), visit the Hunter's Lodge!
With the autumn season falling slowly behind us, it's finally time to tally up the scores for the Woodhollow-een Building Contest!

Sora, Bob, and I set out to explore your creepy-spooky-possibly-macabre creations, and after a bit of debate have come to determine the Top 4 Winners, owing to the tie for the top slot! Our lucky winners are...

First Place: Anonymous_SoFar & Twixxi_
Second Place: StTheo
Third Place: Doctacosa

You can view the final scores and screenshots of each build on the results page, as always!

As for the prizes; both Twixxi and Anon will receive the 1st place prize of the Woodhollow Gourd and 30 Merit Points, plus the prizes for 2nd and 3rd place.

Our 2nd place winner will still be receiving 20 Merit Points and a copy of the 3rd place prize. However, since all of the Pumpkin Titans across Laurasia were slain and a cache of Woodhollow Lanterns was distributed throughout the playerbase, 2nd place will instead be receiving the Arsonist's Toolkit; an unbreakable flint+steel which gives +0.1 Speed and +7 Luck when held in the main hand.

The 3rd place winner nets more of those ever so tasty Pumpkin Juices and 10 Merit Points, while all other participants get 1 Merit Point just for entering!

Thanks to everyone who entered, and congrats!
~ Media
All contest areas are usually set around a given theme and have been designed to have a cohesive look amongst all buildings. New additions after the contests are usually welcomed, as long as they stick to the known theme and follow the same rules as the existing entries.

To help keep that unified, clean look, I'm adding an extra guideline today: at the staff's discretion, builds within former contest areas that don't belong are subject to be removed after two months of inactivity. This includes grossly incomplete works or ones that don't follow the guidelines. For example, our first contest in Oak Hills was themed around fancy houses. People are free to make new additions on the available lots at any time. However, cobble boxes have no place there, or a house with unfinished walls or roof, or a sandstone skyscraper.

The grace period starts today, so you still have the two months available should you wish to revisit or complete an older build. Thank you for your understanding!
It's snowing outside, which means it's getting cold!

Wait, that's not it. It's November again, which means that the Creeper's Lab is now eight years old! Still going strong, with many players staying around for long periods of time or even returning after breaks, proving that we're in a healthy situation. Thanks to everyone, old and new alike, for continuing to make this place to success!

Looking back at the past year, quite a few things happened:
- The email newsletter has been launched, with a new edition coming out every month. Subscribe today!
- Four major releases for the Horsemen events give you more content to play with!
- The main website had a refresh with (finally) mobile support!
- Gathering points now allows you spend them to gain a limited amount of flight or an XP boost!
- A difficult update to 1.14 was eventually done successfully.
- A new PvP game mode has been added to the lobby!

Additionally, thanks to the support of the Patreon backers, we were able to do a first round of advertising this summer and recruited many new players. While this required quite a few adjustments early on, we made additions and improvements through the month to better manage the flood of incoming players. To support this and new developments, in exchange for perks like in-game cosmetics and postcards, please consider looking at my Patreon page. Any amount of support is appreciated and can go a long way to make new things a reality!

New additions are actively being worked on, including one that should land Soon™. Stay tuned!
You might have seen some of our regulars chat about game randomizers, or playing "randos". These take a classic game, such as Super Metroid, and randomize the location of all items. The end result is that the gameplay sequence is completely different, forcing you to search for locations that you usually take for granted.

This is what we're doing for this monthly challenge. All item drops have been completely randomized: the classic "punch tree, get wood" no longer applies here! There is no set goal, as merely trying to work your way around the list of items should be enough to keep you busy. Teaming up might make this simpler!

Good luck!


---
A new raid boss is now available in the Hunter's Lodge! Squishy makes a return, offering anyone who manages to defeat it some elusive Underworld Shards.
---
Against all odds, all 20 Pumpkin Titans have been defeated! The rewards will be handed out during next Events Night, starting tomorrow night. If you scored one of the Halloween Pumpkins, trade it to a staff member to get your prize!
And you thought we were done with the Halloween events?! Not a chance!
With the aforementioned date rapidly nearing, we have one last treat (OR IS IT A TRICK?) for everyone: 20 Pumpkin Titans have descended at major locations across Laurasia.

Those who attended SpiderDome had a first hand encounter with one of these beings, and had the first shot at their unique drop- a Halloween Pumpkin! Hold onto one and bring it with you to the ending event ceremony on the next Events Night, November 2nd, and hand it off to a staff member for a prize (Only one prize per person; so don't hoard your gourds!)

While we're keeping the locations secret for now, we will reveal where one of the remaining 19 Titans are hiding- riiight in Central.




This Titan, however, is different from the rest; it has a big chair! It's also incredibly more resilient than the other Titans hiding around the world, but drops a much greater amount of Halloween Pumpkins; plus, as an extra challenge, if it is destroyed within the timeframe of the event, EVERYONE'S PRIZES ARE DOUBLED! (and yes, before you ask, they -can- all be killed.)

Group up with some people and start whacking some Titans!

Event Starts NOW!
(Ends at Nov. 3rd at 9pm EST)
With the current contest creeping-up the overworld, it's about time we ring in the season for the Nether as well; with some good old-fashioned Spiderdome mayhem!

This weekend, Saturday October 26th starting at around 10pm EST, we'll be dishing out the chaos with our token stock of crazy mobs as well as a few fancy new surprises. As always, loot obtained during the event is yours to keep so you might walk away with some goodies as well!

It may even be a good idea to hang around for the finale, because you never know what we might bust out next...

For those unfamiliar with the Spiderdome, the quickest way to get there would be to hit up your nearest TARDIS or similar access to the Events Night teleport network. Exit to the main room of the End of Time, hit the PvP & Battles lever, and you'll find the warp to the Spiderdome on the same floor you land on. Alternatively - if you feel like visiting everyone's favorite bookie George - you can find the Spiderdome's entrance overworld in Kaikon, just outside of the third floor of Eden Bay station in the southern Nether.

As a quick word of warning, as with all Spiderdome and other associated combat events: please be mindful of your armor and weapon durability before and while participating. (RIP Doc's helmet.)

Good luck and enjoy the festivities~
News archive