News
It's time for our next building contest! This time, you're tasked with building a medieval-style castle town! While you're working to establish the town itself, I'll be building the castle atop the nearby hill.
Rules
Make a medieval-style build that you believe is fitting of a castle town! Use the materials that feel appropriate to you to create the proper atmosphere; you'll be judged on your choices in building type, materials and creativity.
This time around, no lot borders have been drawn, nor are there building limits to follow: realism is your guideline. This is a medieval setting, and building codes didn't exactly exist at the time; mark your limits so others don't encroach in your space. Two main streets have been drawn as a starting point; you can add your own paths or streets as you wish. The area for this contest is delimited by the entire desert biome, so you can choose to be right in the middle of the action or be on the outskirts of the area. Make sure that you label your entry with your player name somewhere!
You can make multiple entries if you're feeling creative, but only one will be judged. Make sure it's marked appropriately!
Note that this area is NOT mob proofed, so there is a chance of being attacked at night. Remember, this is a survival game, so you're expected to survive!
If this is giving you trouble, remember that the invisibility perk available through Merit Points can be of help. This sets you invisible for 30 minutes at a time, preventing most monsters from finding you.
You don't like sand? It's coarse and rough and irritating, and it gets everywhere? Feel free to replace the ground by grass or any other material of your choosing.
I'm giving you four weeks, starting TODAY. The contest will thus end on the 15 August at 23:59, Eastern time.
Location
You'll be heading to Stirburgh, up North. On the overworld, from Central, ride the Transcontinental for 6 minutes until you see the Stirburgh ramp to your right. From there, follow the path!
Through the Nether, follow the North line to the first substation, Great Oak. Get to the top floor and head for Doctacosa's Fiefdome. Once at the other end, make your way to the train station, and take the rail to Stirburgh.
Prizes
The top three winners will each earn the following amount of Merit Points:
First place: 50 points, plus a ceremonial sword of the kingdom
Second place: 30 points
Third place: 15 points
Everyone else who participates will get 1 as well.
Additionally, I'd like to have two extra judges to help me rate the multiple entries. Please get in touch with me if you're interested!
Good luck!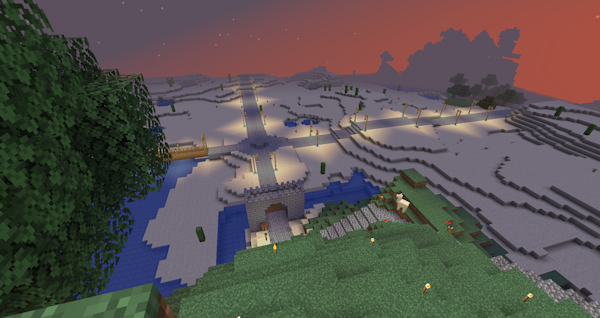 << Previous
|
News archive
|
Next >>
0 comments