News
August 2019
Quite a few of our new visitors have been asking "pvp?" the moment they join the network. At the same time, many of our current players like to play PvP, but don't want to deal with the inconveniences of travel and item drops. As a solution to all this, we're introducing our newest minigame: PvP!

Sora and I have prepared a new play mode, accessible within the lobby under the "Games" category. In there, MountainB0y's giant arena is accessible at all times, to registered players and visitors alike. To keep things balanced, no inventory carries over from the main survival servers. Instead, five fighting classes are available to select from, each with its own set of equipment and effects:

Knight: Defensive powerhouse, but slow
Warrior: Quick damage and medial armor
Archer: Expert in ranged damage, but light on armor
Mage: Magical damage and support, but limited uses
Monk: No armor or weapons, but all physical attributes are empowered

You can switch between classes or reload your equipment at any time from the arena'a starting point. These have been balanced to all be viable, depending on each player's preferences. It's a free-for-all, as in you jump in and start playing. You can play a few quick rounds or stay as long as you like, so don't hesitate to check it out!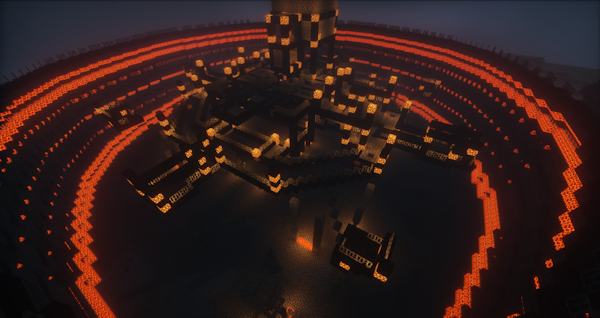 With a new month comes a new challenge! Due to the large amount of new players this month, I'm keeping things to the basics with a fairly straightforward UHC map. This time, a lovely oceanic island in a warm climate is your setting.

For those of you not familiar with our local flavor of UHC, the challenge comes in a special world with its own inventory, accessible straight from the lobby. The difficulty is set to hard and PvP is enabled, so you need to stay on your toes! You can explore as you want, aim to survive, or reach out to complete the four targets listed below:

- Crafting a bookshelf
- Crafting an enchantment table
- Access the Nether
- Pick up a blaze rod

Completing each task before the end of the month will earn you 5 Merit Points; more on points here. The access is opened to everyone, including visitors, but only players that register before the end of the month will be awarded points. It's important to note that dying knocks you off the world for an entire week, and you'll only be able to rejoin once that's over, so survival should be your top priority at all times.

Good luck!


---
On the science front, more work has been done by Sora to gradually bring things back online in this post-1.14 universe. At this point, the Dragon Priests, the Hunters Lodge, Requiem, Nyx and the Overlook hotel are all back in working order, and the first two have received new additions making them worth revisiting. The monthly raid boss at the Lodge is the Ancient Pharaoh still, to make up for lost time last month.
The Lost Woods are next on the list and should be back soon!
<< Previous
|
News archive
|
Next >>