News
I've completed my work to make sure that Bedrock players are first-class citizens on the Creeper's Lab, and I'm now happy to open the gates of all servers to everyone!
Bedrock players (Windows 10 and mobile) can now access everything that Java players can. This includes all game servers, web profiles, achievements, and more. New players, make sure that you're whitelisted to get started. Existing Java players, add your Xbox Live Gamertag to your networks to continue. You can easily see who's playing on a Bedrock client as their usernames are prefixed with a ~tilde.
As the display of stats on your web profile goes, plus achievements tracking, the statistics of the Java and Bedrock accounts of the same player are combined. For example, you could break 5000 blocks on your Java account, another 5000 on your Bedrock one, and that would be enough to trigger Destroyer for breaking 10,000 blocks in total. If someone is registered on both Java and Bedrock, the Java username and player skin will be used on some displays.
As a reminder, the limitations that I have listed in a previous news post for Bedrock players are still valid. Most notably, enchantment tables don't work yet, along some special crafting and inventory locations like stonecutters and horse inventories. Player skins don't always display. This is being addressed by the team developing the compatibility layer and is expected to get better in the coming weeks and months.
Do you know someone playing on a Bedrock platform that might be interested in joining us? Pass the word around, we're ready to welcome them!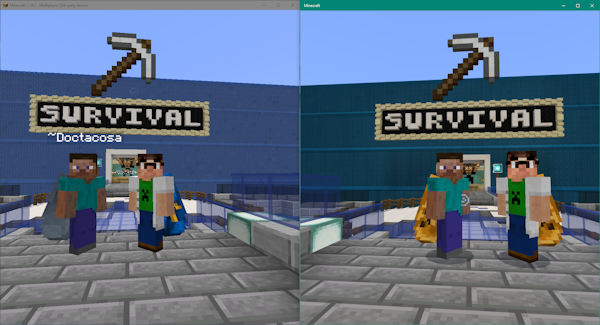 Left: Java; Right: Windows 10
0 comments
<< Previous
|
News archive
|
Next >>