News
March 2020
Laurasia already has traders to allow you to "cash in" 10, 30, 60 or 100 levels and obtain a matching amount of XP bottles in return. This gives you a chance to store levels for later use, or use your current experience points to repair any equipment with the Mending effect on it. As a reminder, in Laurasia, you'll find these in the basement of Doctacosa's Study, at the Creeper Citadel. There's also an option to cash in 200 levels to obtain a Merit Voucher.
To get the other survival servers on the same footing, Rodinia and Gondwana (which have separate experience levels) now have their own traders as well. In Rodinia, visit the basement of the Community Center at Point Zero. In Gondwana, you'll find them at Keystone City, at the left of the stairs from the spawn point.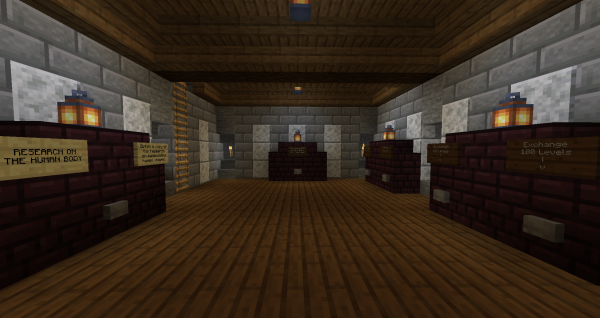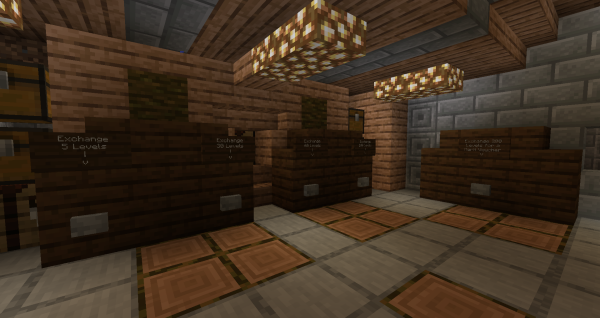 ---
Along the same lines, the special book to customize armor stands can now be obtained directly in both Rodinia and Gondwana as well, next to the XP traders. Remember that what we've taken to calling pixie dust books are fragile: if you disconnect or change worlds while holding one in your inventory or ender chest, it'll become unusable. Your best bet is to get a book per world then store it somewhere in a regular chest. If you accidentally break one, burn it and go get another copy.
---
On the topic of science areas, new reference topics have been added to the forums recently. The trades offered at Moosemart are now listed, plus the list of items displayed in the Cavern of Science. The Challenge Areas listing is still available, of course.
Additionally, Twixxi made a reference with all the Public Farms available on the servers. If you know of one that wasn't included, get in touch with her!
The endpoint cities contest has wrapped up, our judges (xLordItachix, Rebbica007, Mikey_el16, Connovan) went across all eight cities to score each entry, and it's now time to announce the results! Here's each entrant with their total amount of points.
Top winner
ROEN_44
First place bracket
ROEN_44: 214.5
axe_y: 211.5
Second place bracket
GingeKoda: 210.5
Pteryx: 200.5
Doctacosa: 190
Coneva: 158
Third place bracket
Twixxi_: 100
bandr500: 78.5
Manly_Whiskers: 56.5
Other participants
MerderMerl: 28
PuppetMstrRoxas: 28
JRandomizer: 27.5
BroItsTag: 23
CanadianAce2016: Incomplete
Connovan - Judge
Rebbica007 - Judge
The contest results page has a slightly different layout due to the format on this contest, featuring a single screenshot for each city. You're encouraged to go tour them and visit each entry! Each endpoint city now has a TARDIS and a Nether portal (in Rodinia), making travel easier. Alternatively, use the overworld rails and enjoy the scenery!
Each participant will have their Merit Points within a few minutes. To obtain your vouchers and mystery science bundles, please contact xLordItachix in-game! Congrats everyone!
As a reminder, the Merit Points you earn can be used for various perks! Flight, keep inventory, invisibility, TARDIS access, weather control, and doubled XP drops! You can type /points in-game to view your current score and to use them to enable the perks. More information here.
Merit Vouchers are used to get access to special items, heads of key players in the Creeper's Lab history, items from past events and more! Visit the fifth floor of Moosemart to view the full list, there's bound to be something you'll like!
A new challenge is now available in the lobby! UHC makes a return, this time in a hilly, northern setting. As a reminder, you can earn 5 Merit Points for completing each of these tasks:
Crafting a bookshelf
Crafting an enchantment table
Accessing the Nether
Picking up a blaze rod
You can then use these points for various perks like flight, keep inventory, End of Time access, and more!
---
This month at the Hunter's Lodge, a powerful Warlock looms large over his territory. Defeating him will net you Magic Shards, which can be traded for valuable items!
---
Don't forget that the building contest has been extended! You have a bit less than two weeks to go; get busy to populate these new towns and create some interesting scenery!
<< Previous
|
News archive
|
Next >>