News
I've got a few minor updates for you tonight, not all of them being related to each other but all worth a mention!


9-9 Events Nights
Considering that many of the current event areas (Lost Woods and Horsemen domains) are more easily handled when you can keep your inventory after death, we'll handle Events Nights a bit differently. These will now run from 9pm Saturday to 9pm Sunday, Eastern time, giving you a full 24 hours to play in the areas and access the teleporters network!

This is something that we're doing on a trial basis and might be revisited in the future.


Carnival Island
A new location has been made available for all - Carnival Island! Filled with multiple attractions (including a llamas carousel), you're sure to find something to your liking. Be sure to bring in coal and emeralds to afford to pay your way through the skill games, and hopefully win some cool prizes! This was built and designed primarily by MediaKlepto.

You'll find the carnival through the teleportation network at this location:
End of Time -> Additional Attractions -> Up a floor -> Carnival Island


North territories locked away
Laurasia is a large world, with some challenges on how to manage it over time. To keep things short, it's easier when the players are closer to each other rather than spread out over huge areas. To help with this, I've blocked off two large areas to the North-East and North-West of the world. Entry is outright denied: if you try to access them, you'll bounce back outside.

Remember that many areas on Laurasia, even if they were visited maybe once, are pristine and untouched. If you're looking for a good building location, don't hesitate to ask the chat, many of us will be able to help you!

These areas will be visible on the map once our plugin that shows map regions is back in working order. For now, here's an approximation of the blocked areas.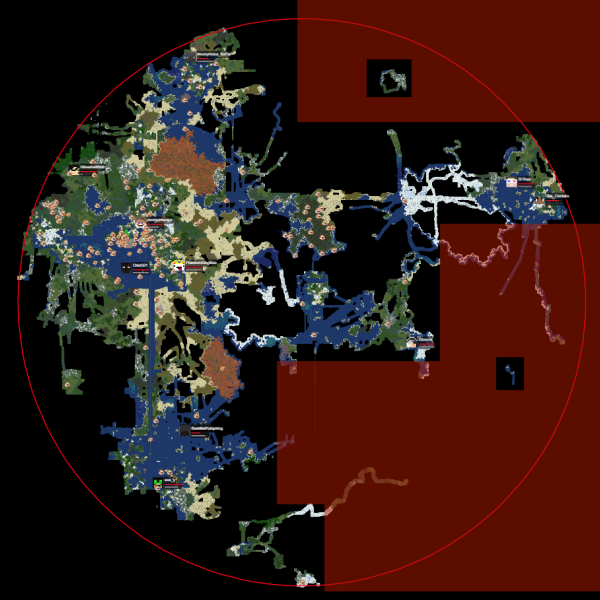 Status of 1.14
The last I officially commented on this, 1.14 required us to have a fully rewritten stats system to move forward. Work on that has been progressing well and should be done soon.

An additional, important complication is that 1.14, at least the first releases, performs extremely poorly on servers. This reached a point where it was outright unplayable by many. 1.14.2 made some major improvements toward that, and 1.14.3 is expected to be released soon with further fixes. I'll revisit the situation once that's available to see if things can be worked out. Thank you for your patience!
<< Previous
|
News archive
|
Next >>
0 comments