News
It's time for December's seasonal event! This time, your persistence, your might, your will to conquer will be tested to their limits in...

THE GRINDATRON!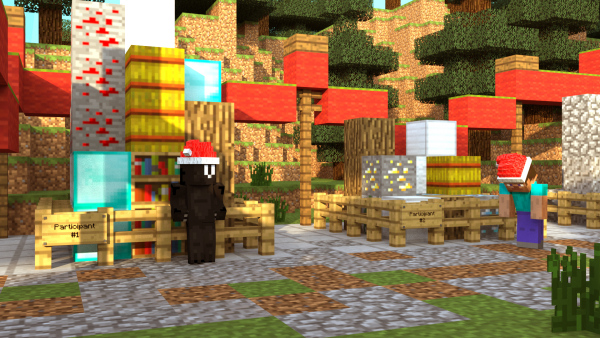 The challenges
The Grindatron offers you a brand new world, where specific targets must be reached. These consist of a specific block or item that must be found or acquired somehow, and brought back to the enderchest standing at the middle of the world, at coordinates 0,0. One or multiple copies of the same item might be required, this'll be displayed when you login as well as the beginning of each time period. If you need a reminder of the current target, you can enter
/target
at any time.
When you're ready, drop the item(s) that are part of the current target in the enderchest, in a single stack. If you're correct, the items will disappear and you'll get a confirmation.
Be careful:
any and all objects placed in the enderchest at that time will be removed, including those that are not related to the current target!
The interface
Here's a look at what your average screen will look like: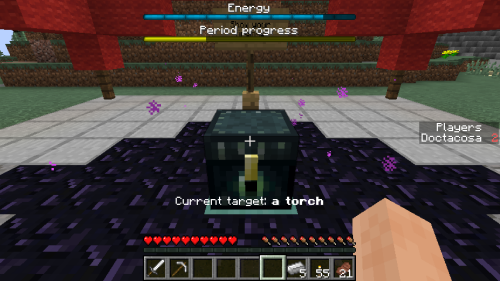 Top:
energy remaining and progression of the current cycle
Right:
score of all connected players
Middle bottom:
the current target
The cycles
Each day is separated in blocks of four hours; each of these blocks of time is a
cycle
. A different target will be made available by cycle, that is every four hours.
To give you a challenge and balance out the play time of each player, an energy concept is introduced. Always visible at the top of your screen, the energy level will decrease as you make actions. Moving and mining will be two especially draining activities, while any death carries a heavy penalty. Once you're out of energy, your overall power will decrease: you will no longer be able to break most blocks, your movements will be slow, and your attacks will be weaker. Don't get caught by surprise, and keep an eye on that gauge! Your energy gets fully refilled at the end of every cycle, so that you can be ready for the next challenge.
You can earn a connection bonus item for each consecutive day that you visit the Grindatron. Visiting multiple days in a row will give you better bonuses! For the sake of this game mode, a "day" is defined as a 24 hours period according to Eastern Time. For example, you could connect at 23:55 on a given day, disconnect, come back 10 minutes later at 00:05, and that would could as two consecutive daily visits. Likewise, these two times are on different cycles as they're based on midnight.
The location
A new world with a separate inventory has been generated for this. You'll find this new place right in the lobby, where UHC would usually sit, as it'll replace the UHC world for the month of December. Enderchests are disabled as these are used to validate the targets; the rest of the gameplay matches what you're used to in the survival worlds.
The reward
Each successfully completed target over the duration of the month will give you a Merit Point! The score that you can see get to your name in-game corresponds to what you've earned so far, so come back often to score more!
The duration
This begins NOW and will run until the end of December at least; it might get extended by a few days up to the end of the holidays, depending of the interest.
Note that, since this is a very new concept for us, there will likely be adjustments over the month. Keep an eye on this space for any further information!
Enjoy!
0 comments
<< Previous
|
News archive
|
Next >>