News
Greetings and Salutations to the Netizens of Miranda,

I know all of you are fond players of our affiliate, Creeper's Lab, infact you're required to be trusted there to even gain access. As such, you're all familiar with the weekly awesome that is Event Night on Saturdays. In light of the offerings of Event Night on Creeper's Lab, I thought to offer a similar, but completely different approach in Miranda to add a bit of change to the gameplay.

As most players know, and those who don't, that since Miranda is moreso focused on building and providing blocks, that KeepInventory is always on. Nobody likes trying to build something and getting blown off the scaffolding, or accidentally letting go of shift to plummet to your doom and thus losing everything. Players are accustomed to this being a specialty of Event Night on Creeper's Lab, so what could possibly be an offering to players of Miranda to give them something to look forward to?


Contractor's Evening.
This special evening is held on Wednesdays, 6PM EST (5PM CST). Giving players the weekend events on Creeper's Lab (Event Night 9PM EST Saturday), and the chance to join in on anything happening on Miranda mid-week. It also opens up things for players unable to make it on the weekends.
But KeepInventory is always on, what could possibly happen? Well, since Miranda IS focused on building (but not limited to!) during Contractor's Evening, a special shrine has been built that contains a single button. A button! Glorious! What could this button possibly do? To aide in the building of larger/taller structures with many hard to reach areas, this button will give the players the magic abilities of
FLIGHT
. The shrine can be found near spawn between the nether portal and Wayward Oak Condominiums. Flight is NOT automatically given to players, as they may not choose to use it, so you must visit the shrine to gain the ability and it will last until the end of the evening. Do note, if you disconnect, the ability will be turned off, so you must revisit the shrine.
I do hope this newfound ability will give players the ability to reach higher skies for building and new ideas for events, PvP, and other such goodies.
In light of Contractor's Evening, to get some imaginations going on what can be done... I'd like to run an event this Saturday, December 19, on Creeper's Lab.
We'll all gather at The Wither Pleasure Lounge in Lurking Skree Nether Fortress. To get there, take the End of Time from the nearest TARDIS or TIMEGATE > PVP & Arenas > Wither Lounge. You may bring equipment as you see fit for PvP, players who do not have the equipment such as armor, will be provided a suit of armor and a sword as to help even the events out.
During this PvP tournament, before the round, participants will be given the ability to fly, giving more maneuverability than just standard ground PvP. Do be warned, as this IS in the wither lounge, mobs might just appear to give you trouble so be on guard! There is an entrance fee of 1 diamond, but you may participate in the PvP even if you do not pay the diamond.
Winners of the PvP will gain as follows:
3rd: 5 Iron Blocks and 5 Gold Blocks
2nd: 10 Iron Blocks, 10 Gold blocks, and 5 Emerald blocks
1st: 15 Iron Blocks, 15 Gold Blocks, 5 Emerald blocks, and a special Wither hunting sword
Players who payed the admission fee of 1 diamond will all receive an iron block for participation, then those who paid will move to ColdStone Crematorium adjacent of the Lounge. There they will play Nether Spleef until one victor comes out on top. The winner will get the choice of: Take all the diamonds from the admission, OR take a chance at facing and defeating a wither for the precious Nether Star to make the elusive Beacon.
The player ranked second in Spleef will obtain what the first did not choose, either the diamonds or a wither fight. Third place will get two diamonds.
I hope players of Miranda will enjoy the new addition and possibly entice new players to give Miranda a try. I would like to make a note of thanks to Dr. Cossack for allowing me to become an affiliate of Creeper's Lab and the community that made the Lab what it is. As I am also a member of Creeper's Lab, I enjoy playing with all of you on either server, so feel free to drop ideas for events, builds, and other server related guff for Miranda or if you have event ideas for Creeper's Lab, forward those to Dr. Cossack and I'll see you there!
- Masterlink (Skreelink)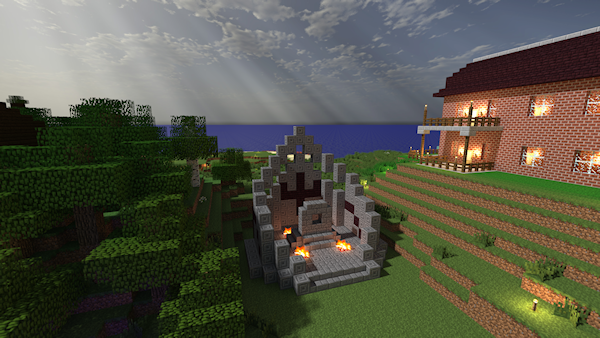 0 comments
<< Previous
|
News archive
|
Next >>