News
Now that we've reached December, it's time to roll a few updates!


New Christmas cards!

The Christmas cards are back for a third year!

For those who don't know, I'm sending for the holidays a real, custom Christmas card in the mail to whoever wants one, anywhere in the world. All you need to do is submit your name and full postal address, including country!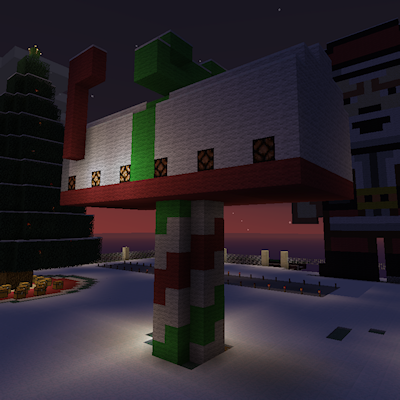 You can two ways to claim yours. Go to Laurasia and visit the seasonal park in the Residential District (north from the Community Center). You'll find a giant mailbox in said park. Get a book from it, write your address, then submit it! Alternatively, if you're unable to come on the server, you can enter your mailing address on
this special page
.
I empty the list of addresses after each year, so be sure to submit your name and address again even if you did so in the past! I also have a limited quantity of cards left over from 2014; please include a note if you'd like to receive one of these as well. All cards will be shipped later this month.
Resource pack update
The Christmas resource pack has been updated by Sphenicus! This latest update includes the recent changes of the standard resource pack (new paintings and sounds), plus some new music tracks to help you enjoy the holidays. You can download it, along with all available addons, on the
resource pack page
.
It's getting cold...
It's getting cold out there, and reports have surfaced about frozen sidewalks and rivers. Watch your step!
1 comment
Masterlink
---
<< Previous
|
News archive
|
Next >>