News
December is upon us, and so is the next seasonal event! This time, we're building a Christmas / winter village to celebrate the upcoming holidays!

Many people, kids and adults alike, love seeing these tiny, temporary villages that are placed underneath Christmas trees, in living rooms and in store displays. How about we build a larger version that we can walk through or even inhabit? :-)


Rules

Your goal is to create a new building or appropriate location for a new town modeled after one you might find under a Christmas tree or in a diorama. Think of what a stereotypical Christmas village includes: a bakery, a toy store, a church, a school, other stores, and of course, several houses. Your creation doesn't have to strictly be about the holidays, either: plenty of buildings in Victorian architecture or 19th century designs would be appropriate for this location. Use your imagination!

You have to select one lot, sized 25x25, and place your name on it somewhere. Please note that the lots aren't perfectly flat: some are, while others follow the terrain in a more natural manner. Try and make the best use of each location! Fence markers have been set in the corner of each lot with signs identifying each location. You can use the 25x25 space of each lot plus its borders, when applicable. Lots will be added as needed.

The contest begins now and will end on December 31st at 23:59, Eastern time. This gives you an entire month to design and build your entry!


Location

Unlike the previous seasonal events so far, this one is located within Laurasia. A new development called Spruce Hills was created as a sister town to Oak Hills. To get there, from Central, ride the Northern Peripheral (east) to its second stop. Alternatively, from Oak Hills, simply walk east or jump in a minecart for a short trip.

This taking place in Laurasia, bring and mine your own materials, as usual!


Prizes

The first place winner will get a kit to help them go through the long winter nights: 10 torches, 10 glowstone blocks, 10 redstone lamps, 10 sea lanterns, 10 jack-o-lanterns and 1 beacon!

Additionally, the first, second and third place winners will win 50, 30 and 15 Merit Points each, giving them a chance to win big prizes down the line! As a bonus, a single Merit Point will be going to each person who has claimed a lot and did some work (finished or not). You can get more information about the points by reading my previous news post on them.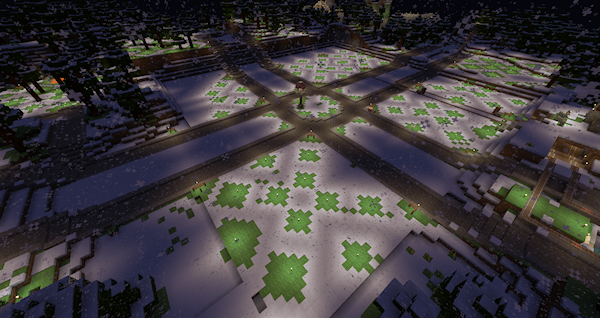 Good luck to everyone who decides to enter!!
2 comments
Coneva
---
MediaKlepto
---
<< Previous
|
News archive
|
Next >>