News
I'm introducing today a reorganization of the servers of the Creeper's Lab with the addition of a new lobby!

This will be the starting point of all new players from now on and the transit point between the various servers and activities. These will be separated as follows:


Survival
The portals for the current survival servers (Laurasia, Rodinia and Gondwana) have been moved here from Central's TransHub and are accessible at all times. Reaching each world's exit point will return you to the lobby, from where you can select your new destination (survival or otherwise).
Affiliates
This is where the connections to affiliates servers, in the vein of Team9000, will be made. This saves new players the trouble of navigating Central when they are only interested in reaching one of the affiliates. There is also one new addition on this front, detailed below...!
Games
Special games! In Minecraft! Fun! The goal is to provide alternate things to do for those who are bored of survival gameplay, and also frees us from the constraints of a survival gameplay environment. The games will be available 24/7, without having to make you wait for Events Night to reach them. Note that the chat of each game will be limited to that game only: the messages won't be carried over to Survival or IRC.
The creeper flask remains as the logo for the Creeper's Lab as a whole, of course.
Why a lobby?
Having a lobby will allow players to move from one server to another, as they can now, with the added upside that all accesses will remain available even while Laurasia is down for maintenance. Likewise, updating the lobby will keep currently connected players in-game instead of kicking them out for a reload.
Part of Central's paths have been reorganized to account for this and to help all players, old and new alike, find their way around more easily. Central's spawn point is now the plaza located immediately south of Grand Central Station. That location has been chosen as it allows people to immediately be within reach of the train station and Nether portal should they want to head out to new destinations.
Chatting between the lobby and the survival servers is enabled so we can reach out to those in-transit and help new players find their way around. If the possible influx of new players creates too much noise for those peacefully building in-game, this might get cut off.
How do I visit the lobby?
Simply type
/lobby
to immediately jump to the lobby! From there, you can access other servers and destinations at your leisure. If you return to the server you just left, you'll find yourself standing in the same position as before. For example, if you use /lobby while in your glorious dirt mansion on Laurasia, you'll return to that precise location once you rejoin that world.
When will the games be available?
Soon! I'm working on setting them up, and they will be added gradually over the coming weeks and months.
Note that the games will be accessible to everyone, including visitors. Since the games won't allow any chance at griefing, there's no reason to restrict access! This means that anyone, even non-registered Creeper's Lab players, will be able to participate, helping to bring in more people to keep things rolling. Of course, the standard rules will still apply, including maintaining a family-friendly attitude at all times.
A teaser of what is coming, you ask? Let's just say that exploding heads and fast-moving carts are in your future, among others...
Also introducing: Miranda!
Now, for something different. Joining us tonight is a new server affiliate, Miranda, run by our very own Skreelink! This brand new location is available straight from the lobby, in the "Affiliates" section.
The goal of this new place is to allow large builds to happen without needing to gather the main blocks themselves. Still, the gameplay is survival-based: you need to defend yourself against mobs and make your structures without any flight abilities! You can get an idea of this new land by looking at its
dedicated map
.
For this purpose, a store is available to get unlimited stacks of the basic building blocks. The only cost to pay is the entrance fee of one iron ingot, which ensures that players have to do some basic digging before being granted access. This special building, the Super C, is visible from the spawn area.
Only players with the Trusted rank and above players on the Creeper's Lab side are allowed to access Miranda. Also, your player inventory isn't shared between the two, so you're effectively starting anew. Note that most rules that exist on the Creeper's Lab apply over there, with the addition that no automated farms or massive redstone systems are allowed anywhere on the world.
If you have any questions about this setup, feel free to ask Skreelink!
Wrapping up
Read all this? Good, give yourself a pat on the back!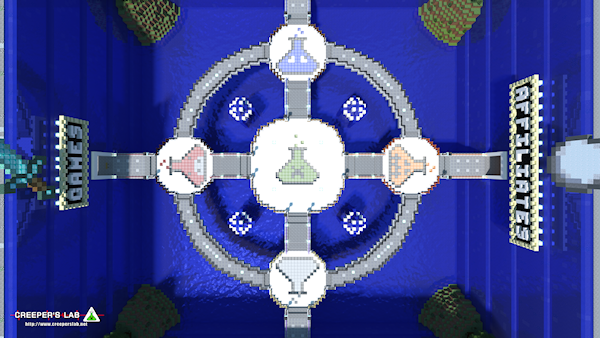 (Click on the image for the full version!)
I hope that everyone will enjoy these new additions and what's coming up next!
1 comment
Masterlink
---
<< Previous
|
News archive
|
Next >>