News
October 2015
Update: Before even 24 hours had passed, everyone participating managed to find all of the hidden ladders - with Kagato sealing his win with 17! In light of the quick end to this portion of the event, I decided to reset the ladders; and they've all been found a second time already! This round's winner was primagen102, with 11. I'm giving you guys one FINAL chance, and will reset the ladders this coming Saturday, November 7th. This is your last chance to win one of those zombie horses! Good luck, and Happy Halloween! ~Media


Halloween is upon us, and with it comes our latest seasonal event! A special, unique map has been created for you to play in. The goal: explore, survive and find the exit. There are prizes involved, so be sure to visit it! It's reachable from Central, near the TransHub, by using the Seasonal portal (same location as the previous Sand Castles contest).

I'd like to thank, in alphabetical order, Anonymous_SoFar, HimochiKouen, MagicMarker101, MediaKlepto, SoraThePumpking, UnknownEntity634 and anyone else that might have helped preparing this that I don't know about! They've been working hard on this for weeks to make sure you'd have something out of the ordinary to enjoy!

Without making you wait any further, here are the official explanations from Game Master Himochi...


---
It's that time of year again. Pumpkin carving, trick-or-treating...oh, and the dead rising from the grave to devour your brains.

Fear not, though. The city may be in rough shape - what with the impending zombie apocalypse and all - but we've managed to call in a chopper for evac. There's just one little problem... It seems someone broke the ladder to climb to the tower where it's coming to pick us up.

So here's what we need to do: search the city for replacement pieces for the ladder! That's the most important thing, getting that ladder fixed and getting out of here alive.

While you're out there, though, keep your eyes peeled for essential gear that may prove useful to your survival. We'll even give you a checklist of eight specific things to watch out for.

Be careful, though. With the way things have turned out, there's no telling what else might be in store for you out there...

Now for a few ground rules:
- The entire map will be set to Adventure Mode. This means you won't be able to place OR destroy any blocks. But don't worry, a friendly neighborhood staff member will be on call to put the ladder back together for you as you bring them pieces.
- You WILL, however, be able to interact with and take items from things like chests, furnaces and armor stands. If you come across anything you think may help you, finders keepers!
- You WILL be able to sleep in any beds you may come across, however not only will doing so not cause the sun to rise any quicker, but it will also reset your spawn point away from the evac site, which could harm your chances of escape in the long run.


But enough of all that. What you want to hear about is what's in it for you, am I right? Well, besides of course NOT winding up as one of the walking dead, anyone who helps find the missing pieces to the ladder will be awarded participation points from the event. In addition, whoever finds the most pieces of the rescue ladder will win a rare prize, courtesy of our good friends the Horsemen of the Apocalypse - their very own Zombie Steed!

Not only that, but find all eight pieces of survival gear, and you will win a custom enchanted zombie skull! Not only is it stylish, but when the looming-ever-closer 1.9 update finally arrives, having one equipped will actually prove useful by significantly lowering the detection rate of nearby zombies!
---
This special map will be available for TWO WEEKS only. Make sure you don't miss it!
On an extra note, if anyone is interested in a new wallpaper for Halloween, I've prepared a new, full HD render just for you! Click on it for the full version!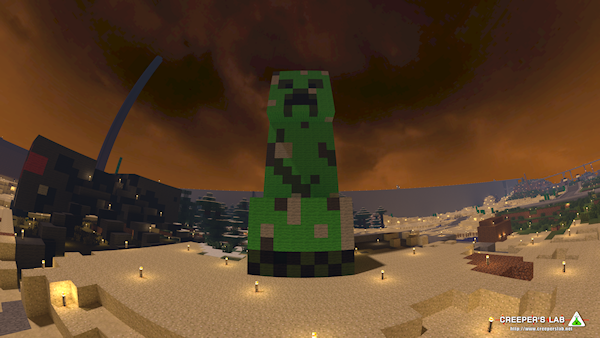 Skreelink is offering a bounty in order to fill out the trains hangar and outside location! This is the same location that was used for the trains contest two months ago. A few 40x12 plots have remained available, and he wants to see completed projects on each of them!

To visit this location and possibly build something, from Central, use the overworld Western Line to the desert branch (third stop). Once there, switch to the side line and disembark at the first stop! Alternatively, from Nether Central, use the West line, get out at the first substation (Alucard), then select the Canada line.

Here's what Skreelink has to say on this matter:

I'm paying a bounty to fill the train museum! There's two plots inside, two plots outside. Anyone that drops a train on a plot and leaves a note in my PO with their name, train name, and date completed earns 3 diamond blocks and 3 emerald blocks.
At the request of a few players, I'm adding tonight a new crafting option within the game: FastCraft.

This new plugin provides you with an in-game interface displaying all of the items that can be crafted based on what you currently have in your inventory. This makes it convenient if you have large quantities of items to craft, or if you've forgotten a specific recipe!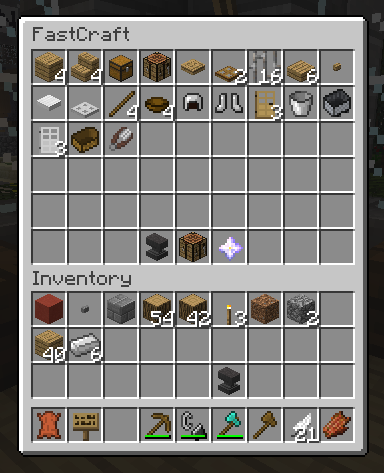 For example, in the screenshot above, I can craft many items based on my wood and iron supplies. Clicking on any of the options offered will return the targetted item while deducting the base materials from my inventory. Note that this won't provide you wih any free items: it gives exactly the same results as regular crafting, making it easier to perform some operations.
The tool is disabled by default, so you don't need to use it if you're not interested. To turn it on, type in the following command:
/fastcraft toggle
FastCraft will then be enabled whenever you access a crafting table, and the setting will be saved between your visits. You can also click on the crafting table icon that appears to do things the normal way. To disable all of this, simply enter the same command again:
/fastcraft toggle
Comments and feedback are welcomed, as always!
<< Previous
|
News archive
|
Next >>