News
Several people spent up to a month designing and building sand castles, and it's now time to announce the results! HimochiKouen, MediaKlepto and myself went from entry to entry, judging them on a score from 1 to 10 to determine who was best at following the give theme and designing an attractive castle. Without further wait, the winners:

First place: doorgunnerjgs
Second place: Skreelink
Third place: Exodio

Congratulations to all! As described previously, doorgunnerjgs won a diamond helmet suitable for underwater work and movement. You will find it in your mailbox in Nether Central. door also scored 50 Merit Points, while Skreelink and Exodio earned 30 and 15 respectively. This gives them a chance to earn some fancy prizes down the line, which will be detailed later! All contest entries and results can be viewed on the results page.

As a reminder, you can check your points score at any time on the forums or by typing /points in game. Additionally, you can track your position compared to the others on the brand new Merit Points leaderboard! Contestants all earn a point for trying, with will be given to them soon.

A big round of applause to everyone who participated (or tried!) and helped make this new concept of having a seasonal map a success!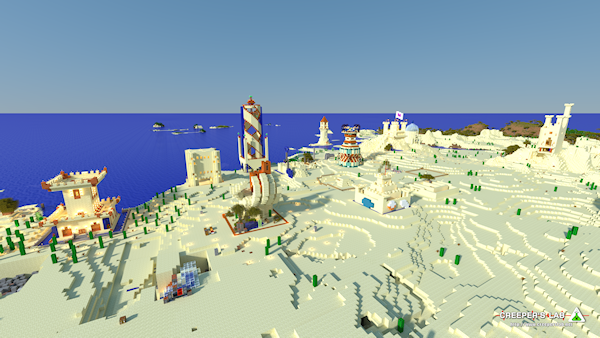 The next seasonal map will be an Halloween special in October! Stay tuned!
<< Previous
|
News archive
|
Next >>
7 comments
Coneva
---
Magic
---
MediaKlepto
---
kagato
---
AshaLina
---
doorgunnerjgs
---
Exodio
---