News
Here are a few updates on what's new for February!
First of all, the Race Away challenge has wrapped up in Kenorland. Here are the final list of runners and their best positions!
Doctacosa: 30111
Kagato: 27573
axe_y: 10659
BoxBuilder45: 8798
NICKW6499: 5264
MineshaftBob: 4450
CruelNate: 3443
Sepahbod: 2908
Lunaar_Dust: 2484
Twixxi_: 2460
Mlhrj5: 2440
GingeKoda: 2329
butterbum: 2272
Connovan: 2211
Coneva: 2211
xedre: 2155
xLordItachix: 1549
Pteryx: 868
Manly_Whiskers: 858
groovybanana: 600
x AlexTheTrain: 546
chunil756: 492
Bnice2max: 483
Primagen: 453
Saffronflyer396: 424
EnchantedKing: 116
ADeshantis: 116
Sxnflxxwer: 106
MonsterEats: 56
Darth_Roxas456: 52
DexTAD: 42
Venemousspyro10: 36
Raegal: 13
GoomyGoma: 2
All have earned Merit Points based on their position. That is, Doctacosa (hi!) got 34 points, followed by Kagato with 33, all the way down to GoomyGoma with 1.
---
Next up, a new challenge! You've been punching blocks for days, months or even years, without consequences. However, the blocks have grown tired of that behavior, and they've decided to fight back! Do you have what it takes to tame them and still be create a build that you'll proud of?
There's no set target for this month's challenge, except enjoying yourself at trying out something new. Everyone who attempts it will be given 5 Merit Points by the end of the month.
---
At the Hunter's Lodge, the new raid boss is Jack Torrence and Red Rum. If you'd rather fight someone else, remember that you can now use Merit Vouchers to gain access to a special room where you can select any boss of your choosing at any time!
---
As it was mentioned in passing with the announcement of the new building contest, Events Nights are getting extended to both Rodinia and Gondwana! They've both gained a new TARDIS near their spawn locations, which allows you to head directly to the four endpoint towns of each world. The opposite is also true, of course.
Additionally, keep inventory will now be in effect in Rodinia's overworld and Nether during Events Nights, just like in Laurasia. In keeping with Gondwana's hard mode challenge, this will NOT apply over there!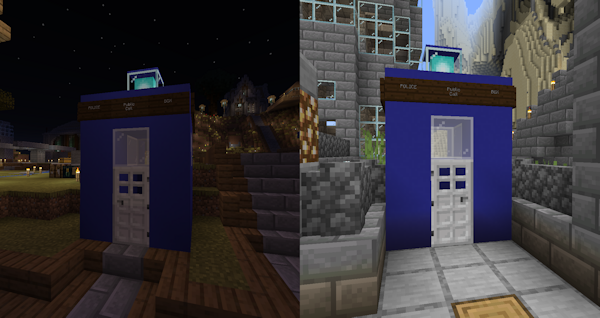 0 comments
<< Previous
|
News archive
|
Next >>