News
Researcher's journal, 22 January 2020

Research on the human body has been progressing well. The latest experiments have yielded new results to reinforce the previous hypotheses, while new side effects have also been uncovered. These effects have been positive overall, opening up new possibilities on the core subject. I've taken to applying these findings to mannikins emulating human shapes, and after some adaptations, they've molded themselves to my needs. The next steps will continue under my supervision.

There seems to be an endless supply of volunteers willing to participate in these experiments, thankfully. Another win for science!


---
A common request lately has been a way to customize armor stands. It's possible with staff-only commands, but while the stands themselves have a lot of possibilities, most of these are not accessible through standard survival gameplay rules.
To give everyone a chance at having more controls over the stands, I've introduced a special book that allows you to change any of a stand's properties. This includes adding arms to hold items, removing the base plate, posing them, or even making them invisible entirely so that only held items are shown.
You can now go to Doctacosa's Study, at the Citadel, and access the research room in the basement. It's located in front of the exp lab. There, you'll find a button to give you a copy of the book to bend armor stands to your will.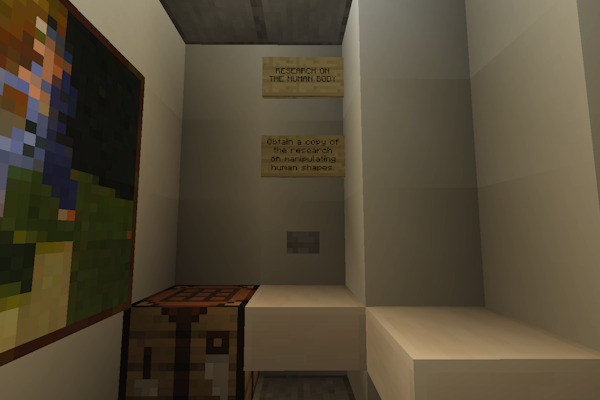 To use it, stand next to the armor stand you want to change. Then, to confirm you've got the right one, open the book and click on "Check target". The active stand will get a white glow for a few seconds. From there, you can reopen the book and change any of the stand's properties with a few clicks.
This should go without saying, but you should only change the armor stands that belong to you. To limit the risks, the button to dispense the book is only available to trusted players.
Note that these books are powered by pixie dust, and as such are very fragile. If you happen to disconnect while holding them, change servers, or leave them in an enderchest, they will lose their magic. The only safe storage spaces are chests and item frames. Should a book stop working, burn that copy and go claim another one at the Citadel.
0 comments
<< Previous
|
News archive
|
Next >>