News
October 2017
From the Pumpkin Master:

Aaaand it's the pumpkin time of year again. Pumpkin spice, pumpkin butter, pumpkins suckingyoursouloutthroughyourface. Pumpkins!

Pumpkins?

Pumpkins.


So what better way to celebrate Halloween than to make a bunch of potions!

That has nothing to do with pumpkins, you say?

Whoareyouandwhyareyouinmyhouse.


Anyway, this year, we're testing your ability to gather and brew those weird glass bottles people sometimes bring to PVP matches. The rarer the potion, the more points it gets you. The 3 players with the most points come October 31st, 11pm Eastern Time, wins! And it begins NOW!


Collections are being done in -fittingly - the Halloween Town potion shop, which is pictured below: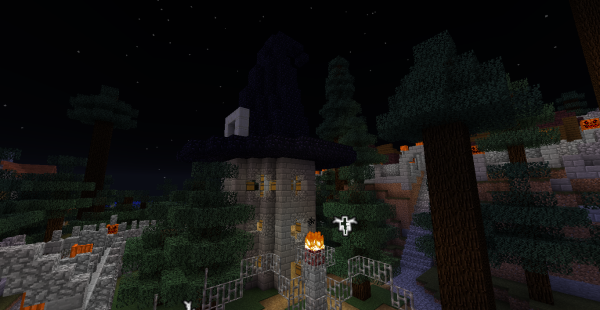 Just slap a sign on one of the boxes, and start filling! Careful what you put in, you'll need staff help to get them back out. If you fill up your box, just slap another sign down on an empty one!
All potions used for the contest will be treated as donations to the Halloween Town potion shop!
You can reach it via nether from Central by taking the Southern Mainline, Eden Bay station, Lemuria hub. The Halloween Town tunnel can be found on the upper floor of the hub, up there with Thoth the squid.
All 3 top-scoring players will obtain the norm merit points as fitting an event, as well as a surprise specially crafted tool that's not available via normal play!
A list of all potions craftable and their values to the contest below*:
*Time variants, splash potions, and lingering potions for the below types are accepted, but do not change score.
-Potion - Score-
Healing - 10
Resistance - 10
Strength - 10
Weakness - 10
Poison - 10
Harming - 10
Fire Resist - 15
Regeneration - 15
Swiftness - 15
Slowness - 15
Night Vision - 20
Water Breathing - 20
Invisibility - 20
Luck - 30
Dragon's Breath - 40
Leaping - 50
Prizes:
1st Place: Surprise item! - 30 Merit Points
2nd Place: Surprise item! - 20 Merit Points
3rd Place: Surprise item! - 10 Merit Points
Salutations Netizens of Creeper's Lab,

I know this is rather short notice, but it seems that Events Night has been a bit blah lately, so this Saturday at 9EST, we'll be doing some things in one of the oldest towns.

Townshend.

Players can take a transporter to Townshend and mingle around, check out the town, then hit up the Boardwalk area. This is where a lot of original games reside and we'll be playing around the area. Just getting the community together for a few rounds of Spleef, Connect 4, Battleship, Fishing tournaments... These are a few attractions found down the boardwalk.

A full list of attractions can always be found Here.

Also feel free to drop by the discord audio channel to get in on a conversation, possibly a few laughs, and just talk. This night is just to help get back together as a community and remind us all why we love being part of the Creeper's Lab. If you read this, pass it on to fellow members, or friends that haven't dropped by, it'd be a great start to new friendships.

I hope to see you there.

- Masterlink
I wasn't able to post the August UHC results right at the end of the event as I was leaving on vacation, but that's now over. August's UHC event was a mix between the standard formula of surviving and reaching specific targets blended in with the Race Away model, featuring a world with endless lava oceans. Several players took on the challenge, with three players ending up in the lead for the most distance covered:

axe_y: 25,223 blocks
Kagato: 20,838
TheGurw: 7,066

Everyone's Merit Points for both August and September have now been attributed. Congrats to all participants!


---
Speaking of UHC, a new month means a new challenge! A renewed world is now awaiting challengers from the lobby. This one will have you keep your cool as you dive in looking for success. As a reminder, on most months, you can earn 5 Merit Points for reaching each of the following targets when possible:
- Crafting a bookshelf
- Crafting an enchantment table
- Access the Nether
- Pick up a blaze rod
---
The Lemuria building contest is entering its last month - you now have less than 30 days left to create as many entries as you want on the three themes: city, forest and Nether. This is your chance to earn actual money, gifts AND Merit Points, so finish your ongoing projects... or get started if you haven't already! For the full details, please
see the original news post
.
---
A special Halloween event will be available later this month. More information will be made available when the time comes!
<< Previous
|
News archive
|
Next >>