News
June 2015
Last night's event featured something new on the server: boat jousting, where players faced each other in naval battles trying to be the last person standing. The water layer was thin, with a full lava lake waiting underneath. Anyone who would lose control or get knocked out of their boats would risk falling in and burning!

Several rounds were fought. The first set involved pure PvP, while the latter segment involved various boat-riding mobs that would target the unsuspecting combattants as they tried to off each other! andromedea1, blu35p4rr0w, cmzangetsu93, ChargeDaCreeper, Meota, RoxasTheAwesome and xLordItachix entered the fray hoping to win, while others watched the ongoing event from the stands. After all this carnage, three winners emerged!

First place - cmzangetsu93: 100 levels to perform enchantments
Second place - xLordItachix: Eff IV, Unb III, Silk Touch diamond pickaxe
Third place - ChargeDaCreeper: ceremonial suit of gold armor + sword

Additionally, Meota was randomly picked as the lucky winner for a stack of poppies!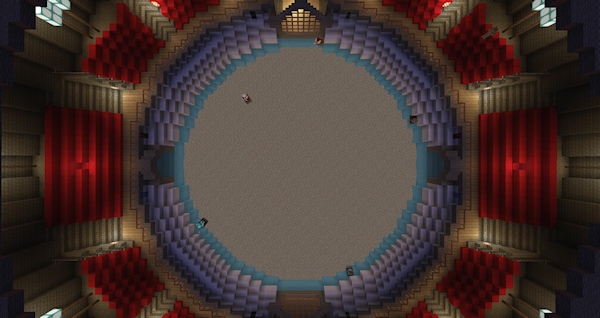 The new arena, the Mausoleum of Theodoric, is now available through the End of Time (PvP and Battles category) and will be opened during future Events Night for all your marine battling needs. Please note that the arena, although functional, is still under construction!
My thanks go to everyone who participated or joined in to watch the event, with a special mention to Skreelink for contributing the 100 levels and helping with the construction work!
Gather, everyone, for there is something new for you to try!

I've been working on designing a new event, the likes of which haven't been seen around here yet. While I'm keeping the key element under wraps for now, rest assured that this should be fun for both lovers of PvP and PvM (Players vs Monsters) and should make for some interesting watching as well. As such, everyone is invited to participate or simply look at the ongoing chaos!

Each participant is free to bring his or her own equipment, including weapons, armor and potions, for this rumble. Food and beverages will be provided to all who decide to attend!

This event will exceptionally take place next WEDNESDAY, June 10th, at 9pm Eastern time. To allow this special activity to run smoothly, Events Night will be turned on for a few hours!

Of course, as with any proper event, there will be prizes!

First place: 100 levels to perform enchantments
Second place: Efficiency IV, Unbreaking III, Silk Touch diamond pickaxe
Third place: Ceremonial suit of gold armor + sword
Random participant: a stack of poppies! Lucky!


So meet up at Central at 9pm, to be led to the right location and lots of fun!

See you then!
<< Previous
|
News archive
|
Next >>