News
Based on some feedback gathered on the forums, I'm introducing something new to the Creeper's Lab: seasonal events! These events will happen a few times a year on a given theme, lasting an entire month each time and taking place in a different world suited for whatever is happening. Kicking off this series is a sand castle building contest!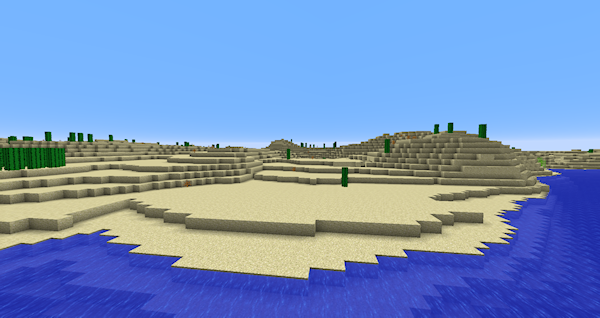 Rules
The goal of this contest, as previously mentioned, is to build a sand castle. A new world has been generated with a large beach/desert area, giving everyone plenty of building space and materials to work with. No lots are being explicitely marked this time around in order to give the place a more natural appearance. You can use an area up to 20x20 in size, although you can do smaller if you so wish. Be sure to mark your area properly, and to leave a few blocks between your creation and others! You own your lot from bedrock to sky height.
Judges will visit each entry and determine how closely it sticks to the theme, the amount of details included and how well it looks overall.
Location and world
You can reach the location from Central, in a new teleportation point set right next to the TransHub and Nether portal. This new world is set to Normal difficulty. A very limited spawn area has been made, so be ready to defend yourself if you happen to join at night time! A
map is available
to better orient yourself.
While no lots have been drawn, your entry must be centered around the spawn area. If you decide to build too far away from the others, the judges won't see or consider your entry! You are free to explore this world to find supplies and build shelters; however, do not do any permanent structures as they might be removed at the end of the month. Keep in mind the goal of the event!
Your inventory will NOT transfer to this place, and likewise, you will not be able to bring back anything from this place. As such, you're starting anew! This is done to level out the competition (no one starts with a large supply of items), and to give something fun to do for those who like starting from scratch.
Deadline
This contest is running for all July and begins
now
. This means that you have until July 31st, at 23:59 to finish your entry!
Prizes
Prizes will be announced later this month, as I'm still working on the full details. Stay tuned!
See you on the beach!
<< Previous
|
News archive
|
Next >>
2 comments
Exodio
---
Masterlink
---