News
From the Pumpkin Master:

Aaaand it's the pumpkin time of year again. Pumpkin spice, pumpkin butter, pumpkins suckingyoursouloutthroughyourface. Pumpkins!

Pumpkins?

Pumpkins.


So what better way to celebrate Halloween than to make a bunch of potions!

That has nothing to do with pumpkins, you say?

Whoareyouandwhyareyouinmyhouse.


Anyway, this year, we're testing your ability to gather and brew those weird glass bottles people sometimes bring to PVP matches. The rarer the potion, the more points it gets you. The 3 players with the most points come October 31st, 11pm Eastern Time, wins! And it begins NOW!


Collections are being done in -fittingly - the Halloween Town potion shop, which is pictured below: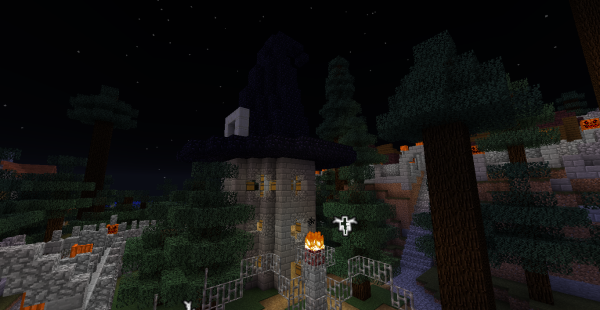 Just slap a sign on one of the boxes, and start filling! Careful what you put in, you'll need staff help to get them back out. If you fill up your box, just slap another sign down on an empty one!
All potions used for the contest will be treated as donations to the Halloween Town potion shop!
You can reach it via nether from Central by taking the Southern Mainline, Eden Bay station, Lemuria hub. The Halloween Town tunnel can be found on the upper floor of the hub, up there with Thoth the squid.
All 3 top-scoring players will obtain the norm merit points as fitting an event, as well as a surprise specially crafted tool that's not available via normal play!
A list of all potions craftable and their values to the contest below*:
*Time variants, splash potions, and lingering potions for the below types are accepted, but do not change score.
-Potion - Score-
Healing - 10
Resistance - 10
Strength - 10
Weakness - 10
Poison - 10
Harming - 10
Fire Resist - 15
Regeneration - 15
Swiftness - 15
Slowness - 15
Night Vision - 20
Water Breathing - 20
Invisibility - 20
Luck - 30
Dragon's Breath - 40
Leaping - 50
Prizes:
1st Place: Surprise item! - 30 Merit Points
2nd Place: Surprise item! - 20 Merit Points
3rd Place: Surprise item! - 10 Merit Points
2 comments
axe_y
---
SorathePumpking
---
<< Previous
|
News archive
|
Next >>